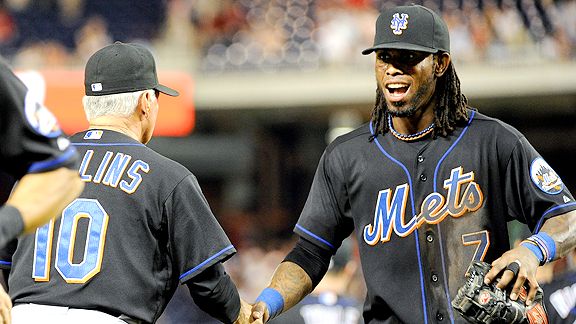 Greg Fiume/Getty Images
Jose Reyes celebrates with Terry Collins after the Mets won their fifth straight game Friday.Time to check the scoreboard and standings a little more closely?
The Mets won their fifth straight game -- and third straight without Carlos Beltran -- to move a season-high four games over .500 at 55-51 on Friday night.
"We joked that I think we still have a couple of days to trade for Carlos back again," Jason Bay said.
Maybe for Zack Wheeler?
"Yeah, see if they'll take it," Bay quipped.
With 56 games remaining in the season, the Mets trail the wild card-leading Atlanta Braves by 6½ games. Arizona and St. Louis also stand between the Amazin's and the top spot.
Division-leading Philadelphia, which just acquired outfielder Hunter Pence from the Houston Astros, has an 11½-game lead on the Mets.
"I mean, Carlos is a very good player," David Wright said. "But we've still got some good players here. And we've still got guys that can go out there and win.
"Obviously, Carlos has had a very good season. And I think he's going to do a great job for the Giants. At the same time, we've got games to play. We're going to go out and try to win them. It sounds simple, but it's the truth. You can't sit there and just play out the season because we made a trade. You've got a bunch of competitive guys and a bunch of guys going out there playing for different things."
The reality: It's not like the Mets are scrutinizing the out-of-town scoreboard just yet.
"I really don't know what the other teams have done," Bay said. "There's been a lot going on with Carlos and all that. You kind of look back and we've won five straight and it's kind of like, 'Wow, why not?' We kind of keep going."
Bay said he marveled pregame Friday when the Nationals Park scoreboard noted the Mets had a 32-25 road record (now 33-25).
"I don't think anybody in here realized how many road wins we'd had," Bay said. "Then they showed the stat on the board in BP and we kind of looked at it like, 'Wow. If we can start playing a little better at home …' Not that you're going to win every road game. I don't know how far out we are, but I'd imagine we're getting a little closer."
Said Wright: "We've still got 50-something games in the regular season. You just go out there and try to win. You win, things happen. You don't worry about other teams. To be honest with you, I probably couldn't even tell you who is in front of us in the wild card. You go out there and win and that takes care of itself."