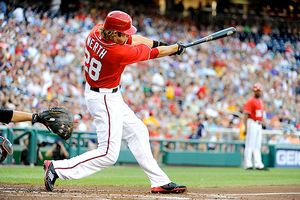 Greg Fiume/Getty Images
Jayson Werth homers in the first inning Saturday against R.A. Dickey.
R.A. Dickey's flat knuckleball to Jayson Werth in the first inning resulted in a three-run homer and the only runs in the Nationals' 3-0 win against the Mets. So despite following that up with five scoreless frames, Dickey's record dropped to 5-9.
"It's frustrating, but it's more than that," Dickey said. "It's just I expect more when I look at my name and see that stat line by it. I just do. It's painful to look down there and know that you haven't contributed to more wins.
"Now, that being said, I also have to be a professional about it, step back and look at the overall body of work. A lot of nights that's good enough. A lot of nights a lot of my outings have been good enough to win. It's just the nature of the beast sometimes."
Dickey does have five no-decisions this season in games in which he has allowed two runs or fewer, which was tied for eighth-most in the majors entering Saturday's games.