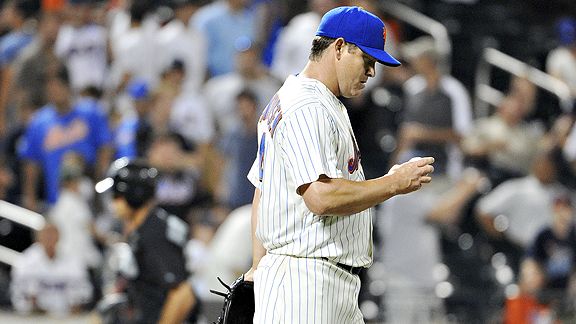 Christopher Pasatieri/Getty Images
Jason Isringhausen surrendered a tape-measure grand slam to Mike Stanton in the 10th.Jason Isringhausen didn't know the exact location of his 3-2 pitch to Mike Stanton in the top of the 10th.
But Isringhausen -- along with everyone watching the Mets-Marlins game -- knew exactly where the ball would end up as soon as it hit Stanton's bat.
#27 RF
Florida Marlins
2011 STATS
GM

103

HR25

RBI67

R59

OBP.333

AVG

.259
The Florida slugger's bases-loaded blast landed 400 feet from the plate -- over the 16-foot wall in left field -- lifting the Marlins to a 7-3 win.
According to ESPN Stats & Information, Stanton's grand slam left the yard at 102.7 mph. It also left starter Mike Pelfrey concerned for his teammates' health.
"The guy's a good hitter," Pelfrey said, "I think Major League Baseball should probably find a way to get him out of the game because he's going to hurt somebody with those balls he [hits].
"[Some] of those balls he hits, it's scary. They guy's a good hitter and when you make a mistake, it's scary. He's going to barrel-up and he's going to hit it hard somewhere and hopefully it doesn't hurt somebody."
The only people hurt by Stanton on Monday were the guys in orange and blue.
For the second straight night, the Mets tied a game in the ninth with a two-out homer, only to lose in the next half-inning.
On Monday, it was Lucas Duda's two-run, two-out ninth-inning homer that forced extra innings. On Sunday, Scott Hairston's ninth-inning homer tied the game against the Nationals.
The last team to hit game-tying homers with two out in the ninth in consecutive games was Tampa Bay. The Rays did it on Aug. 29 and 31, 2004. They also lost both games.
"We've bounced back from it before, we'll bounce back again," manager Terry Collins said. "It all comes down to what we talked about Feb. 14 -- we've got to play fundamentally sound baseball, and there's nights we don't do that."
Collins was referring to a costly misplay by Daniel Murphy in the 10th that changed the game for the Mets.
Dewayne Wise hit a single with men on first and second with one out in the 10th. Wise then inexplicably overran first. Murphy had the ball in his hand and ran toward first while keeping an eye on the runner at third.
He flipped to Justin Turner at first as Wise retreated to the bag, but Wise beat the throw.
Instead of men on second and third with two out, the Marlins sent up Stanton with the bases loaded.
"The inning there had a chance to be real different," Murphy said. "I've got to get rid of the ball right there and get it to Justin."