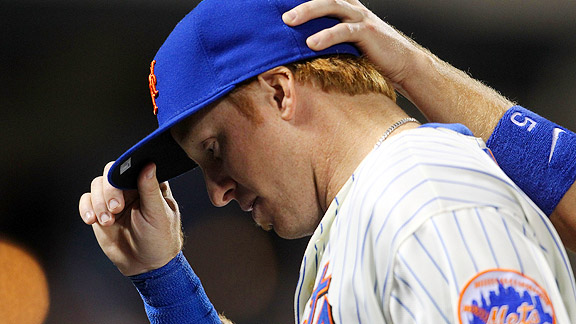 Nick Laham/Getty Images
Justin Turner was the goat of the Mets' loss Tuesday, though he had help from Jason Isringhausen.Say this much for the Mets: lately, they seem to find a new way to lose every time they take the field.
Terry Collins' crew lost games Sunday and Monday after hitting game-tying, two-out home runs in the ninth inning.
On Tuesday, they blew a one-run lead in the top of the ninth thanks to an inning-opening walk, a hit batter and a bad fielding gaffe.
The bottom line? They've lost four straight to fall back to .500 and into a fourth-place tie with Florida in the NL East. They're also 7 1/2 games behind Atlanta in the wild card race.
"We had to make sure that we stayed on top of everything and right now we've let the game slip away," Collins said. "You can't do that in a pennant race. You can't do that when you're fighting for something. You've got to win games when you've got the lead and you've got your people in place to win those games. And we haven't done that."
Justin Turner seemed to be in the right place for the Mets when he fielded Bryan Petersen's grounder to second with the bases loaded and one out in the ninth.
Before Petersen's at-bat, the team discussed the proper approach on an infield ground ball: either go home for the force out or get the double play.
Turner, who was playing in, didn't think he had time to get Logan Morrison at home, so he allowed Morrison to score the game-tying run from third. He also didn't think he had time for a traditional double play.
So Turner attempted to tag John Buck -- the runner at first -- but Buck hesitated and eluded Turner, causing the second baseman to rush a throw to Lucas Duda at first. Turner's toss sailed way wide, allowing Mike Cameron to score the go-ahead run.
"Once I field the ball and look up and (Buck) had stopped and he was so far away from me, it kind of unraveled (from) there," Turner said.
Turner's right, but the truth is it never had to get to that point.
Jason Isringhausen took the mound with a one-run lead. But a night after allowing a go-ahead grand slam to Mike Stanton, Isringhausen struggled again.
He started the ninth with a walk to Morrison. After Cameron's single put Morrison on third with one out, Isringhausen hit Buck to load the bases.
That led to Petersen's grounder to Turner. And that's where it all fell apart for the Mets, who have lost four straight, failing to take advantage of Atlanta's three-game losing streak.
"I don't know what else to say except that's the way things have been going for us over the last four days," Collins said.