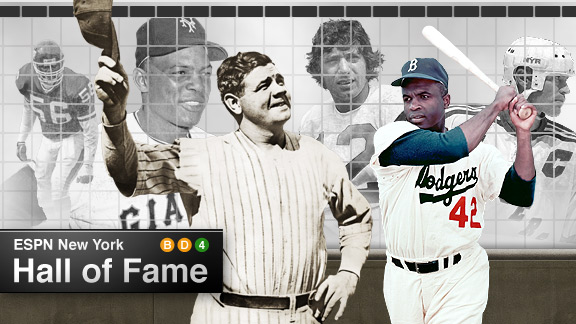 ESPN.com illustration
Vote: Pick the ESPN New York Hall of Fame class »
In honor of ESPN New York's inaugural Hall of Fame ballot, here are my top five Mets:
1. Tom Seaver
Seaver was an integral part of the Mets' turnaround from lovable losers to World Series champions in 1969. Seaver won a club-record 198 games and three Cy Young Awards in his 12-season run. His nickname, "The Franchise," says all that needs to be said of his value to the team. No pitcher is close to Seaver in any of the major statistical categories in the Mets' record books, even though his last season with the club was a quarter-century ago.
Tom Seaver is among the New York Hall of Fame finalists: Top 20

• Hall of Fame video

2. Mike Piazza
Piazza was the superstar the Mets needed during their glorious run of success in the late 1990s and early part of the 2000s. His prowess at the plate (220 home runs, .915 OPS) and clutch hitting made him among the most memorable players in New York sports during that time. Piazza cemented his legacy in this city with the decisive home run in the first baseball game played in New York after the tragic events of Sept. 11, 2001.
3. Darryl Strawberry
The Mets have never had a hitter with the gargantuan power that 6-foot-6 wonder Darryl Strawberry generated to the tune of a club-record 252 home runs and 733 RBIs from 1983 to 1990. Fans stayed in their seats or were glued to the TV when Strawberry came to bat, because you never knew how far or how hard he would hit the ball. If you were to list the most notable home runs in Mets history, Strawberry's name would appear multiple times both for significance in moment and distance.
4. Keith Hernandez
Hernandez was perhaps the smartest baseball player in Mets history. He had an uncanny knack for both the big hit and the big defensive play. Obtained in 1983 from the Cardinals, Hernandez was among the initial building blocks for the success the team would enjoy throughout the rest of the decade. Hernandez won six Gold Gloves as a Met and finished in the top eight in the NL MVP voting three consecutive seasons, 1984 to 1986.
5. Dwight Gooden
The Mets have never had a more electrifying pitcher on the mound than Gooden, who won 157 games in 11 seasons with the team from 1984 to 1994. Gooden had the greatest season by a pitcher in Mets history, winning 24 games with a 1.53 ERA in 1985. Though his career was plagued by substance-abuse issues, the sum of Gooden's performance early in his career was among the most dominant in New York sports.