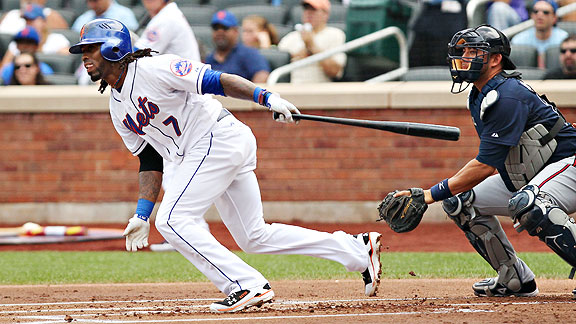 Debby Wong/US Presswire
Jose Reyes grounds out in his first at-bat Sunday. He left the game an inning later.
Jose Reyes said his current injury is not as severe as the left hamstring strain that sent him to the disabled list on July 7 and sidelined him for three weeks.
"I think this one is not that bad. I think it's a little bit better," Reyes said. "I'm going to do my treatment and hopefully I'll be on the field as soon as possible."
The MRI of Reyes' injury will be reviewed by Dallas Cowboys doctor Daniel Cooper. Cooper performed the 2009 surgery on Reyes to repair a hamstring tendon tear.
"I think (the disabled list) is just being prudent based on where the team is and based on their needs for bodies and everything," agent Peter Greenberg said. "Otherwise, if it was a different situation, maybe he would have gone day to day. He's in good spirits."
Reyes said he had no indication his hamstring would give out until he was approaching first base in his lone at-bat Sunday.
"I felt something a couple of steps before I got to the base. I felt something was not normal there," Reyes said. "I felt something pull in my leg -- a little bit, nothing crazy -- but I felt something different there. That's why I came out of the game. … I hit that groundball. I was running fine to first base. Before I got to the base, that's when I felt it."
He added about the injury: "It is disappointing, frustrating at the same time, because I don't want to get hurt. I want to be on the field doing what I do -- playing baseball. It is what it is. It's something that just happened."
As for if he could have done anything different, Reyes noted he takes pregame preparation seriously.
"The preparation that I have is very good," he said. "I'm the guy who stretches a lot. I do a lot of exercises for my leg."