Manny Acosta will require an X-ray on his injured right pinkie, Terry Collins said. Acosta lost part of the nail on a line drive at him Tuesday and needed to leave the game.
"His hand is pretty sore today," Collins said.
Collins said he would hesitate to use Acosta, at least in the short term. The manager recalled the Dodgers' James Loney breaking the tip of a nail, wearing a cap over it and playing through the injury. "Three days later they took that cap off and his finger was so infected, he had to have a catheter put in and had antibiotics for three or four weeks," Collins said. "He almost lost his finger. So I'm pretty aware we're going to be careful with this thing."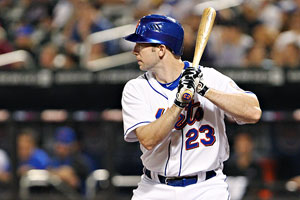 Anthony Gruppuso/US Presswire
Mike Baxter delivers a pinch-hit RBI double in his Mets debut Monday.
• Whitestone native Mike Baxter makes his first Mets start, and first major league start, Wednesday night against his former team. Baxter won't be a regular starter, but Collins said: "I just wanted to get him in the lineup. I wanted to get him a chance to get comfortable out here, because if he's going to be here for a while, I wanted to make sure he's used to playing and get used to this field."
To that end, Baxter worked out in the early afternoon in right field with coach Mookie Wilson as well as Lucas Duda and Nick Evans.
Baxter said he did not get to face Wednesday night Padres starter Aaron Harang in spring training, even though he was in major league camp with San Diego, because there was only one intrasquad game before Cactus League games started.
Baxter injured thumb ligaments diving for a ball in the gap the final week of spring training and required surgery. He was rehabbing with San Diego's high-A team in Lake Elsinore when the Mets claimed him off waivers. As a September call-up with the Padres last season, he did have nine plate appearances, but never did start a game.
"I wasn't disappointed. I understood my role there," Baxter said. "That team was great. They had great chemistry. I was just happy to be a part of it, because I wasn't sure if I was going to get a chance. It was a pennant race. They were clicking. I was just happy to get some opportunities off the bench."
Baxter is staying in his family's home and drove to Citi Field, but he may take public transportation at some point. The 14 bus to the 7 train, he said.
As for Mets games growing up, he attended "a lot" but had no one memorable one.
"I could tell you when I was at the Cup for the Rangers in '94," he said. "That stood out. But that wasn't the Mets."
His favorite Met was John Olerud.
"I loved him," Baxter said. "He was quiet, a left-handed hitter."
• Bobby Parnell is likely the closer on Wednesday night, although Jason Isringhausen should be available. So Izzy's bid for save No. 300 should wait until at least Thursday's matinee.
"When the year started, I didn't even know he was that close," Collins said. "We were talking one day and he brought up the fact that he's close. He said, 'You know, I actually have 300. I have 11 postseason saves that haven't counted.' The fact that he's getting closer to 300, I think everybody is excited about it. I've heard a lot of the other players talk about it."
• Collins said he had not been intimately involved in September call-up discussions, but he noted:
"There's a fine line in September call-ups. As we've talked in the last week, and it's been written by you guys about the position some of these players are in, they're trying to prove that they belong here. Do you sit those guys in September? I don't know if that's fair. They've been beating themselves to death here all summer long going through the good times, the bad times, all the turmoil and everything else. And now all of a sudden in September you tell them, 'Hey, look, I'm not going to play you anymore because I'm going to play somebody else?' There's a fine line there you've got to be careful of."