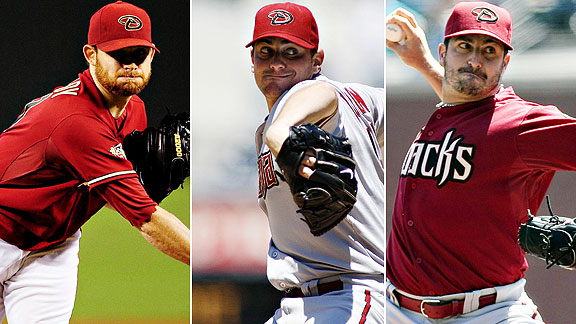 US Presswire
The Mets face (l to r) Ian Kennedy, Daniel Hudson and Jason Marquis this weekend in Phoenix.
METS (58-59, third place/NL East) vs. ARIZONA DIAMONDBACKS (65-53, first place/NL West)
Friday: RHP Dillon Gee (10-3, 3.93) vs. RHP Ian Kennedy (14-3, 3.20), 9:40 p.m. ET
Saturday: RHP Mike Pelfrey (6-9, 4.53) vs. RHP Daniel Hudson (11-8, 3.83), 8:10 p.m. ET
Sunday: LHP Chris Capuano (9-10, 4.51) vs. RHP Jason Marquis (8-6, 4.48), 4:10 p.m. ET
Diamondbacks short hops
• Right-hander Jason Marquis was acquired from the Nationals on July 30 and was scratched from a scheduled start in D.C. that night against the Mets. Arizona sent minor league infielder Zachary Walters to Washington. Marquis has produced a pair of subpar outings since joining Arizona. He has allowed a combined 15 runs (11 earned) in eight innings against the Giants and Astros. Interestingly, Marquis received a suspension in June for hitting now-teammate Justin Upton with a pitch during what became a beanball war between the teams. Arizona also acquired right-handed reliever Brad Ziegler, on July 31 from Oakland for infielder Brandon Allen and left-hander Jordan Norberto. Micah Owings relocated to the bullpen with Marquis' acquisition.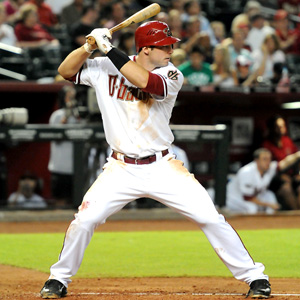 Norm Hall/Getty Images
First baseman Paul Goldschmidt was promoted Aug. 1.
• First base prospect Paul Goldschmidt has reached base in each of his first nine games since an Aug. 1 promotion, including a game-tying two-run homer off the bench Thursday with two out in the ninth inning against the Astros' Mark Melancon. That is the second longest streak to begin a major league career with the Diamondbacks, behind Gerrardo Parra's 17-game streak in 2009, according to the Elias Sports Bureau. Goldschmidt, playing in Double-A, was leading the minors with 30 homers and also was hitting .306 with 94 RBIs.
• Right-hander Ian Kennedy beat the Dodgers in his last start to up his career-high win total to 14. He has won six straight starts since July 8, the longest active streak in the majors.
• Ex-Met J.J. Putz and David Hernandez have combined to convert all 10 save chances since the All-Star break. Putz has allowed one earned run in 6 2/3 innings since returning from missing 20 games on the disabled list with right shoulder inflammation. Hernandez has allowed one earned run in his past 15 innings.
• Upton is three steals from reaching the 20-homer, 20-steal plateaus in a season for the second time in his career. The only other players in franchise history with two 20-20 seasons: Eric Byrnes and Chris Young. Upton committed his 11th error Thursday, most among major league right fielders.
• The Diamondbacks claimed infielder Tommy Manzella off waivers from the Houston Astros on Thursday and optioned him to Triple-A Reno.
• Kirk Gibson is two wins shy of 100 as manager.
Matchups
Gee vs. Diamondbacks (career: 1-0, 3.00)
Gerardo Parra .500, 1 RBI, 1 K, 2 PA
Ryan Roberts .333, 1 RBI, 3 PA
Justin Upton .333, 2 K, 3 PA
Miguel Montero .333, 1 HR, 1 RBI, 3 PA
Kelly Johnson .000, 1 K, 3 PA
Chris Young .000, 1 K, 3 PA
Pelfrey vs. Diamondbacks (career: 1-5, 5.82 ERA)
Miguel Montero .467, 2 RBI, 1 BB, 1 K, 16 PA
Chris Young .368, 1 BB, 1 K, 20 PA
Justin Upton .300, 2 RBI, 5 BB, 5 K, 15 PA
Kelly Johnson .269, 1 HR, 5 RBI, 5 BB, 6 K, 33 PA
Gerardo Parra .154, 1 RBI, 4 K, 13 PA
Ryan Roberts .000, 2 BB, 2 K, 6 PA
Joe Saunders .000, 3 PA
Micah Owings .000, 1 K, 1 PA
Capuano vs. Diamondbacks (career: 1-3, 3.77 ERA)
Miguel Montero 1.000, 1 HR, 1 RBI, 1 PA
Xavier Nady .231, 1 HR, 2 RBI, 5 K, 14 PA
Sean Burroughs .200, 1 RBI, 2 K, 7 PA
Kelly Johnson .143, 1 RBI, 1 BB, 1 K, 8 PA
Henry Blanco .125, 1 HR, 1 RBI, 1 K, 9 PA
Chris Young .000, 3 PA
Cody Ransom .000, 1 K, 2 PA
Justin Upton .000, 1 K, 1 PA
Kennedy vs. Mets (career: 2-0, 4.91 ERA)
David Wright .667, 2 HR, 5 RBI, 1 K, 6 PA
Angel Pagan .200, 1 RBI, 1 BB, 1 K, 6 PA
Scott Hairston .167, 1 HR, 3 RBI, 2 K, 6 PA
Willie Harris .000, 1 K, 3 PA
Jason Bay .000, 1 BB, 2 PA
Josh Thole 1 BB, 1 PA
Hudson vs. Mets (career: 1-0, 1.13 ERA)
Angel Pagan .500, 1 BB, 3 PA
Josh Thole .000, 3 PA
David Wright .000, 1 K, 3 PA
Scott Hairston .000, 1 PA
Marquis vs. Mets (career: 6-7, 4.64 ERA)
David Wright .406, 2 HR, 9 RBI, 1 BB, 1 K, 34 PA
Jason Bay .372, 5 HR, 11 RBI, 5 BB, 7 K, 49 PA
Angel Pagan .231, 2 RBI, 4 K, 13 PA
Willie Harris .200, 1 BB, 3 K, 11 PA
Josh Thole .200, 5 PA
Scott Hairston .143, 3 K, 7 PA
Ronny Paulino .100, 1 RBI, 1 K, 10 PA
Lucas Duda .000, 1 BB, 3 PA
Nick Evans .000, 1 PA
Last series results
Mets won, 3-0, at Citi Field, April 22-24 (AP game recaps)
Mets 4, Diamondbacks 1: With runners on first and third with no outs in the first inning, an ailing Mike Pelfrey appeared headed for another disastrous start. Pelfrey worked out of that jam unscathed and pitched seven gutty innings, and Ike Davis hit a drive that video review turned into a go-ahead two-run homer that helped the Mets beat the Diamondbacks. Some green tea, warm water with honey, Pepto-Bismol and a solid dose of effective secondary pitches helped give Pelfrey (1-2) his first win of the season. Pitching as the No. 1 starter in place of the injured Johan Santana, Pelfrey was dreadful in his first four starts. He had a 9.72 ERA and hadn't gone past 5 1/3 inning. But in a matchup against a team he was 0-5 against, Pelfrey was in command. He gave up just five hits and a run. He walked two and struck out four. He gave up a leadoff triple to Chris Young and walked Kelly Johnson but then struck out Justin Upton, and got Stephen drew to pop up to second base and Miguel Montero to fly to left. Shut down by Joe Saunders for six-plus innings, Diamondbacks manager Kirk Gibson pulled Saunders after he walked David Wright even though Carlos Beltran was 0-for-1 with a walk and Davis had struck out twice against him. Davis hit a drive to straightaway center field off Esmerling Vasquez (0-1) that appeared to hit above the orange line on the black wall. Wright scored. Davis stopped at second and waved his finger, questioning if it were a home run. After the umpires went off for 1 minute, 40 seconds, crew chief Gerry Davis emerged from the tunnel under the third base stands and gave the homer sign. It set off an enthusiastic cheer from the bundled up crowd on a 45-degree night that Gibson pregame dismissed as "fun," not cold. The run off Vasquez was the first earned run off Arizona relievers in 21 1/3 innings and gave the Mets their third win in five games. The Mets added two unearned runs in the eighth thanks to errors by reliever Juan Gutierrez and third baseman Ryan Roberts. Jason Isringhausen worked a scoreless eighth and Francisco Rodriguez finished for his third save.
Mets 6, Diamondbacks 4: Jason Bay homered and drove in three runs, and Ike Davis went deep for the third straight game, helping the Mets hold off Arizona for their third consecutive victory -- all since Bay returned from the disabled list. The Mets had lost 12 of 14 before their latest upswing. The Mets scored all of their runs with two outs, including a go-ahead single by Daniel Murphy in the sixth inning and another run-scoring single by Murphy in the eighth inning. That gave the Mets bullpen some breathing room. Rookie reliever Pedro Beato ran his scoreless innings streak to 11 with a clean seventh, and Jason Isringhausen worked around a single in the eighth, before Francisco Rodriguez put runners on the corners with one out in the ninth. He rebounded to strike out Xavier Nady and Chris Young, wrapping up his fourth save in his typical, adventuresome fashion. Dillon Gee (2-0) went six innings and allowed two earned runs, an RBI triple by Stephen Drew and a solo homer by Miguel Montero that tied the game in the sixth inning. Barry Enright (0-2) got hammered again for Arizona, allowing five runs and 12 hits in 5 2/3 innings. He's allowed at least four runs in all four of his starts this season. The Diamondbacks gave him an early lead when Drew ripped a triple down the first-base line to score Justin Upton in the first inning. But the Mets answered in the bottom half, when Jose Reyes walked and David Wright singled ahead of Bay, who lined a two-out single up the middle. Bay added to the lead in the third when he homered, his first long ball since June 28, 2010. Davis followed with his own mammoth shot, this one landing about halfway up the porch that overhangs the outfield wall. The Diamondbacks drew within a run in the fourth, when Drew worked a one-out walk and Montero hit a grounder to Murphy at second base that he let dribble into the outfield for an error. Ryan Roberts and Gerardo Parra followed with run-scoring singles to make it 4-3. Montero tied the game in the sixth with a homer to right field that landed on the pedestrian walkway above the bullpens. Murphy put the Mets back ahead in the bottom half, and their bullpen kept them there.
Mets 8, Diamondbacks 4: David Wright homered twice and Jason Pridie hit the first homer of his major league career. Wright has hit three homers in the past four games, all Mets victories on a successful six-game stay at Citi Field that has reversed a dim start to the season. Jon Niese (1-3) pitched seven innings for his first win. Armando Galarraga (3-1) was gone after three innings for Arizona. Ike Davis hit an RBI single in the fourth to extend his hitting streak to seven games. He struck out with the bases loaded in the eighth. By then the only real drama was whether he'd homer for the fourth straight game. Stephen Drew drove in two runs, but Chris Young went 0-for-4 for the Diamondbacks, dropping him to 2-for-25 on their six-game road trip. Galarraga only was charged with two of the six runs that happened on his watch, keeping his ERA stuck at an even 6.00. He struck out five, walked four and added a balk in the second inning. Third baseman Ryan Roberts' throwing error opened the door for the Mets in the third. He pulled first baseman Xavier Nady off the bag toward home on Wright's leadoff grounder to third. Wright came home on a sacrifice fly by Josh Thole before Pridie's three-run shot. In the fourth, Wright piled on against reliever Josh Collmenter with a high, arcing shot down the left-field line that just barely got over the fence and to the right of the pole. His first homer, which put New York up 2-0 in the first, was a hard liner that looked good right off the bat. Wright's last multi-homer game was Sept. 12, 2009, at Philadelphia. Niese was sharp enough that he didn't need all the offense. In seven innings, the left-hander gave up six hits and three runs, two earned. Two of the Diamondbacks' runs came on groundouts. The other two came on Drew's single in the sixth and double in the eighth.