After rosters expand Sept. 1, the Mets will promote players from the minors. Here are the early projections. (We'll omit the Dale Thayer/Mike O'Connor types on the 40-man roster and stick to the homegrown prospects.)
CHRIS SCHWINDEN, rhp (7-6, 3.53 ERA in 23 appearances, 21 starts, with Buffalo and Binghamton): The Dillon Gee-type feel-good story of the current crop of prospects, Schwinden came out of nowhere. A 22nd-round pick in 2008 from Fresno Pacific, even Schwinden has been pleasantly surprised by his success. "I didn't think I was going to do as good as I am now. It's kind of shocking. It's turned out for the best so far," Schwinden said earlier this season. (Read farm report from this season here.)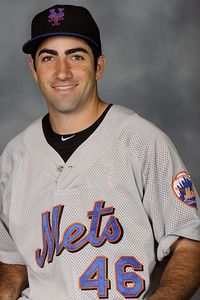 Courtesy of New York Mets
Josh Satin
JOSH STINSON, rhp (5-9, 6.36 ERA in 33 appearances, 15 starts, with Buffalo and Binghamton): Stinson had success at Triple-A Buffalo after a promotion late last season, going 2-2 with a 2.57 ERA in four starts. He stumbled this season in the International League as a starter, posting a 7.44 ERA in 13 starts. He then was reassigned to Double-A Binghamton, where he was assigned to the bullpen -- the role the Mets project for the Shreveport, La., native in the majors.
ROBERT CARSON, lhp (3-11, 4.85 in 21 starts with Binghamton): The most unexpected choice assuming he is in fact promoted, Carson likely would help as a southpaw in the bullpen. He threw 94-95 mph during his last outing with the B-Mets, but tended to be up in the strike zone, where more discerning major league hitters could give him problems. Left-handers are hitting .295 and right-handers .304 against Carson this season. Carson is a 14-round pick in 2007 out of high school in Hattiesburg, Miss. (Read farm report from last season here.)
JOSH SATIN, infielder (.324, 12 HR, 71 RBI, .415 OBP, 417 at-bats with Buffalo and Binghamton): After hitting .325 in Double-A, Satin earned a July 22 promotion to the Bisons and continued his offensive success. A sixth-round pick in 2008 from Cal-Berkeley, Satin recently enjoyed a 15-game hitting streak. Perhaps a notch below Daniel Murphy in terms of defensive skill, Satin similarly has been exposed to first, second and third base. (Read farm report from this season here.)
ZACH LUTZ, third baseman (.301, 6 HR, 17 RBI, 156 at-bats with Buffalo): A solid hitter whose father Yogi coached him at Alvernia College before Lutz was drafted in the fifth round in 2007, injuries have been Lutz's biggest obstacle. Early in his pro career, Lutz dealt with stress fractures in his feet, which required surgery. This year, he originally landed on the disabled list with a right hamstring strain. And while on the DL, he was struck with a foul ball in the dugout, breaking the ring finger on his non-throwing hand. Lutz also has suffered a pair of concussions this season -- both the result of being hit in the head with pitches. Lutz, not a gifted fielder, also has been exposed to first base during his minor league career. (Read farm report from last season here.)
FERNANDO MARTINEZ, outfielder (.264, 8 HR, 30 RBI, 216 at-bats with Buffalo): The 22-year-old Martinez, who has battled injuries throughout his career, hit .227 with a homer and two RBIs in 22 at-bats, primarily in May, with the Mets. Martinez missed 10 games in April with a right hamstring strain and 14 games in July with a left hip flexor strain with Buffalo. He does have a minor league option remaining in 2012, so he does not have to make the Opening Day roster or be exposed to waivers next season.
MIKE NICKEAS, catcher (.216, 2 HR, 14 RBI, 153 at-bats with Buffalo): The third catcher is widely respected for his catching ability and is viewed as a future coach. He's hitting .212 (7-for-33) over two seasons in the majors. (Read profile from spring training here.)