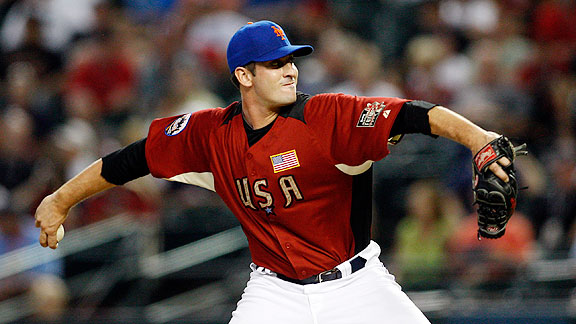 Jerry Lai/US Presswire
Matt Harvey was summoned by Mike Piazza to record the final out of the Futures Game.
Right-hander Matt Harvey had been told he might be summoned late in the game. Or he might be insurance for extra innings. But with one out to go in the Futures Game in Phoenix on July 10, it looked as though the Mets' 2010 first-round pick might go unused by his manager, Mike Piazza, in the showcase for top prospects.
"They kept it open," Harvey said. "… Toward the end I was getting a little worried there. I didn't think I was going to get in. When Piazza came out and let me get the last out, it was pretty cool."
Sure enough, Harvey faced the game's final batter, getting San Diego Padres prospect Reymond Fuentes to hit a groundball to first base for a three-pitch save in the U.S. team's 6-4 win against the World prospects at Chase Field.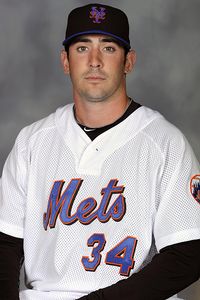 Courtesy of New York Mets
Matt Harvey
Afterward, Harvey, a potential future Mets star, briefly spoke with Piazza -- the star of a decade ago.
"We did a little bit. After the game I got to sit down and talk to him," Harvey said. "He was busy with reporters and stuff like that. It was more like small talk."
Since making his Double-A debut with Binghamton on June 26, Harvey is 2-3 with a 4.99 ERA. He recently had a solid two-start stretch, combining to limit Harrisburg and Altoona to one run on seven hits and three walks while striking out 14 in 12 innings. He seems to be hitting a groove now that he is acclimated to Double-A, although in his latest start, Harvey did surrender three runs in five innings to Trenton, the Yankees' affiliate.
"He had to learn that he can't pitch up in the zone," B-Mets manager Wally Backman said.
Said Harvey: "The two games that I really had success, I was keeping my fastball down and throwing my curveball for a strike. (The last start) I was up in the zone a little bit more, giving up some hits and a couple of runs. But when I keep it down and get my curveball over, everything is good."
The Mets do not want Harvey logging too many innings this season, in his first full year of professional baseball. But because Harvey still feels strong after the grind of the season, the organization now seems to be willing to allow him to reach 140 innings this year. Between Class A St. Lucie -- where Harvey won a first-half title and started the clincher -- and Binghamton, Harvey is at 115 2/3 innings.
Binghamton's season wraps up Sept. 5, so Harvey has four or five starts remaining if he makes the full complement. He can stay under the innings count without having his season cut short if he is capped at five innings or so per appearance, which has been the case his past two outings.
"I've got to prepare for each start and go out there and try to go nine every time," Harvey said. "Whatever they decide, it's their call.
"I feel great," Harvey continued. "Actually, I was just telling Clayton (Wilson), the strength coach, my legs feel better than they have all year, and my arm feels better than it has all year. Right around that 100-inning mark, I'm starting to feel really good."
Harvey, whose family still resides in Connecticut, where he went to Fitch High School in Mystic, spent last offseason working out at the University of North Carolina, his former college program. He plans to spend the upcoming offseason in Atlanta, where he can throw to his former Tarheels catcher, Mark Fleury, who is playing for high-A Bakersfield in the Cincinnati Reds organization.
Harvey is grouped with B-Mets teammate Jeurys Familia as well as recently acquired Zack Wheeler and Jenrry Mejia (who underwent Tommy John surgery) as the next wave of Mets pitching. After tossing five scoreless innings Saturday and then being pulled, Familia is 3-3 with a 3.78 ERA in 13 B-Mets starts.
"Obviously he throws hard. And when he keeps the ball down and throws his curveball for a strike, he's very, very effective," Harvey said. "He's got a power arm and a power curveball. He's fun to watch."
As for the experience meeting Piazza at the Futures Game, Harvey confesses he actually was rooting against the former All-Star catcher during the 2000 World Series.
Harvey, who was 11 years old during that Subway Series, grew up in Connecticut, rooting for the Yankees as well as the NFL's New England Patriots