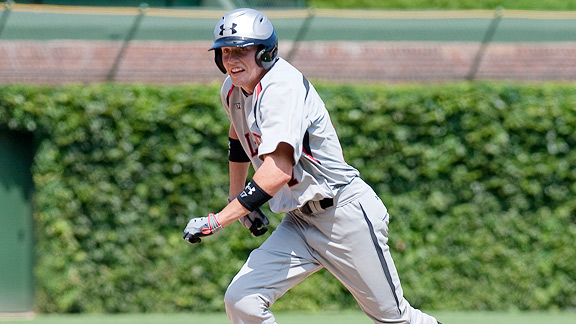 Damen Jackson/Icon SMI
Nimmo was named MVP of the 2010 Under Armour All-American Game at Wrigley Field.
A Mets official expressed confidence a deal with first-round pick Brandon Nimmo, a high school outfielder from Wyoming, will be completed/announced by Monday night's deadline.
Here's a refresher on Nimmo from draft day ...
Finding the first pick of the Sandy Alderson era as general manager took the New York Mets to a state that had never produced a first-round pick. Or a second-, third-, fourth- or fifth-round pick, for that matter. And to a state that does not even sponsor high school baseball.
Yet after listening to 18-year-old Wyoming native Brandon Nimmo speak for 10 minutes after being drafted, this much became clear: whatever the outfielder's baseball skills, Nimmo already has the personality to thrive in New York.
Acting as polished as David Wright ever has in front of his locker at Citi Field, Nimmo offered the tale of his discovery by scouts with a combination of eloquence and confidence.
Had his American Legion coach not been invited to help coach an all-star tournament in North Carolina last June and lobbied for Nimmo's inclusion, and had Nimmo not parlayed success there into an invitation to Wrigley Field for another showcase in which he ultimately was named MVP, Nimmo might have remained under the radar and be headed to a local university. But as a result of that exposure, when Nimmo's Legion team spent time in Arizona this spring, 90 scouts flocked to one of his workouts. And Nimmo knew things had become serious.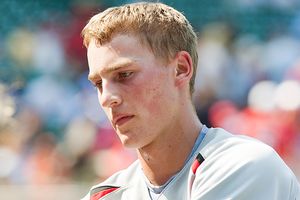 Damen Jackson/Icon SMI
Brandon Nimmo
"I know there are disadvantages to playing in Wyoming," Nimmo said. "I do not get to play year-round. I barely get to play for six months out of the year. That is a disadvantage that I know of. The advantage that I've got over most kids that are in these cold-weather states is that my dad, fortunately, built a barn for me to work in every day. That's how I've tried to stay polished and in the mix with the guys from the warmer states -- just by going out and working in the barn every day and just trying to make the swing good.
"The arm strength, you can't go out and long toss when it's 30 below zero. So that is tough to keep your arm going. But I haven't known any different. So I don't know if they're making it out to be more than they should be. I just know that this is the path that I took. This is the path that I was given. And I've tried to make the most of it."
The Mets had two picks on the first night of the draft. They took Nimmo 13th overall, then Oklahoma prep right-hander Michael Fulmer with the 44th overall pick, as compensation for losing Pedro Feliciano as a free agent to the Yankees. That the Mets went with two high school players, rather than go the college route given the immediate needs at the major league level, demonstrated a lot about the organization's long-haul approach.
"I think it really says two things," said VP Paul DePodesta, the former Los Angeles Dodgers GM, who is overseeing the draft. "I think the first is that we're looking for impact. … We are looking for guys, not ones who can just get here, but who can get here and make a difference, because that's the way we're going to win 95 games, 100 games. We're going to need guys who can come in here and make an impact. That's certainly one part of it. The other part is this is a long-term plan. We're not necessarily looking for quick fixes. We hopefully plan on being here for a while. We're really trying to do this right. Sometimes that does take a while. We're not going to take a guy just because he might be the quickest mover to the big leagues."
DePodesta added, referring to Nimmo and Fulmer, that they could "move pretty fast as far as high school kids are concerned."
Wyoming's previous best as far as the draft was a sixth-round pick in 1966 by the Philadelphia Phillies, Michael Beaver. His career ended three years later in low-A Walla Walla.
"I guess I do take some pride in that, that I'm representing Wyoming, and showing that great things can come out of Wyoming," Nimmo said. "I hope that it opens up doors for people from Wyoming. … All these people are saying, 'You can't do this. You can't that. You haven't faced the good pitching.' It's weird to think about it, that this isn't supposed to happen. I'm not supposed to be picked here. I'm not supposed to do this, do that. It gives you a little bit of something to feed off of -- 'Well, no one expects anything from me, so I'm just going to go and do my best and try to prove I have something to offer.'"
Scouting director Chad MacDonald called the well-spoken and glib Nimmo an "impact player, impact person."
DePodesta said Nimmo ranked No. 1 in his graduating class. (Insert joke here about how many actually are in the graduating class.)
"This is a really well-grounded and well-rounded individual," DePodesta said. "It's certainly had an impact on our decision-making."
Nimmo oozed confidence, but displayed not a trace of cockiness, during a conference call with New York writers.
"I'm not going to lie to you, at The Tournament of Stars, that was basically the first time I had seen 90 mph consistently," Nimmo said, referring to the North Carolina showcase that his coach sneaked him into. "… It didn't overwhelm me.
"I faced great pitchers, All-Americans, in the Under Armour All-American Game [at Wrigley Field] and I never felt overwhelmed by it. I always felt like my hands were quick enough. I have a picture here at home that my dad printed off. It's actually me breaking a bat, but it's on a 97 mph fastball, and it's off the end on an inside pitch. It's reassures myself that my hands are quick enough to get to the inside pitch on a 97 mph fastball, and I'm not even as strong as I'm going to be. I have a lot of confidence in myself."
Nimmo received a call from Wright after the draft.
Wright had spent the evening in the Mets' draft room, and placed a congratulatory call to both of the Mets' selections.
"Brings back some cool memories," Wright explained. "Seems like a great guy and sounds very excited."
"That's almost a dream-come-true right in itself, you know?" Nimmo said about the call from Wright.