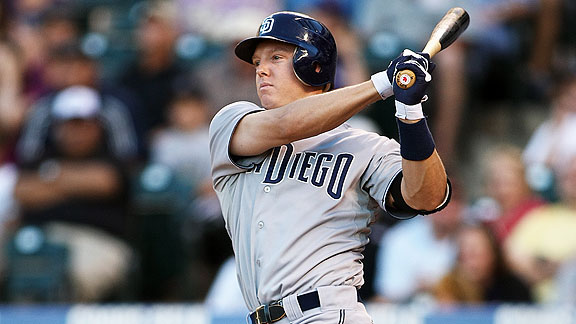 Howard Smith/US Presswire
Catcher Nick Hundley returned from the disabled list on Friday, after recovering from elbow surgery.
METS (58-62, third place/NL East) vs. SAN DIEGO PADRES (54-68, fifth place/NL West)
Monday: RHP R.A. Dickey (5-11, 3.75) vs. RHP Aaron Harang (11-3, 3.95), 10:05 p.m. ET
Tuesday: LHP Jon Niese (11-9, 4.03) vs. LHP Cory Luebke (4-6, 3.09), 10:05 p.m. ET
Wednesday: RHP Dillon Gee (10-4, 4.07) vs. RHP Tim Stauffer (7-8, 3.06), 6:35 p.m. ET
Padres short hops
• Catcher Nick Hundley was activated from the disabled list Friday and proceeded to go 3-for-3 with a walk, and homer off Cincinnati's Bronson Arroyo, in his return. Hundley underwent arthroscopic surgery on his right elbow and had missed more than a month. He also had been out May 6 to June 8 with a left oblique strain. Luis Martinez was optioned to Triple-A Tucson to clear roster room.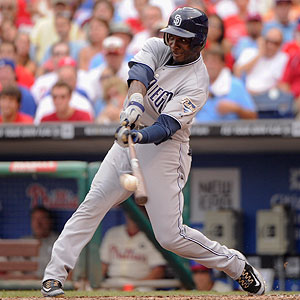 Howard Smith/US Presswire
Orlando Hudson returned to the lineup Friday, three days after leaving a game at Citi Field with a groin injury.
• Right-hander Tim Stauffer, a Saratoga Springs native, allowed five homers in three innings Saturday at Cincinnati. It matched the most long balls allowed by a pitcher in franchise history (also Woody Williams on July 13, 2001 at Houston). The Padres allowed seven homers in the game at Great American Ball Park, matching their franchise record. The Mets produced three homers against Stauffer at Citi Field in his previous start last week -- by Jason Bay, David Wright and Angel Pagan. As a result, Stauffer became the first Padre to allow three-plus homers in consecutive starts since David Wells in 2007. Stauffer also became the fourth major league pitcher to allow five homers in a game this season, joining Sean O'Sullivan, CC Sabathia and Carlos Zambrano.
• Right-hander Aaron Harang is 2-1 with a 2.45 ERA in his past six home starts.
• Second baseman Orlando Hudson, who left Tuesday's game at Citi Field in the fifth inning with a right groin strain, returned to the lineup Friday.
• Center fielder Cameron Maybin is the first Padre to steal 30 bases since Dave Roberts in 2006.
• The Padres optioned outfielder Blake Tekotte to Double-A San Antonio and promoted right-hander Pat Neshek from Triple-A Tucson on Sunday.
• All-Star closer/ex-Met Heath Bell remained a Padre, but right-handed reliever Mike Adams and left fielder Ryan Ludwick were shipped out before the July 31 trading deadline. Adams, who had a 1.13 ERA in 48 appearances with San Diego, went to Texas for minor league pitchers Robbie Erlin and Joe Wieland. Ludwick, who was hitting .238 with a team-high 11 homers and 64 RBIs, was acquired by Pittsburgh for a player to be named or cash. Bell, a free-agent-to-be, has 32 saves in 35 chances and expected he would be dealt.
• Third baseman Chase Headley (.292, 4 HR, 43 RBI) suffered a fractured left pinkie sliding while stealing a base Aug. 6 and may miss four to six weeks. Rookie James Darnell, a second-round pick in 2008 out of the University of South Carolina, where he was teammates with Mets farmhand Reese Havens, was promoted. Darnell's first major league hit came in New York against Bobby Parnell. After his first three major league games came at third base, Darnell has started consecutive games in left field, with Logan Forsythe assigned to the hot corner.
Matchups
Dickey vs. Padres (career: 0-1, 4.50)
Will Venable .667, 1 RBI, 3 PA
Kyle Blanks .500, 1 BB, 3 PA
Cameron Maybin .333, 1 RBI, 3 K, 9 PA
Orlando Hudson .333, 1 K, 3 PA
Jesus Guzman .333, 3 PA
Alberto Gonzalez .250, 1 RBI, 5 PA
Jason Bartlett .000, 1 RBI, 4 PA
Niese vs. Padres (career: 1-1, 1.08 ERA)
Alberto Gonzalez 1.000, 3 PA
Orlando Hudson .667, 3 PA
Jesus Guzman .333, 1 BB, 4 PA
Cameron Maybin .316, 1 HR, 3 RBI, 6 K, 19 PA
Aaron Cunningham .250, 4 PA
Kyle Blanks .000, 1 BB, 1 K, 4 PA
Nick Hundley .000, 1 PA
Jason Bartlett .000, 1 PA
Gee vs. Padres (career: never faced)
Harang vs. Mets (career: 3-3, 5.88 ERA)
Josh Thole 1.000, 3 PA
Nick Evans 1.000, 1 RBI, 1 PA
Ruben Tejada .667, 3 PA
David Wright .600, 1 HR, 5 RBI, 2 BB, 3 K, 17 PA
Jason Pridie .500, 1 RBI, 2 PA
Angel Pagan .400, 1 RBI, 2 K, 5 PA
Jason Bay .347, 5 HR, 9 RBI, 1 BB, 11 K, 52 PA
Scott Hairston .200, 1 BB, 4 K, 11 PA
Ronny Paulino .154, 1 RBI, 6 K, 13 PA
Willie Harris .125, 1 K, 8 PA
Mike Baxter .000, 1 BB, 1 K, 3 PA
Luebke vs. Mets (career: 0-0, 3.60 ERA)
David Wright .500, 1 BB, 3 PA
Lucas Duda .333, 2 RBI, 1 K, 3 PA
Jason Bay .333, 1 K, 3 PA
Scott Hairston .000, 1 BB, 1 K, 3 PA
Justin Turner .000, 1 BB, 3 PA
Nick Evans .000, 3 K, 3 PA
Ruben Tejada .000, 1 BB, 2 PA
Ronny Paulino .000, 2 PA
Stauffer vs. Mets (career: 0-1, 3.75 ERA)
Justin Turner .333, 4 PA
Jason Bay .333, 1 HR, 1 RBI, 3 PA
Ruben Tejada .333, 3 PA
Lucas Duda .333, 1 K, 3 PA
David Wright .167, 1 HR, 2 RBI, 2 K, 6 PA
Angel Pagan .143, 1 HR, 1 RBI, 2 K, 7 PA
Willie Harris .000, 1 BB, 1 K, 7 PA
Ronny Paulino .000, 1K, 3 PA
Jason Pridie .000, 1 PA
Last series results
Mets split, 2-2, at Citi Field, Aug. 8-11 (AP game recaps)
Mets 9, Padres 8: Lucas Duda's two-run single capped a three-run ninth against All-Star closer Heath Bell, and the banged-up Mets rallied past the Padres. Angel Pagan, Jason Bay and David Wright homered for the Mets, who started strong and finished with a flourish after putting their top two hitters on the disabled list. Shortstop Jose Reyes is sidelined with a strained left hamstring, the same problem that landed the NL's leading hitter on the disabled list for 16 days last month. Daniel Murphy, who filled in admirably for injured first baseman Ike Davis, is done for the season because of a torn medial collateral ligament. Pagan moved up to Reyes' spot at the top of the lineup and hit his third career leadoff homer. Ruben Tejada, recalled from Triple-A Buffalo, started at shortstop and made a tough defensive play in an important situation. Jason Bartlett's bases-loaded double capped a four-run eighth that gave the Padres an 8-4 lead. But their normally reliable bullpen couldn't hold it, and San Diego's four-game winning streak was snapped. Duda, who had three hits, singled to start a two-run eighth against Chad Qualls. Bay walked and pinch-hitter Mike Baxter, just promoted from Triple-A Buffalo, delivered an RBI double when left fielder Kyle Blanks misplayed the deep drive, letting it glance off his glove. Claimed off waivers from the Padres last month, Baxter grew up in Queens about 10 minutes from the Mets' home and went to games at Shea Stadium as a kid. But he had never been to Citi Field, which opened in 2009, before arriving in the clubhouse. It was his second major league hit and RBI. Ronny Paulino's sacrifice fly cut it to 8-6. Jason Pridie opened the ninth with a single off Bell (2-4), a former Met, and moved up on a wild pitch as Pagan struck out. Justin Turner's single put runners at the corners and Wright smacked an RBI single up the middle. Another wild pitch advanced the runners to second and third before Duda grounded a single up the middle, just past diving second baseman Orlando Hudson. Wright scored the winning run with a headfirst slide into the leg of plate umpire Marty Foster and the jubilant Mets mobbed Duda near second base.
Mets 5, Padres 4: Rookie reliever Josh Spence walked light-hitting Ruben Tejada to force home the tiebreaking run and the Mets rallied late for the second consecutive game. Angel Pagan homered to start New York's comeback and Jason Isringhausen earned his 299th save. The Mets trailed by four runs in the eighth inning of the series opener and by two in the eighth in this game. Orlando Hudson, starting in the cleanup spot for the first time in his 10-year career, hit an RBI double for the Padres before leaving with a strained right groin. Wade LeBlanc returned from a brief trip to the minors and pitched six solid innings for San Diego. He was in line for his first major league victory in almost a year before the depleted Mets fought back. Pagan, the team's new leadoff man, homered for the second consecutive night when he connected off Chad Qualls (5-6) to start the eighth. That cut New York's deficit to 4-3. Justin Turner and David Wright followed with singles, chasing Qualls, and Lucas Duda advanced the runners with a sacrifice bunt. Jason Bay was intentionally walked and pinch-hitter Nick Evans tied it with a sacrifice fly off Spence, who entered with a 0.45 ERA in 23 appearances. Ronny Paulino walked to load the bases and the 21-year-old Tejada worked his way back from a 1-2 count to draw a walk that put New York ahead. Isringhausen pitched a perfect ninth for his sixth save of the season.
Padres 9, Mets 5: After throwing the ball all over the infield and stranding a bevy of runners, the Mets finally ran out of comebacks against San Diego's bullpen. Will Venable sparked a surging offense with four hits from the leadoff spot and the Padres' proud relief corps rebounded from consecutive flops. Once again, however, the feisty Mets fought back until the end. An error by second baseman Logan Forsythe allowed them to cut the deficit to four in the ninth inning. With the bases loaded, Forsythe then made a leaping grab of Willie Harris' line drive for the final out. Josh Thole had four of New York's 15 hits. Ruben Tejada added three hits and a spectacular play at shortstop for the Mets, who left 13 on base in a shoddy performance. R.A. Dickey (5-11) retired his final 11 batters but lost his third straight start. Angel Pagan left with lower back spasms, further depleting New York's injury-riddled lineup. Aaron Harang (11-3) won his second straight start despite giving up at least 10 hits in each outing. Cameron Maybin had two RBIs and the Padres built a cushion with a three-run ninth. Venable scored three times. He tripled, singled and doubled twice for the Padres, who rank at or near the bottom of the National League in nearly every major offensive category. But they have 56 runs in their last six games, going 4-2 during that stretch. The Mets tried to rally again, trimming it to 6-4 in the eighth on a pinch-hit single by Harris. Luke Gregerson, however, got out of the inning on Justin Turner's double-play grounder. All-Star closer Heath Bell, who blew a save in the series opener, worked a shaky ninth.
Padres 3, Mets 2: In the absence of injured All-Star Jose Reyes, the Mets are taking a long, hard look at 21-year-old Ruben Tejada. The team wants to determine whether he's ready to start at shortstop next season if Reyes leaves as a free agent. This loss was not Tejada's best audition. Cameron Maybin homered and stole two bases before scoring the tiebreaking run on Tejada's second error, rallying San Diego past the Mets for a split of their four-game series. Lucas Duda hit a two-run double for the Mets, who managed only three hits and went 1-for-10 with runners in scoring position. New York finished 3-6 on a disappointing homestand. With the Mets short on rested relievers, Jon Niese (11-9) tossed 7 2/3 strong innings and matched his career high with 122 pitches. He outlasted Cory Luebke in a matchup of young left-handers from Ohio, but couldn't hold an early 2-0 lead. The score was tied in the eighth when Maybin hit a leadoff single and stole second on a pickoff throw to first. Duda's toss was a bit late to Tejada and the Mets didn't get the call on a close play when he tagged Maybin's shoulder. Niese, who pitched a one-hitter against San Diego at Citi Field last year for his only major league shutout, put his hands on his head in exasperation. After the game, Maybin said he was safe. Tejada thought he got him. One out later, Jesus Guzman was intentionally walked and the runners pulled off a double steal as Kyle Blanks struck out. Aaron Cunningham hit a grounder and Tejada charged in, trying to scoop it on his forehand. But the ball kicked off the heel of his glove, allowing Maybin to score.