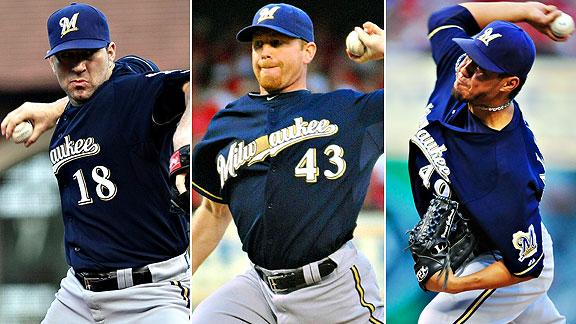 US Presswire
The Mets face (l to r) Shaun Marcum, Randy Wolf and Yovani Gallardo this weekend.
METS (60-63, third place/NL East) vs. MILWAUKEE BREWERS (73-52, first place/NL Central)
Friday: RHP Mike Pelfrey (6-9, 4.53) vs. RHP Shaun Marcum (10-3, 3.50), 7:10 p.m. ET
Saturday: LHP Chris Capuano (9-11, 4.58) vs. LHP Randy Wolf (10-8, 3.30), 4:10 p.m. ET
Sunday: RHP R.A. Dickey (5-11, 3.77) vs. RHP Yovani Gallardo (13-8, 3.55), 1:10 p.m. ET
Brewers short hops
• Francisco Rodriguez, who was acquired from the Mets for a pair of lower-tier minor league players to be named, is 2-0 with a 2.03 ERA in 14 relief appearances since the trade, but has no saves. K-Rod has not pitched since Saturday, a day after leg cramping resulted from batting and beating out an infield single and led to soreness. He is expected to be available this weekend. Rodriguez has not shared the closing role because John Axford has converted 33 straight saves, eclipsing the franchise-record 25 established by Doug Jones in 1997. Rodriguez, who reportedly had Milwaukee on a 10-team no-trade list that was never properly filed, is due to be a free agent after the season. New agent Scott Boras agreed in return for $500,000 compensation to get rid of the clause in K-Rod's contract that called for his contract to vest at $17.5 million if he finished 55 games. Rodriguez has switched from No. 75 to No. 57, which he wore with the Angels.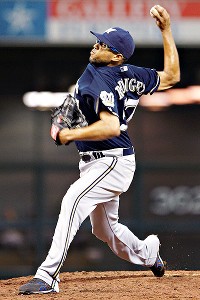 Troy Taormina/US Presswire
Francisco Rodriguez visits Citi Field this weekend.
• Left fielder Ryan Braun and first baseman Prince Fielder may both get serious National League MVP consideration. Braun hit .458 (11-for-24) with two homers on Milwaukee's 6-1 homestand and has produced the second 20-homer, 20-steal season of his career. His .329 average trails only Jose Reyes' .336 in the NL. Fielder, a looming free agent, is the lone major leaguer to start each of his team's games this season. His 27 homers rank fifth in the NL, three shy of matching leader Albert Pujols.
• In addition to K-Rod, the Brewers acquired Jerry Hairston Jr. before the July 31 trading deadline, for minor league outfielder Erik Komatsu. Hairston, the brother of Mets outfielder Scott Hairston, started his fifth game in center field since the trade Thursday. He also has started four games at second base, with All-Star Rickie Weeks (.272, 19 HR, 43 RBI) on the disabled list with a severe left ankle sprain. Hairston did not muster an RBI as a Brewer until Wednesday and has struggled at the plate since the trade, although he did have a two-hit game Thursday. Hairston may see more action at second base than in the outfield going forward until Weeks returns, since alternative Felipe Lopez (.186) also has struggled on offense. Weeks has started taking batting practice, but may not return until Sept. 1.
• Milwaukee's starting pitching has been dominant. In fact, despite scoring only 19 runs in seven games, the Brewers went 6-1 on their just-completed homestand. The lone loss came in the finale when Clayton Kershaw and the Dodgers beat them, 5-1. Even in that loss, spot-starter Marco Estrada allowed one run in five innings. Milwaukee went five straight games through Wednesday allowing one or fewer runs per game -- a franchise record.
• Right-hander Shaun Marcum, acquired from the Toronto Blue Jays last offseason for Brett Lawrie, has 15 quality starts in 25 outings. In his last three starts, the Brewers have gone to extra innings, prompting no-decisions. Opponents are hitting .227 against Marcum, which ranks 10th in the NL.
• Left-hander Randy Wolf has allowed one run in 16 innings over his past two starts -- wins against the Cardinals and Dodgers.
• Speedy ex-Mets farmhand Carlos Gomez is out with broken left collarbone that required a plate being inserted, but has made a rapid recovery and is nearing a minor league rehab assignment.
• Right fielder Corey Hart has taken over the leadoff spot in Weeks' absence.
• Milwaukee owns a 47-16 home record, but is 26-36 on the road. The Brewers won 19 of 21 games before Thursday's loss and have opened a 6½-game lead in the NL Central.
Matchups
Pelfrey vs. Brewers (career: 1-1, 3.12)
Ryan Braun .500, 6 PA
George Kottaras .500, 1 BB, 3 PA
Craig Counsell .400, 1 BB, 6 PA
Prince Fielder .333, 1 HR, 3 RBI, 1 BB, 1 K, 11 PA
Felipe Lopez .250, 1 RBI, 2 BB, 11 PA
Corey Hart .222, 1 HR, 1 RBI, 2 K, 9 PA
Nyjer Morgan .150, 1 RBI, 2 BB, 2 K, 23 PA
Jerry Hairstson .071, 5 K, 15 PA
Mark Kotsay .000, 1 BB, 7 PA
Casey McGehee .000, 2 BB, 5 PA
Yuniesky Betancourt .000, 2 PA
Capuano vs. Brewers (career: 1-0, 1.50 ERA)
Yuniesky Betancourt .667, 3 PA
Jonathan Lucroy .667, 3 PA
Craig Counsell .500, 2 RBI, 2 K, 7 PA
Corey Hart .500, 1 BB, 3 PA
Felipe Lopez .429, 1 HR, 3 RBI, 2 BB, 3 K, 17 PA
Prince Fielder .333, 1 HR, 1 RBI, 3 PA
Jerry Hairston .250, 1 HR, 2 RBI, 3 K, 20 PA
Casey McGehee .000, 3 PA
Ryan Braun .000, 2 K, 3 PA
Mark Kotsay .000, 2 PA
Dickey vs. Brewers (career: 1-1, 2.65 ERA)
Jonathan Lucroy .667, 3 PA
Jerry Hairston .500, 1 BB, 3 PA
Mark Kotsay .444, 2 HR, 3 RBI, 3 BB, 12 PA
Yuniesky Betancourt .333, 3 PA
Felipe Lopez .200, 1 K, 5 PA
Prince Fielder .143, 1 K, 7 PA
Corey Hart .143, 2 K, 7 PA
Nyjer Morgan .091, 1 BB, 1 K, 12 PA
Ryan Braun .000, 8 PA
Casey McGehee .000, 2 K, 7 PA
George Kottaras .000, 1 RBI, 3 PA
Marcum vs. Mets (career: 0-0, 0.00 ERA)
Ruben Tejada .500, 2 PA
Scott Hairston .333, 3 PA
Jason Bay .200, 2 BB, 1 K, 7 PA
Angel Pagan .000, 1 BB, 3 PA
Justin Turner .000, 1 BB, 3 PA
Josh Thole .000, 2 PA
Willie Harris 1 BB, 1 PA
Wolf vs. Mets (career: 12-5, 3.21 ERA)
Lucas Duda 1.000, 1 PA
Ronny Paulino .714, 1 BB, 2 K, 8 PA
Jason Bay .417, 1 HR, 2 RBI, 2 BB, 2 K, 15 PA
Ruben Tejada .400, 1 BB, 6 PA
Angel Pagan .364, 2 K, 11 PA
Scott Hairston .308, 1 HR, 3 RBI, 3 K, 13 PA
David Wright .300, 1 HR, 5 RBI, 6 BB, 4 K, 38 PA
Nick Evans .077, 1 BB, 4 K, 14 PA
Justin Turner .000, 1 K, 3 PA
Josh Thole .000, 3 PA
Gallardo vs. Mets (career: 1-2, 3.68 ERA)
Jason Pridie 1.000, 1 RBI, 2 PA
Lucas Duda .667, 1 HR, 1 RBI, 3 PA
Ruben Tejada .500, 1 RBI, 4 PA
Nick Evans .500, 1 BB, 1 K, 3 PA
Josh Thole .500, 2 PA
Scott Hairston .333, 2 RBI, 1 K, 6 PA
Justin Turner .333, 1 K, 3 PA
Angel Pagan .300, 1 RBI, 3 K, 10 PA
Willie Harris .286, 2 BB, 2 K, 9 PA
David Wright .182, 1 HR, 2 RBI, 2 BB, 6 K, 13 PA
Ronny Paulino .167, 3 RBI, 2 K, 13 PA
Jason Bay .125, 1 BB, 3 K, 9 PA
Last series results
Mets won, 2-1, at Miller Park, June 7-9 (AP game recaps)
Mets 2, Brewers 1: Jose Reyes hit a two-run triple to give New York the lead in the seventh inning and the Mets held on to beat the Brewers. Reyes' triple came off reliever Marco Estrada and wasted an impressive start from Milwaukee's Shaun Marcum, who pitched six scoreless innings. Prince Fielder hit his 15th home run, a solo shot to give the Brewers the lead in the sixth. But that was the only big mistake of the night for Mets starter Chris Capuano (4-6), a longtime Brewers player making his return to Milwaukee. Francisco Rodriguez pitched the ninth for his 17th save. Estrada (1-3) took the loss. Marcum held the Mets scoreless, giving up two hits in six innings. He threw 108 pitches and gave up four walks, and was lifted in favor of Estrada to start the seventh. The reliever got in trouble right away, giving up a walk and a single. After Reyes' triple, the Brewers made a pair of strong defensive plays to limit the damage. Second baseman Rickie Weeks fielded a groundball and threw home, where catcher Jonathan Lucroy made a nice swiping tag to get Reyes. Then center fielder Carlos Gomez leaped high in the air to rob Carlos Beltran of what certainly would have been a two-run homer, ending the inning. It was a big night for Capuano, who was with the Brewers organization from 2004 to 2010 and made the All-Star team in 2006 before his career got off track because of injuries. He received warm applause from the crowd when he took the mound at the beginning of the game, as well as in his first plate appearance. And he nearly homered in the fifth, sending a deep fly ball to center that was caught at the wall by Carlos Gomez.
Brewers 7, Mets 6: If everything had gone according to plan, Terry Collins would have given Jason Isringhausen a rest. And when Collins was forced to call on his veteran reliever to try to get Milwaukee's Prince Fielder out in a critical situation, his instructions were clear: With a base open, there was no reason to give Fielder anything good to hit. Neither plan worked out. Isringhausen gave up a game-tying two-run homer to Fielder in the eighth inning. The Mets' bullpen collapse became complete in the ninth, when Dale Thayer surrendered a two-out RBI double to Nyjer Morgan to give the Brewers a victory. Morgan's game-winner might prove even more painful to the Mets once they find out that he actually thought it was the eighth inning. Morgan was still laughing in the clubhouse afterward. It was a rough loss for the Mets, who had rallied for five runs in the top of the eighth to take the lead only to watch their bullpen blow it. It was a new low for a bullpen that has struggled, their largest blown lead of the season. Milwaukee's Craig Counsell singled with one out in the ninth off Thayer (0-1) and stole second when Rickie Weeks struck out. Morgan then hit a ball down the right-field line to end it and was mobbed at second base. Collins did like the way his team fought back to take the lead in the top half of the eighth. Ronny Paulino hit a three-run homer for the Mets as part of a five-run eighth that made it 6-2.
Mets 4, Brewers 1: Jon Niese pitched effectively into the eighth and the Mets took two of three games against the best home team in the majors. Niese (5-5) retired the first 11 Brewers hitters and only allowed an RBI double to Prince Fielder in the fourth and singles in the seventh and eighth. He matched a career high with eight strikeouts. The Mets roughed up Brewers ace Yovani Gallardo (8-3) to snap his six-game winning streak. Gallardo allowed 10 hits and didn't get an out in the fifth. Francisco Rodriguez recorded the final four outs for his 18th save. Niese used his sweeping curveball and a cut fastball to keep the Brewers guessing. Carlos Gomez swung twice at the big breaking ball before watching a third for strike three to end the fifth. Niese's biggest trouble came in the seventh when Ryan Braun singled and Fielder walked with no outs. But slumping Casey McGehee hit a fly to the warning track in right field, Yuniesky Betancourt fouled out after a running grab by catcher Josh Thole and Niese struck out Jonathan Lucroy looking. Niese got the first two outs in the eighth before leaving for Rodriguez after he walked Rickie Weeks and allowed a single to Corey Hart. Braun lined out to end the threat. Rodriguez worked around a Fielder double to start the ninth. Jose Reyes had his 12-game hitting streak end, but every other position player got at least one hit off Gallardo. Ruben Tejada's two-out, run-scoring single in the second and Jason Pridie's sacrifice fly in the fourth gave the Mets a 2-0 lead. Fielder's two-out double in the fourth drove in Braun for his 55th RBI, but the Mets came right back with two more runs in the fifth. The first four batters singled for New York, including RBI hits by Daniel Murphy and Angel Pagan that chased Gallardo.