After getting swept by the Milwaukee Brewers, Terry Collins acknowledged concern that the accomplishments of this season would erode, at least in the view of the fan base. It does not get any easier for the Mets, either, with series at Philadelphia and then back home against Atlanta looming.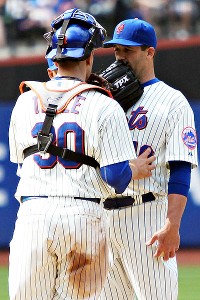 Debby Wong/US Presswire
Josh Thole meets with Tim Byrdak at the mound during Milwaukee's two-run eighth inning Sunday.
"Anybody can look at the schedule and know who we're playing upcoming," said R.A. Dickey, who limited Milwaukee to two runs in seven innings before being lifted for pinch-hitter Willie Harris with two on and two out and the score tied at 2 on Sunday. "So it's not going to get any easier. Our moms and our wives are the only ones that are going to feel sorry for us right now. We can't mope around and feel sorry for ourselves."
Dickey said the Mets need to seize on the positives, such as Lucas Duda's two-run homer off Yovani Gallardo that evened the score. Dickey was lifted for Harris with two out and Jason Bay, who had doubled off the top of the left-field wall, on second base as the potential go-ahead run in the bottom of the seventh.
"There's still some great things being done," Dickey said. "You've got to take those and feed off of those -- a great at-bat by Lucas Duda off an All-Star pitcher. I mean, you know you're not going to score many runs on a guy like that. He's just good. And for us to have some young guys who worked some counts and got some big hits in some big situations was good. Any other park in the universe that's a home run that Jason Bay hit too. There were a lot of good things that happened. And we have to grow from the things that are not so good and hang on to the things that are."
David Wright does not expect the Mets to fold -- not with so many players lacking job security for 2012.
"I think we have a lot of guys playing for spots next year," Wright said. "Obviously it isn't the ideal situation with all of the injuries that we've had -- it seems like injuries to guys filling in for injuries. But we know that when we go out there, especially when we play good teams like this, that we've got to play perfect to win baseball games. And when you don't play perfect, you're very rarely going to win. Today we made a few mistakes against a guy that I think somehow flies under the radar, but I think has some of the best stuff in the National League. We stayed right there with him, one swing away, and ultimately we had a couple of mishaps and that costs you games when you play teams like this."
Read the full analysis of Sunday's game in which Collins outlines his frustrations and concerns here.