Terry Collins said the Mets need bullpen help. And not on Sept. 1, when rosters expand.
Now.
So the manager suggested he would talk to Sandy Alderson and try to get some assistance on the way sooner than later.
"I don't think there's any question about it. It's going to be discussed," Collins said after his relief corps allowed four runs in two innings Sunday and suffered its sixth loss this month, matching the highest total in the majors.
Collins added that the Mets have pretty much exhausted the options at Triple-A -- been there, done that, so to speak.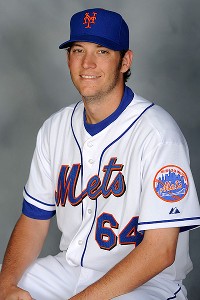 Courtesy of New York Mets
Josh Stinson
So the manager floated Double-A right-hander Josh Stinson as a potential call-up. Actually, Stinson was the only reliever Collins identified by name in a question about relievers he would like to see, although the response was referring to an inquiry specifically about September call-ups.
Right-handers John Lujan and Dale Thayer happen to be pitching well with Triple-A Buffalo and would be candidates as well. Stinson and Thayer are on the 40-man roster.
Stinson, 23, is 4-2 with a 4.43 ERA and four saves in 23 appearances (two starts) with Binghamton this season, including Saturday's save at Fenway Park in the B-Mets' game at the historic stadium against Double-A Portland.
He struggled in the rotation at Buffalo early in the season, posting a 7.44 ERA in 13 starts before a demotion and return to his preferred relief role.
"I think he's going to be an outstanding relief pitcher, and I think that's where he belongs," Collins said. "Power sinker. Great slider. Young guy."
A 37th-round pick in 2006 out of high school in Shreveport, La., who was signed over slot to lure him from attending Northwestern State University, Stinson worked in relief as a minor leaguer from '08 until midway through last season.
When B-Mets rotation members Eric Niesen suffered a concussion and Brad Holt was demoted, Stinson was given a starting assignment.
"I've always said, whatever they see me being in the big leagues is what I'll do," Stinson said last week before a B-Mets game. "But I prefer relieving. You have to have more of a short-term memory. If you get hit around one night, you can go out the next night and pitch and not have to wait five days. It's a different mindset. There's a lot more adrenaline for me. I don't know about others, but for me, as soon as that phone rings and you hear your name, it starts going."
Stinson throws five pitches -- fastball, sinker, curveball, slider and changeup. But in one recent appearance, 16 of the 17 pitches he threw were fastballs because the relief role allows him to pare his arsenal.
Why was Stinson less successful as a starter?
His explanation: "I was trying to, I think, hold stuff back to pitch longer innings. I think it took away from my game. I didn't go out there every pitch and just let it go. That was the key, I think, of my success last year. Every pitch, when I was starting, I was letting it go. … And this year fastball command when I was up there (at Buffalo) wasn't very good. I lost a little bit. Up there, and here, if you fall behind hitters, it's a battle to get them out."
Stinson, by the way, planned to pursue a career as an emergency-room nurse had the Mets not offered a reported $125,000 to sign him.
"Every day is a different thing," Stinson said about the attraction to that occupation. "You never know what's going to come in. That's why I was going to be a fireman if that didn't work out. That's always something different.
"My scout was like, 'We're going to try to take you in the fourth to seventh round.' After Day 1, it didn't happen, so I was kind of like, 'Well, I guess I'm going to college. In three years hopefully I'll get drafted again.' They came back the second day and drafted me in the 37th. At first I wasn't sure if they were going to give me the money I was looking for. And then, luckily, they did."