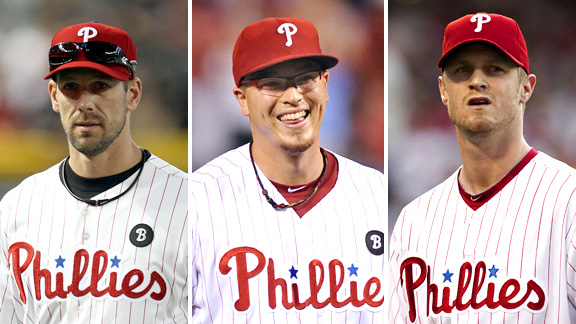 Getty Images
The Mets face (l to r) Cliff Lee, Vance Worley and Kyle Kendrick during the series at Citizens Bank Park.
METS (60-66, fourth place/NL East) vs. PHILADELPHIA PHILLIES (81-44, first place/NL East)
Monday: RHP Dillon Gee (11-4, 3.92) vs. LHP Cliff Lee (13-7, 2.82), 7:05 p.m. ET
Tuesday: LHP Jon Niese (11-10, 4.05) vs. RHP Vance Worley (8-1, 2.76), 7:05 p.m. ET
Wednesday: RHP Mike Pelfrey (6-10, 4.61) vs. RHP Kyle Kendrick (7-5, 3.24), 1:05 p.m. ET
Phillies short hops
• Right fielder Hunter Pence was acquired from the Houston Astros on July 29 for four minor leaguers: Jarred Cosart, Jonathan Singleton, Josh Zeid and Domingo Santana. Despite going 0-for-4 Sunday at Washington, the 28-year-old Pence is hitting .307 (23-for-75) with four homers, 12 RBIs and 11 walks in 20 games as a Phillie. The team is 15-5 during that span. Pence is under the Phillies' control through the 2013 season. He is batting fifth, protecting cleanup hitter Ryan Howard. Pence has the most outfield assists in the majors over the past four seasons.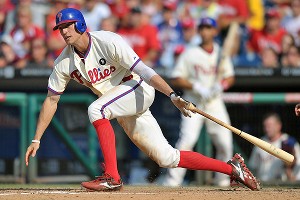 Drew Hallowell/Getty Images
Right fielder Hunter Pence arrived from the Houston Astros before the trading deadline last month.
• Shortstop Jimmy Rollins is due to have an MRI on Monday after leaving the series finale against the Nationals in the third inning with a strained right groin.
• Brad Lidge made his 2011 debut on July 25 after opening the season on the disabled list with a right rotator cuff strain. Lidge notched his 100th save as a Phillie on Aug. 3 at Colorado, but Ryan Madson is the closer. With Madson getting a day off after allowing a career-high six runs Friday at Washington and having had a recent heavy workload, Antonio Bastardo blew Sunday's save in the ninth inning. Bastardo surrendered a game-tying, two-out homer to Ian Desmond. Lidge (2.25 ERA) then suffered the loss in the 10th when he loaded the bases and then hit Jonny Gomes to force in the winning run. Lidge is fourth on the Phillies' all-time save list, trailing Jose Mesa (112), Steve Bedrosian (103) and Mitch Williams (102).
• Third baseman Placido Polanco (sports hernia) intends to return from the disabled list for Monday's series opener. Ex-Met Wilson Valdez and Rule 5 pick Michael Martinez have shared the third-base duty since Polanco last appeared in a game Aug. 6.
• Right-hander Kyle Kendrick is expected to start Wednesday's series finale, affording Philadelphia's starters extra rest. Cole Hamels missed a turn with left shoulder inflammation, but is expected to return to action Friday against the Florida Marlins. Roy Oswalt's start last Friday ended up being pushed back a day after there was a two-hour, 22-minute rain delay. Kendrick took that start instead on short notice, lining him and not Oswalt up for the Mets.
• Cliff Lee is 3-0 with a 0.75 ERA in three starts this month, including scoreless outings against the San Francisco Giants and Los Angeles Dodgers.
• The Phillies released ex-Met Aaron Heilman as well as outfielder Jack Cust from their minor league system. Heilman had allowed nine runs on 14 hits and six walks in 9 2/3 innings with Triple-A Lehigh Valley. He quickly signed with Pittsburgh and has been assigned to Triple-A Indianapolis.
• John Mayberry could start in place of Raul Ibanez against Jon Niese on Tuesday. Mayberry has typically started against southpaws in place of Ibanez since a promotion in early July.
• Chase Utley (.278, 9 HR) homered Sunday off Chien-Ming Wang -- the second baseman's first long ball since July 29, off Pittsburgh's Charlie Morton.
Matchups
Gee vs. Phillies (career: 1-0, 6.23 ERA)
Ryan Howard .500, 2 HR, 6 RBI, 4 PA
Wilson Valdez .500, 1 BB, 3 PA
Chase Utley .333, 3 PA
Shane Victorino .000, 1 BB, 1 K, 4 PA
Raul Ibanez .000, 1 K, 4 PA
Carlos Ruiz .000, 1 K, 3 PA
Hunter Pence .000, 1 BB, 1 K, 3 PA
Ben Francisco .000, 1 PA
John Mayberry .000, 1 PA
Brian Schneider 1 BB, 1 PA
Jimmy Rollins 1 BB, 1 PA
Niese vs. Phillies (career: 3-3, 2.82)
Carlos Ruiz .357, 2 RBI, 4 K, 14 PA
Wilson Valdez .353, 1 RBI, 1 BB, 4 K, 18 PA
Chase Utley .286, 1 RBI, 2 BB, 9 PA
John Mayberry .273, 1 HR, 1 RBI, 2 K, 11 PA
Shane Victorino .250, 1 RBI, 1 BB, 2 K, 13 PA
Raul Ibanez .250, 1 HR, 1 RBI, 1 BB, 4 K, 18 PA
Jimmy Rollins .250, 2 BB, 2 K, 18 PA
Hunter Pence .125, 1 BB, 2 K, 9 PA
Ben Francisco .100, 3 BB, 3 K, 14 PA
Ryan Howard .077, 1 RBI, 1 BB, 5 K, 14 PA
Ross Gload .000, 1 PA
Michael Martinez .000, 1 RBI, 1 K, 4 PA
Pelfrey vs. Phillies (career: 6-6, 5.12 ERA)
Ben Francisco .400, 2 RBI, 1 BB, 6 PA
Hunter Pence .385, 1 RBI, 2 K, 13 PA
Ryan Howard .375, 3 HR, 7 RBI, 5 BB, 4 K, 46 PA
Michael Martinez .333, 1 HR, 3 RBI, 3 PA
Shane Victorino .310, 1 HR, 6 RBI, 2 BB, 5 K, 44 PA
Chase Utley .294, 4 HR, 8 RBI, 5 BB, 4 K, 41 PA
Raul Ibanez .294, 1 HR, 7 RBI, 1 BB, 9 K, 35 PA
Jimmy Rollins .282, 1 HR, 4 RBI, 1 BB, 4 K, 40 PA
Brian Schneider .231, 2 BB, 1 K, 16 PA
Carlos Ruiz .227, 3 RBI, 3 BB, 2 K, 26 PA
Ross Gload .143, 1 K, 7 PA
Wilson Valdez .000,1 BB, 1 K, 8 PA
John Mayberry .000, 5 PA
Lee vs. Mets (career: 1-0, 0.64 ERA)
Ronny Paulino .667, 3 PA
David Wright .500, 1 K, 4 PA
Jason Bay .333, 1 RBI, 1 BB, 2 K, 10 PA
Angel Pagan .333, 3 PA
Scott Hairston .111, 2 K, 9 PA
Justin Turner .000, 1 BB, 1 K, 4 PA
Worley vs. Mets (career: 2-1, 3.52 ERA)
Lucas Duda 1.000, 1 BB, 2 PA
Josh Thole .400, 3 RBI, 1 BB, 1 K, 6 PA
Jason Bay .333, 2 BB, 8 PA
Justin Turner .333, 1 RBI, 6 PA
David Wright .333, 1 K, 3 PA
Ruben Tejada .250, 1 RBI, 1 K, 4 PA
Angel Pagan .200, 1 RBI, 2 K, 5 PA
Jason Pridie .000, 1 K, 2 PA
Nick Evans .000, 1 K, 1 PA
Kendrick vs. Mets (career: 4-5, 2.88 ERA)
Jason Pridie 1.000, 2 BB, 3 PA
Scott Hairston .500, 1 RBI, 2 PA
Josh Thole .385, 1 RBI, 1 K, 13 PA
Willie Harris .368, 2 HR, 4 RBI, 1 BB, 2 K, 20 PA
Ronny Paulino .353, 2 RBI, 2 K, 18 PA
David Wright .250, 1 HR, 2 RBI, 2 BB, 3 K, 26 PA
Lucas Duda .200, 5 PA
Jason Bay .188, 3 K, 16 PA
Angel Pagan .167, 2 RBI, 2 BB, 3 K, 26 PA
Ruben Tejada .000, 6 PA
Justin Turner .000, 5 PA
Last series results
Phillies won, 2-1, at Citi Field, July 15-17 (AP game recaps)
Phillies 7, Mets 2: Fill-in shortstop Ruben Tejada's two-out error loaded the bases in the eighth, then newly promoted reliever Ryota Igarashi gave up a three-run double to the first batter he faced, ending any chance the Mets had. Carlos Beltran hit his 14th homer as the Mets (46-46) dropped back to .500. R.A. Dickey (4-8) gave up three runs in the second inning and the Mets never could catch up. John Mayberry Jr. drove in five runs to set another career best, Vance Worley pitched well enough and the Phillies got off to a strong start after the All-Star break. Mayberry singled and doubled with the bases loaded. It marked the second straight game where he established a personal high in RBIs. On the Phillies' final day of the first half, he hit three doubles and drove in four runs against Atlanta. Raul Ibanez contributed a home run and a diving catch in left field for Philadelphia. Recalled from Triple-A before the game for his fourth stint of the year with Philadelphia, Worley (5-1) pitched shutout ball into the sixth inning. Worley picked up his first career RBI and avenged his worst start as a major leaguer. The Mets tagged him for eight runs and 12 hits in only three innings at Citi Field on May 29, his lone loss this season. Down 4-0, New York loaded the bases against the 23-year-old Worley in the sixth with two walks and a single. Charlie Manuel summoned lefty reliever Juan Perez, who struck out pinch-hitter Scott Hairston on a wild pitch that scored a run. Perez then retired pinch-hitter Ronny Paulino on a grounder. Mayberry broke it open with a three-run double in the eighth, which came right after Tejada's misplay. Mayberry hit a two-run single in the second. Worley followed with a groundout that made it 3-0.
Mets 11, Phillies 2: Cole Hamels is an All-Star against everyone but the Mets. It seems that holds true no matter who's in the lineup. Scott Hairston, subbing for ailing slugger Carlos Beltran, hit a long homer and drove in a career-best five runs as New York hammered the Phillies' ace yet again. Daniel Murphy also went deep and Jon Niese pitched seven strong innings. Fielding a makeshift lineup minus its four biggest bats, New York rapped out 15 hits. Hamels yielded seven earned runs, matching a career high, and eight hits in 4 1/3 innings while falling to 3-10 in 16 career games against the Mets. Beltran sat out with the flu and a high fever, so Mets manager Terry Collins inserted a not-so-secret weapon against Hamels (11-5). Hairston batted third in large part because he entered with a .353 career average (6-for-17) and three homers against the left-hander, one of Philadelphia's three All-Star starters. Those big numbers quickly ballooned even more. Hairston doubled his first two times up, driving in two runs and scoring one as New York built a 4-0 lead by the fourth. He hit a three-run shot off Danys Baez in the seventh to make it 11-2, a drive to left that sailed into the rarely reached second deck at spacious Citi Field. New York totaled 10 runs in its previous five games, an understandable slump considering the competition. Hamels was the fifth All-Star starter the Mets faced in a span of six games, going 2-3. Hamels' demise came much to the delight of fans who remember that Hamels called the Mets "choke artists" in December 2008 after their second consecutive September collapse. He lasted only 2 2/3 innings in a 7-1 loss to the Mets on April 5 and had dropped five consecutive starts against them before striking out 10 in a 5-2 victory May 28 at Citi Field. Niese (9-7) allowed one earned run and six hits while striking out six and walking one. Miscommunication on the Philadelphia infield made for an unlucky early moment for Hamels. Hairston doubled with two outs in the first and hustled home when Murphy's harmless-looking popup dropped between first baseman Ryan Howard and second baseman Chase Utley, who both backed away as the ball descended.
Phillies 8, Mets 5: Mike Pelfrey gave up Michael Martinez's first career homer, a three-run shot, and was outpitched by Kyle Kendrick, who helped lead the Philadelphia Phillies to their seventh straight series win. Kendrick singled twice and scored on Martinez's drive in the fifth inning off Pelfrey (5-9). Martinez, a Rule 5 pick from Washington, added a sacrifice fly in the seventh for a career-high four RBIs. Ryan Howard hit a run-scoring single in the first and Philadelphia took two of three from the NL East rival Mets for the fourth time this season. Jimmy Rollins had a two-run single in a three-run eighth, aided by Jason Bay's error in left field and reliever Pedro Beato's three walks. Those eighth-inning runs provided a needed cushion when the Mets took advantage of four walks and a hit batter to score three in the bottom half. Kendrick (5-4) continued his dominance of division opponents, improving to 4-1 in 11 games (four starts) this season. Until the seventh, when pinch-hitter Scott Hairston hit an RBI single, Kendrick shut down New York anytime he found himself in trouble. He gave up a leadoff double to Lucas Duda in the second but then induced three straight groundball outs. A leadoff walk in the third was quickly wiped out by a double play. He then retired nine of 10 before Ronny Paulino doubled to open the seventh. Kendrick gave up six hits in seven innings, walking three. Carlos Beltran was out with the flu for the second straight game and Terry Collins again tried to take advantage of a favorable matchup with his fill-in. This time Willie Harris got the call based on his .316 average against Kendrick. Batting third, he had a single and a double but was stranded in scoring position each time by Bay, and walked and scored in the eighth. Philadelphia again got the best of Pelfrey, who fell to 0-2 with a 9.47 ERA against the Phillies this season.