Mets VP Paul DePodesta said he hesitated to mention left-hander Josh Edgin's name when the subject arose of minor leaguers who may have an impact with the Mets in 2012. But DePodesta went ahead and named the southpaw as a candidate, even though Edgin has not yet pitched above Class A St. Lucie.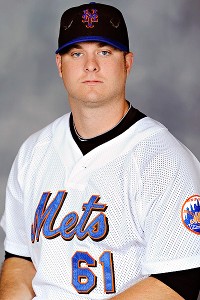 Courtesy of New York Mets
Josh Edgin
"He's got major league stuff and he's left-handed," DePodesta recently said. "Again, you just never know how quickly those guys can come. He's in Port St. Lucie right now, which is why I'm squeamish about talking about 2012."
Asked if that praise had filtered back to him, Edgin -- a 30th-round pick out of Division II Francis Marion University in South Carolina in 2010 -- said: "Actually, I haven't really seen it. I know my agent mentioned it."
Edgin, 24, currently is 2-0 with a 1.55 ERA and six saves in 20 appearances for St. Lucie. That comes on the heels of opening the season at Savannah and posting a 0.87 ERA along with 16 saves in 31 innings.
He throws a fastball in the 92- to 95-mph range as well as an 82-85 mph slider. He also is trying to hone his changeup, which he does not use much now in games because it is a work in progress. He's also trying to throw a slower version of his slider -- a curveball, he labeled it -- but that has been slow to progress as well.
Edgin grew up in rural Three Springs, Pa. Where's that?
"To be honest with you, it's in the middle of nowhere," Edgin said. "It's about 45 minutes from the nearest Walmart. Have you ever heard of Chambersburg? It's like right in the middle of the state."
Regardless of the remoteness, Edgin found his way to Ohio State University, where he served as a reliever. In December of his junior year, Edgin then transferred to Division II Francis Marion, where he had the opportunity to start.
"The Ohio State coach wanted to keep me in the bullpen," Edgin said. "I thought that I needed to start to get drafted. When I was playing summer ball in the Coastal Plains League, I met a guy named David Walters, who is with the Orioles now. He was on my team. We talked. He said, 'Hey, we're one good pitcher away from a D-II World Series team.' Basically I got hooked up with them through him. And it just so happened that one of my catchers from Legion ball when I was in high school actually went to Francis Marion as well. That kind of drew me, and playing baseball in the South."
Edgin was drafted after his junior year in the 50th round by Atlanta but was not signed by the Braves. Then the Mets took him last year in the 30th round on the recommendation of amateur scout Marlin McPhail, who has repeatedly unearthed middle-round gems for the Mets from the Carolinas over the years. Edgin actually was working construction on draft day, not expecting much news.
"Since I went that late my junior year, and I had the same exact season my senior year, I really didn't think I'd get signed," Edgin said. "It kind of caught me off-guard I guess, especially on the second day (of the three-day draft). I was thinking if it did happen, it would be (rounds) 40 to 50.
"I still had the questionnaires from scouts to fill out and stuff, so I didn't really put it in the back of my head. I still, I guess, hoped to be drafted. But I started trying to figure out what I was going to do if it didn't happen."
Organization leaders
Average: Juan Lagares, Binghamton, .349; Danny Muno, Brooklyn, .332; Josh Satin, Buffalo, .325; Greg Pron, Kingsport, .315; Julio Concepcion, Kingsport, .311; Cam Maron; Kingsport, .308; Pedro Zapata, St. Lucie, .308; Travis Taijeron, Brooklyn, .303; Luis Figueroa, Buffalo, .301; Richard Lucas, Brooklyn, .295.
Homers: Brahiam Maldonado, Binghamton, 24; Valentino Pascucci, Buffalo, 20; Allan Dykstra, Binghamton, 17; Jordany Valdespin, Buffalo, 16.
RBI: Valentino Pascucci, Buffalo, 90; Wilmer Flores, St. Lucie, 75; Josh Satin, Buffalo, 73; Aderlin Rodriguez, Savannah, 71; Allan Dykstra, Binghamton, 69.
Steals: Jordany Valdespin, Buffalo, 34; Pedro Zapata, St. Lucie, 31; Matt den Dekker, Binghamton, 22; Darrell Ceciliani, Savannah, 22; Rafael Fernandez, Savannah, 19.
ERA: Darin Gorski, St. Lucie, 2.26; Jeurys Familia, Binghamton, 2.81; Matt Harvey, Binghamton, 3.17; Gabriel Ynoa, Kingsport, 3.29; Marcos Camarena, Brooklyn, 3.30; Gonzalez Germen, Savannah, 3.40; Greg Peavey, St. Lucie, 3.41; Ryan Fraser, Savannah, 3.50; Angel Cuan, Savannah, 3.50; Chris Schwinden, Buffalo, 3.52.
Wins: Matt Harvey, Binghamton, 12; Greg Peavey, St. Lucie, 11; Darin Gorski, St. Lucie, 11; Angel Cuan, Savannah, 10; Brandon Moore, Binghamton, 10.
Saves: Josh Edgin, St. Lucie, 24; Dale Thayer, Buffalo, 18; Hamilton Bennett, Savannah, 13; Jeffrey Kaplan, St. Lucie, 10.
Strikeouts: Matt Harvey, Binghamton, 151; Darin Gorski, St. Lucie, 131; Chris Schwinden, Buffalo, 124; Collin McHugh, Binghamton, 120; Jeurys Familia, Binghamton, 120.
Short hops
• Left-hander Shawn Teufel, a 25th-round draft pick last year out of Liberty University, beat his father Tim Teufel's Triple-A Buffalo squad by tossing six scoreless innings in a spot start Thursday. The 25-year-old Teufel had been promoted for the opportunity from Class A Lakeland. The Bisons loaded the bases with one out in the third, but Zach Lutz and Valentino Pascucci struck out and Buffalo's best opportunity went for naught.
• Outfielder Juan Lagares has a 13-game hitting streak, the longest by a Binghamton player this season. In 26 Eastern League games since a promotion from St. Lucie, Lagares is hitting .381 with two homers and 16 RBIs in 113 at-bats.
• Terry Collins indicated the Mets will need two starters during next week's series against the Florida Marlins as the result of a doubleheader and Jon Niese headed to the disabled list. Collins identified the candidates as 40-year-old Miguel Batista, Chris Schwinden and Pat Misch. With DePodesta on hand for his latest start, Batista allowed fours on nine hits, including a pair of homers, and also hit and walked a batter in 5 1/3 innings Monday at Columbus. Batista is 3-0 with a 4.24 ERA in 10 appearances (eight starts) with Buffalo since being released by the St. Louis Cardinals. He actually had limited opponents to two runs or fewer in four of his previous five starts. Misch allowed four runs in 6 2/3 innings Tuesday and is 7-9 with a 4.37 ERA with the Bisons this season. Schwinden, a 22nd-round pick in 2008 out of Fresno Pacific, is 7-6 with a 3.60 ERA in 23 starts for Buffalo.
• After signing for $2.1 million last week at the deadline, first-round pick Brandon Nimmo -- a high school outfielder from Wyoming -- made his pro debut in the Gulf Coast League on Friday. Through four games, Nimmo is hitting .158 (3-for-19). He has struck out seven times in eight at-bats over his past two starts. After serving as DH in his debut, Nimmo has manned center field.
• Phillip Evans, the Mets' 15th-round pick, who signed for an over-slot $650,000, debuted Tuesday in the GCL. He went 1-for-3 with a walk and two runs scored. Evans' preference is to remain at shortstop, so the Mets will let him work there for the time being. Evans, out of La Costa Canyon High School in California, received the largest signing bonus by the organization ever for any pick below the second round. With the Gulf Coast League ending Saturday and inclement weather expected in the interim, Evans is likely the last player from this year's draft to make his debut before the fall instructional league that opens Sept. 18.
• Savannah right-hander Taylor Whitenton (4-3, 2.70 ERA) was named South Atlantic League Pitcher of the Week after tossing 10 scoreless innings over a pair of starts.
• Before an approximate crowd of 14,500 at Fenway Park on Saturday, Binghamton beat Portland, the Double-A affiliate of the Boston Red Sox, in 11 innings. Right-hander Collin McHugh tossed six scoreless innings. Boston College product Eric Campbell had the tiebreaking RBI in the 11th. Catcher Kai Gronauer then added a three-run homer over the Green Monster. Campbell, who hails from Norwich, Conn., had played at the historic ballpark in high school and college, but with a fraction of Saturday's fan presence.
• Fifth-round pick Jack Leathersich from UMass-Lowell has dominated New York-Penn League competition. Working no more than two innings every five to six days, Leathersich now has limited Brooklyn's opponents to one run and five hits in 10 2/3 professional innings. He has struck out 22 and walked three.
• Buffalo's Pascucci has 20 homers and leads the International League with 90 RBIs, four more than runner-up Stefan Gartrell of Gwinnett.
• Outfielder Raul Reyes earned a promotion to Buffalo on Thursday after hitting .292 with 12 homers and 50 RBIs in 367 at-bats with Binghamton.
• 2010 first-round pick Matt Harvey tossed seven scoreless innings, requiring only 85 pitches, with Jeff Wilpon in attendance Monday at Binghamton. Harvey is 4-3 with a 4.35 ERA and has 59 strikeouts in 51 2/3 innings in 10 starts with the B-Mets. Although the organization is monitoring Harvey's innings count, he is expected to be allowed to complete the season uninterrupted. "He should be fine," farm director Adam Wogan said. "He's strong."
• Binghamton reliever Rhiner Cruz has bounced back from a pair of rough performances by tossing eight scoreless innings during which he has allowed only one hit and two walks over four appearances.
• Middle infielder Jordany Valdespin has multi-hit games in three of his past six games with Buffalo, and is hitting .237 in 14 games in Triple-A.
• Buffalo infielder Josh Satin lost an eight-game hitting streak Sunday, but nonetheless has collected a hit in 26 of 31 games since a promotion from Binghamton. He is hitting .325 and has a .391 on-base percentage since joining the Bisons while seeing action at third base, second base and first base.
• Lutz had eight RBIs in a four-game span with Buffalo through Monday. He has driven in at least one run in eight of the Bisons' past 11 games. Lutz is hitting .341 with runners in scoring position this season.
• Reliever John Lujan, a probable September call-up and former minor league Rule 5 pick from the Chicago White Sox, lost a 10 2/3-inning scoreless streak with Buffalo on Friday against Toledo.
• The Arizona Fall League contingent is expected to be announced next Tuesday. Revised rules allow for as many as four prospects who have yet to appear in Double-A. The Mets' contingent is expected to include 2008 first-round pick Reese Havens.
Adam Rubin's farm report appears Wednesdays during the regular season