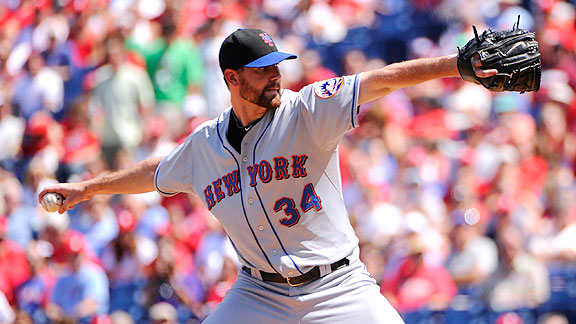 Howard Smith/US Presswire
Mike Pelfrey had a shaky three-run second, but managed to complete six innings as the Mets salvaged the series finale in Philadelphia.
Phillies broadcaster Gary Matthews Sr., a former major leaguer and the father of ex-Met Gary Jr., called the Mets "crybabies" on the Philadelphia telecast. It stemmed from Mike Pelfrey objecting to Placido Polanco seemingly leaning into a pitch with his arm protector trying to get hit in the sixth inning.
"I hung a slider. I thought he tried to lean into it," Pelfrey said. "And I told him, 'Don't lean into it.' He said that he didn't and that was it. Done."
The Mets shrugged off Matthews' analysis of the exchange. Heck, they've been called worse by Fred Wilpon this season.
"I don't care," Pelfrey said. "I don't even know who that is, so I don't care."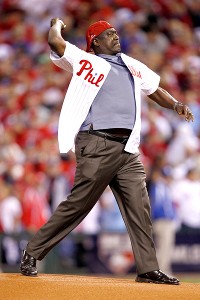 Jeff Zelevansky/Getty Images
Phillies broadcaster Gary Matthews Sr.
Said Terry Collins: "That's his opinion. He doesn't know. Ask him how he felt when he was in a five- or six-game losing streak. You're on edge a little bit."
Pelfrey lightheartedly noted he was chewed out worse by a Mets fan while warming up in the bullpen before Wednesday's 7-4 win against the Phillies. The spectator mocked Pelfrey's tendency to lick his hands.
"I immediately licked my hand just kind of joking around, and he just blew me up," Pelfrey said. "He didn't keep it clean. He cursed me out -- I've killed this team. Oh, he let me have it. And then somewhere along the line, he said, 'You might be a nice guy. Try volleyball or something.' He wore me out.
"And then I heard the security guards talking, and that was the end of it. It was a good four or five minutes straight of just yelling and screaming. It was kind of funny."
Collins complimented Pelfrey's ability to overcome an early high pitch count and three-run second inning to get the Mets through six innings. Pelfrey tossed a career-high 125 pitches and was charged with no additional runs aside from the three-run second.
"(When) he got in trouble, I saw some 95s and 94s (mph)," Collins said. "I saw a guy saying, 'I'm getting out of this. They need me today and I'm stepping up and I'm letting it fly."
Pelfrey is under the Mets' control for two more years, but he is making $3.925 million this season and is arbitration-eligible, meaning he would be due a raise. So he knows it's important to finish strong. After Wednesday's outing, he's now 7-10 with a 4.60 ERA.
"Beyond this year I'm not guaranteed anything," Pelfrey said. "So I think these next six or seven starts are big not only for me and for some of the goals that I set, but for the team and next year. I want to go out there and do well and then we'll see what happens."