Terry Collins will have an easier time continuing to get Lucas Duda experience in right field with an eye toward 2012 if Nick Evans has more series like this.
In his second straight start at first base, Evans followed up a two extra-base-hit night by going 3-for-4 with a homer and four RBIs in Wednesday's 7-4 win against the Phillies. He was removed for the bottom of the seventh inning on a double-switch.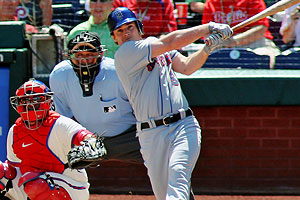 Len Redkoles/Getty Images
Nick Evans went 3-for-4 with a homer and four RBIs on Wednesday in Philadelphia.
"All he's done is hit," Collins said, referring to Evans' minor league career. "He's hit his whole career. The one thing he hasn't had an opportunity to do is be an everyday player in the big leagues and see if he can hit here. So as we were getting into this, and we knew we wanted to put Lucas in the outfield, we said, 'Well, we've got a guy on this bench that can produce some runs. He's done it in the minor leagues. He hits homers. Let's see what he can do.' Right now there's an opportunity."
Said Evans: "I think it's definitely easier to get in a rhythm the more you get to play."
Because Evans is out of options, each time he has been demoted, he has been placed through waivers. All three times -- at the end of spring training, and then in June and July -- 29 teams have passed on claiming him. Evans had the right to declare free agency the latter two times, and decided to remain with the organization.
"I know the guys here," Evans explained about staying. "I know the manager and the coaches here. You never know what's going to happen when you go to another organization. I like it here. I want to be here. And I think it's still an opportunity for me.
"It's difficult obviously to keep going down," Evans added. "But as long as you know you have an opportunity to play your way back, it's OK."