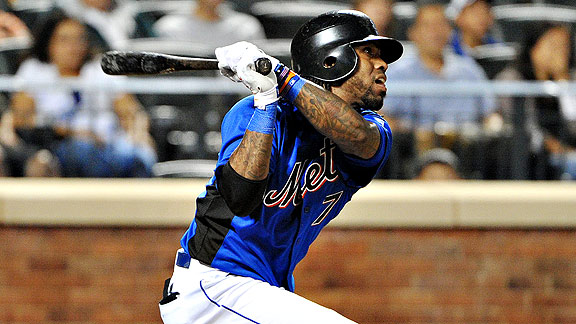 Christopher Pasatieri/Getty Images
Jose Reyes singles during his fourth at-bat in Game 2 of Monday's doubleheader.
Jose Reyes did not feel sharp at the plate, but the shortstop pronounced his left hamstring fine after completing his first game with the Mets since getting sidelined with the injury Aug. 7.
"I didn't have any problem with the leg. That's the good news," said Reyes, who went 1-for-4 with an error, which he was charged with after dropping a throw from Nick Evans while covering second base. "The other stuff is going to come later. … I don't think there's any issue. I just need to get my confidence back again. Sometimes you've got it in your head a little bit. But the more I play, the more comfortable I'm going to feel. With hamstrings, the first couple of days that you get on the field, you're going to feel a little bit nervous."
The last time Reyes returned from a DL stint for a hamstring strain, he had only one steal attempt in his first 12 games back. Reyes did not feel comfortable trying to steal on Monday night, either.
"I need to get my confidence back before I do anything crazy on the field," Reyes said. "It's no problem in the leg. So that's a good sign. … I don't want to say I'm going to steal tomorrow. The game is going to dictate that. So if I get on and I feel like I'm able to steal, I'm going to do that. I'm just going to take it one day at a time and see what happens."
Terry Collins plans to rest Reyes periodically the remainder of the season to try to guard against another injury, although the shortstop said they had not mapped out particular upcoming days off. Not yet, anyway.
Reyes just traveled from Binghamton, the home of the Mets' Double-A affiliate, on Monday morning.
"I love to be on the field," Reyes said. "I love to play every day. But I have to understand that I had the same problem twice this year. I don't want to have any more issues with my leg. If I need to take a day off, I'm going to take it. But it's too soon to say."
Reyes received an early test Monday, when Florida's Bryan Peterson sent a blooper over his head at shortstop that had him scurrying into shallow left field. The ball dropped beyond Reyes' reach for a single.
Quipped Reyes: "I thought I got a good jump. I don't know. Maybe I got slow or something."
Said Collins: "I can't worry every time he takes the field that he's going to blow out. I will be absolutely crazy. He is what he is. He does what he does. He prepares himself. I asked him between games, 'Did you get yourself loose yet?' He looked at me right in the eye and he said, 'I'm ready to play some baseball.' That pretty much describes how it is."