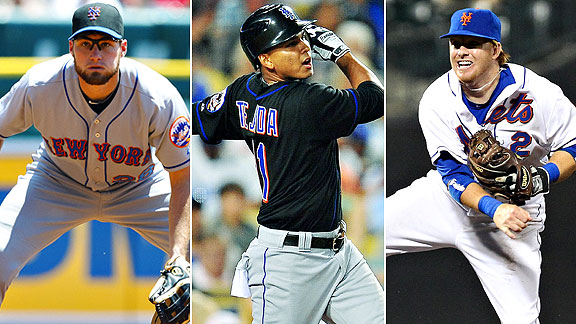 US Presswire
Daniel Murphy, Ruben Tejada and Justin Turner could engage in a second second-base competition in spring training 2012, minus Brad Emaus.
Seems like eons ago, but the Mets did have a second-base competition in spring training -- even if it seemed preordained Brad Emaus would be the victor. After all, Emaus was selected in the Rule 5 draft from the Toronto Blue Jays, the organization for which J.P. Ricciardi previously served as general manager. And it was an opportunity for the front office to prove its wisdom in addition to the previous attachment to Emaus.
Assuming Jose Reyes does re-sign with the Mets, and assuming Lucas Duda continues to show the capacity to man right field -- certainly both plausible assumptions -- another second-base competition is setting up for spring training 2012.
Three familiar faces presumably would be in the mix: Daniel Murphy, Justin Turner and Ruben Tejada.
#28 1B
New York Mets
2011 STATS
GM

109

HR6

RBI49

R49

OBP.362

AVG

.320
Murphy ranked fifth in the National League in batting average at .320 at the time he suffered a Grade 2 sprain of the medial collateral ligament in his left knee after getting slid into by Atlanta speedster Jose Constanza at Citi Field on Aug. 7. Murphy officially will drop from the league-leader list after five more Mets games, when he no longer has the 3.1 plate appearances per team game required.
Bottom line: Murphy's bat needs to be in the lineup somewhere in 2012.
Terry Collins left open the possibility of the Mets revisiting using Murphy in the outfield. But if the manager studies his Mets history books, he may think again about that remark. Regardless, assuming Ike Davis is OK for the start of next season, which the Mets maintain will be the case -- surgery or no surgery -- that likely pushes Duda to right field and keeps Murphy in the infield. (Duda is likely to play winter ball in right field for Tim Teufel-managed Caracas in Venezuela this offseason.)
Murphy is an ideal piece for the 2012 Mets, even if he has fielding shortcomings. He will only have two years, 109 days of major league service time after this season -- keeping him short of being arbitration-eligible and ensuring his salary remains set by the team, likely under $500,000. (Murphy is on the major league DL this year and accumulating service time. Last year, however, the Mets took him off a rehab assignment and optioned him to Triple-A Buffalo shortly before he suffered a serious knee injury with the Bisons, when Nationals farmhand Leonard Davis slid into him at second base. So Murphy was treated as a minor leaguer rather than a rehabbing major leaguer and did not gain MLB service time while injured during the second half of 2010.)
#2 2B
New York Mets
2011 STATS
GM

96

HR4

RBI46

R42

OBP.327

AVG

.257
Turner, meanwhile, was snubbed for a September call-up last season, then was dispatched to Buffalo out of spring training this year. Yet he has emerged as one of the more popular Mets among the fan base. Turner has proven he can handle the majors and should be a component of the 2012 roster. Still, he could end up in more of a reserve role.
Turner has gotten particularly beat up this season, so team insiders wonder if he might be better served having a part-time role. As his RBI knack suggests, Turner could be a valuable right-handed bat for the bench. And he certainly would be capable of spelling Murphy at second base against some left-handers and could get limited starts at third base should David Wright require rest.
Turner has fewer major league service days than Murphy, also making him cost-effective at less than $500,000 in 2012.
Of course, if Reyes does return and Collins sticks to his articulated plan of limiting him to 150 games in an attempt to guard against injury, that means the Mets will need a bona fide backup shortstop. Turner certainly can fill in for a half or full game at points, but starting 12 games or so a season at shortstop probably is asking too much given his range.
#11 2B
New York Mets
2011 STATS
GM

71

HR0

RBI24

R21

OBP.367

AVG

.282
Does that mean there's a place for Ruben Tejada?
Collins recently said he cannot foresee Tejada as a backup next season -- that at age 22 next season Tejada would be better served playing every day in Triple-A. But Collins said Tejada's recent play certainly would force him into the second-base competition in spring training. And with Reyes back from the DL, Tejada will share time at second base with Turner the remainder of this season.
Of course, all this talk can change in a heartbeat. If Davis were not to be ready for Opening Day, perhaps Murphy shuffles to first base.
Injuries always change plans.
Remember spring training 2010? The debate was who would claim the last roster spot between Mike Jacobs and Frank Catalanotto. It turned out both made the team when Murphy suffered the first of his spate of knee injuries during the final week of spring training, while in a rundown.
"In-depth" appears Tuesdays during the regular season