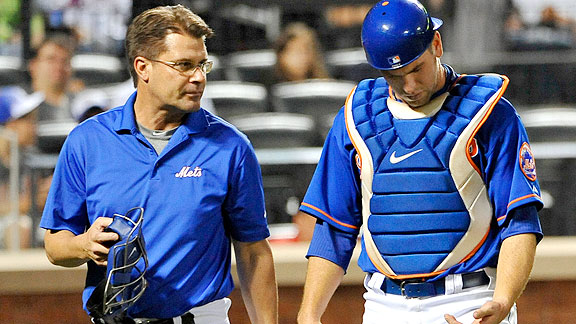 AP Photo/Kathy Kmonicek
Assistant trainer Mike Herbst escorts Josh Thole off the field on Thursday night.
Josh Thole and Ruben Tejada appear to have avoided broken hand bones, but the two did suffer pain as the result of getting hit with pitches -- one by a teammate.
Thole called for a slider from Miguel Batista in their first work together, but instead received a fastball in a cross-up. Emilio Bonifacio swung through the second-inning pitch. Thole was struck at the base of his left hand.
X-rays were negative, but Thole still had significant swelling postgame. He will get an MRI at the Hospital for Special Surgery on Friday morning. Thole expects to be in Washington by the nighttime game against the Nationals.
"As the night progressed, it was getting better," said Thole, who said medical staff at Citi Field labeled the injury a bone bruise.
Thole said he dislocated a thumb in 2009 and "this definitely hurt worse."
The Mets have three catchers on the roster, but Ronny Paulino has not appeared behind the plate since Aug. 22 because of a broken big toe. Paulino has resumed trying to catch on the side and said he would be capable of playing should Mike Nickeas have an in-game injury and Thole be unavailable.
"I think I could handle it," Paulino said.
Still, if there were an absence for Thole of several games after Friday's more extensive exam, Terry Collins said the Mets would have to consider a call-up from the minors, where Raul Chavez and Salomon Manriquez are at Triple-A and Dusty Ryan is at Double-A. Chavez would be the logical candidate. He leads the International League in caught stealings and is a veteran of 263 major league games.
As for Tejada, he was hit by pitches twice in the game Thursday. The latter, by Florida's Steve Cishek, struck Tejada on a knuckle on his left middle finger. X-rays were negative. Tejada described himself as in pain, but predicted he would be available Friday. With Justin Turner available to play second base, it would stand to reason Turner starts Friday in D.C. regardless. Turner replaced Tejada for the ninth inning of Thursday's game.
"Right now it's pain, but I think it's good for tomorrow," Tejada said.