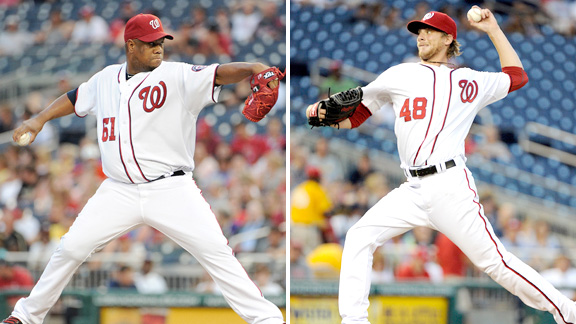 G. Fiume/Getty Images
The Mets face Ross Detwiler (right) and old friend Livan Hernandez (left) this weekend in D.C.
METS (66-69, third place/NL East) vs. WASHINGTON NATIONALS (63-72, fourth place/NL East)
Friday: RHP R.A. Dickey (6-11, 3.57) vs. LHP Ross Detwiler (2-4, 2.86), 7:05 p.m. ET
Saturday: RHP Dillon Gee (12-5, 4.24) vs. LHP Tom Milone (12-6, 3.22 at Triple-A Syracuse), 7:05 p.m. ET
Sunday: RHP Mike Pelfrey (7-11, 4.65) vs. RHP Livan Hernandez (8-12, 4.29), 1:35 p.m. ET
Nationals short hops
• Right-hander Jordan Zimmermann (8-11, 3.18 ERA) was shut down for the remainder of the season after making Sunday's start at Cincinnati because he has reached 161 1/3 innings in his first full year back from Tommy John surgery. Left-hander Tom Milone -- a 10th-round pick in 2008 out of Southern Cal, where he was college teammates with Lucas Duda for two seasons -- makes his major league debut against the Mets in Zimmermann's spot. Milone was 12-6 with a 3.22 ERA at Triple-A Syracuse. Milone twice faced the Mets' Triple-A Buffalo affiliate this season, allowing a combined three runs (two earned) in 12 innings.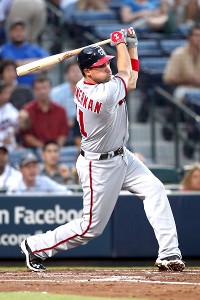 Mike Zarrilli/Getty Images
Third baseman Ryan Zimmerman hit .333 with five homers in August.
• Michael Morse, who has recently moved back from first base to left field, had seven homers in August and is now hitting .314 with 24 homers and 78 RBIs for the season. Third baseman Ryan Zimmerman had a solid month, too. Zimmerman hit .333 with five homers and 17 RBIs in August.
• Drew Storen (34 saves this season) joined Chad Cordero (47 in 2005 and 37 in '07) as the only closers to reach 30 saves as a National.
• Ageless Livan Hernandez expressed an interest in continuing to pitch with the Nationals in 2012, even if it means working out of the bullpen. Hernandez became the second active pitcher to throw 50,000 pitches in a career on Tuesday at Atlanta, joining Tim Wakefield.
• Stephen Strasburg is scheduled to throw his first major league pitch since Tommy John surgery on Tuesday, against the Los Angeles Dodgers. Ivan Rodriguez, who has been on a rehab assignment for a right oblique strain that has sidelined him the entire second half, caught Strasburg's final minor league tune-up, with Double-A Harrisburg.
• Jayson Werth has started three of his past four games in center field after exclusively working in right field with the Nationals. Rick Ankiel is 5-for-40 with one RBI and 15 strikeouts in his past 11 games (eight starts). However, Laynce Nix -- who has been starting in right field this week -- left Thursday's game in Atlanta in the third inning with a right groin strain. Roger Bernadina may rejoin the Nationals.
• Catcher Wilson Ramos returned Thursday after missing two games with food poisoning. Ex-Mets farmhand Jesus Flores filled in behind the plate, but is 1-for-his-last-15.
• Left-hander Doug Slaten was activated from the disabled list as rosters expanded. He last appeared in a major league game June 3. He had an elbow injury.
• Second baseman Danny Espinosa leads National League rookies with 19 homers. He is one shy of matching the Montreal Expos/Washington Nationals record for homers in a season by a rookie -- 20 by Zimmerman in 2005 and Brad Wilkerson in 2002.
Matchups
Dickey vs. Nationals (career: 1-3, 4.14 ERA)
Jesus Flores 1.000, 2 RBI, 2 PA
Wilson Ramos .714, 1 HR, 2 RBI, 7 PA
Jayson Werth .421, 2 HR, 4 RBI, 3 BB, 4 K, 22 PA
Rick Ankiel .353, 1 RBI, 17 PA
Michael Morse .333, 2 RBI, 2 BB, 12 PA
Alex Cora .250, 1 K, 4 PA
Ryan Zimmerman .154, 1 BB, 1 K, 15 PA
Ian Desmond .083, 1 BB, 2 K, 14 PA
Danny Espinosa .000, 1 BB, 1 K, 12 PA
Jonny Gomes .000, 2 PA
Gee vs. Nationals (career: 3-0, 1.27)
Jayson Werth .286, 2 BB, 2 K, 9 PA
Wilson Ramos .250, 2 BB, 1 K, 6 PA
Alex Cora .250, 5 PA
Laynce Nix .200, 1 RBI, 1 BB, 1 K, 6 PA
Ryan Zimmerman .167, 1 BB, 1 K, 7 PA
Danny Espinosa .000, 1 BB, 1 K, 10 PA
Ian Desmond .000, 1 BB, 3 K, 8 PA
Michael Morse .000, 5 PA
Rick Ankiel .000, 1 RBI, 1 K, 4 PA
Jonny Gomez 1 BB, 1 PA
Pelfrey vs. Nationals (career: 4-6, 4.22 ERA)
Jesus Flores .500, 1 RBI, 2 BB, 6 PA
Rick Ankiel .444, 1 BB, 1 K, 10 PA
Danny Espinosa .400, 1 HR, 1 RBI, 1 K, 5 PA
Ian Desmond .364, 1 HR, 4 RBI, 1 BB, 2 K, 12 PA
Jonny Gomes .333, 3 PA
Jayson Werth .276, 1 RBI, 1 BB, 6 K, 32 PA
Ryan Zimmerman .244, 1 HR, 5 RBI, 1 BB, 6 K, 46 PA
Michael Morse .200, 1 RBI, 5 PA
Laynce Nix .000, 3 PA
Detwiler vs. Mets (career: 1-0, 0.96)
Jason Bay 1.000, 1 PA
David Wright .333, 1 K, 3 PA
Angel Pagan .000, 1 BB, 4 PA
Lucas Duda .000, 1 PA
Ruben Tejada .000, 1 PA
Willie Harris .000, 1 K, 1 PA
Nick Evans .000, 1 K, 1 PA
Josh Thole 1 PA
Milone vs. Mets (career: never faced)
Hernandez vs. Mets (career: 13-15, 4.06)
Ronny Paulino .500, 2 RBI, 4 PA
Ruben Tejada .444, 1 K, 12 PA
Angel Pagan .375, 1 HR, 1 RBI, 1 BB, 9 PA
Lucas Duda .333, 1 K, 3 PA
Justin Turner .333, 1 RBI, 1 K, 3 PA
Jason Bay .300, 1 BB, 4 K, 21 PA
Josh Thole .273, 2 BB, 1 K, 13 PA
Jose Reyes .271, 2 HR, 4 RBI, 3 BB, 6 K, 63 PA
David Wright .245, 4 HR, 11 RBI, 3 BB, 6 K, 53 PA
Willie Harris .000, 3 BB, 1 K, 17 PA
Jason Pridie .000, 1 BB, 2 K, 4 PA
Last series results
Nationals won, 2-1, at Nationals Park, July 29-31 (AP game recaps)
Mets 8, Nationals 5: Jose Reyes drove in two runs and the Mets made Chien-Ming Wang's return to the big leagues a short one. Ronny Paulino finished with three hits, and David Wright and Jason Bay each had two as the Mets scored four times in the first inning en route to their fifth straight win. Dillon Gee (10-3) allowed three runs and four hits over 6 2/3 innings and hit an RBI single in the fourth. Wang (0-1) couldn't help the Nationals in his first major league appearance two years to the day after he had shoulder surgery. The right-hander gave up six runs on eight hits in four innings. Jason Isringhausen pitched the ninth for his fifth save. Wang made his first start since July 4, 2009 with the Yankees. His rocky first inning started with a four-pitch walk to the leadoff hitter Reyes. Reyes took second on a wild pitch, moved to third on Justin Turner's single and scored on Daniel Murphy opposite-field hit. David Wright hammered a 1-2 slider off the right-field wall for a single to load the bases. Angel Pagan hit a two-run single on the next pitch. Wang finally recorded an out on Jason Bay's grounder, but Lucas Duda's sacrifice fly made it 4-0. The Mets put up two runs in the fourth, Wang's final inning. With runners on first and second and no out, Paulino singled. Jayson Werth misplayed the ball, but center fielder Rick Ankiel backed him up and threw Bay out at the plate. The Mets still scored two runs, on Gee's grounder up the middle and Reyes' sacrifice to left. Paulino and Reyes hit RBI doubles in the sixth inning off reliever Tom Gorzelanny. After Gee, who walked four and struck out five, faced one above the minimum batters through three innings, the Nationals got on the board in the fourth. With the bases loaded and one out, Laynce Nix grounded to second base for a potential inning-ending double play, but Reyes' throw to first base for the final out was wild, allowing two runs to score. In the fourth, Ankiel hit a sacrifice fly. The Nationals plated two runs off three Mets relievers in the eighth to make it 8-5 and had the bases loaded with one out. D.J. Carrasco entered and struck out Danny Espinosa and Ryan Zimmerman to end the threat.
Nationals 3, Mets 0: R.A. Dickey allowed six hits in six innings, including a three-run homer by Jayson Werth in the first. It was the 17th time in 22 starts Dickey (5-9) has gone at least six innings. He has a 3.77 ERA this season but has just one win in his last six starts. The Mets offense was shut down by Nationals starter Yunesky Maya, who was called up from Triple-A Syracuse before the game to fill in for scheduled starter Jason Marquis, who was traded to the Arizona Diamondbacks before the game. Maya (1-1) allowed five hits in 5 1/3 scoreless innings and earned his first career win in 10 starts. He entered the Nationals clubhouse in street clothes about an hour before the first pitch and about 45 minutes before Washington announced the trade. The late notice didn't seem to affect him as he retired the first seven batters and didn't allow a hit until David Wright singled with two outs in the fourth. The Mets were blanked for the fifth time this season and lost a five-game winning streak. Maya gave up consecutive one-out singles in the sixth to Daniel Murphy and Wright, leading Nationals manager Davey Johnson to bring in reliever Ross Detwiler, who promptly got Angel Pagan to ground into a double play. New York had perhaps its best offensive chance in the fifth. Two-out singles by Josh Thole and Dickey brought up Jose Reyes with runners on first and second. Reyes hit a ball deep to right-center, but Werth caught it on the warning track to end the inning and get Maya out of the jam. The Mets rallied in the ninth, but fell short against closer Drew Storen (26th save). Wright led off with a walk, and Thole and Jason Bay each singled to load the bases with two outs for pinch-hitter Willie Harris, who struck out looking on a slider to end the game.
Nationals 3, Mets 2: Scott Hairston's solo homers accounted for both of New York's runs in defeat. Amid the annual anxiety of trade deadline day, the Mets lost the game on a walk-off chopper up the middle in the ninth. As it turned out, all those eyeing the large clock attached to the scoreboard in right-center field were waiting for naught -- the 4 p.m. deadline passed with neither team making a last-minute deal. The Mets were down to their last out in the top of the ninth when Hairston hit a sinker that didn't sink from Drew Storen (6-2). The drive barely cleared the left-field fence. In the bottom of the ninth, Jesus Flores opened with a single to right off Bobby Parnell (3-3). Parnell then hit Ankiel with a pitch to put runners on first and second with none out. Brian Bixler attempted to sacrifice, but first baseman Daniel Murphy pounced on the bunt and threw to third to force out Flores. Parnell, also chasing the bunt, made an awkward landing on his left ankle on the play but stayed in the game. Ankiel and Bixler advanced on a wild pitch, forcing the Mets to bring the infield in for Ian Desmond, whose chopper was deflected by Parnell. Second baseman Willie Harris' throw was too late to get Ankiel, and the game was over. The game was a scoreless tie until the sixth, when Desmond, Ryan Zimmerman and Michael Morse doubled in a two-run inning off Jon Niese. The Mets had their chances early. They loaded the bases with a walk to the pitcher and a pair of singles in the third, but David Wright hit into a 9-3-4 double play when Murphy strayed too far off first on a flyout to right field. New York then had Murphy and Wright on base with one out in the sixth. Zimmermann balked, allowing both to advance, but he composed himself to strike out Angel Pagan and Jason Bay.