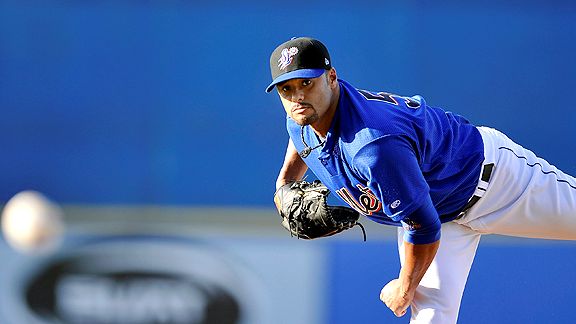 Brad Barr/US Presswire
Johan Santana is due to return to game action for Class A St. Lucie on Saturday. He last pitched in the minors July 28 with that club.
Johan Santana is due to pitch two innings or 40 pitches with the St. Lucie Mets on Saturday, according to two organization insiders. It will mark Santana's first minor league action since getting shut down due to shoulder discomfort days after his lone appearance with that Florida State League club, on July 28.
GM Sandy Alderson recently said there is an outside chance Santana will appear for an inning or two with the Mets at the very end of the season.
Santana is trying to return from Sept. 14, 2010 surgery to repair a torn anterior capsule in his left shoulder.
Meanwhile, Ike Davis has joined Santana at the organization's Florida complex to test his left ankle, which was pain-free recently while Davis ran. Davis played catch, hit off a tee and with soft tosses, and took 20 grounders. He will repeat that activity Saturday.
Davis is due to spend time with his teammates when the Mets open a three-game series against the Marlins in Miami on Monday.
While Terry Collins indicated recent progress suggested Davis could avoid surgery, assistant GM John Ricco noted the organization must first be assured that no discomfort arises as Davis ramps up his workload with lateral movement to test the ankle in coming days.
#30 C
New York Mets
2011 STATS
GM

95

HR3

RBI33

R21

OBP.353

AVG

.265
CATCHING ON: Josh Thole was due to rejoin the Mets in Washington on Friday night, after undergoing an MRI at the Hospital for Special Surgery in Manhattan in the morning. Thole has a "bad bruise" where the hand meets the wrist, Collins said, and may miss several days. Thole was struck by a fastball when he was expecting a slider from Miguel Batista.
Mike Nickeas is due to start at catcher Friday night. Collins said Ronny Paulino, who has not caught in a game since Aug. 22 because of a broken big toe, is ready to start Saturday's game.
Still, Collins suggested, there may be the need for a fourth catcher to be summoned from the minors. Raul Chavez has major league experience and leads the International League in caught stealings, so he may be the best option if the need arose, followed by Dusty Ryan or Salomon Manriquez.
KNUCKLED UNDER: Justin Turner started at second base over Ruben Tejada on Friday. Collins described the knuckle on Tejada's left middle finger, where the infielder was struck by a pitch the previous night, as "still sore." Tejada was going to attempt to swing a bat pregame and maintained before doing so: "It's good."
WELCOME ABOARD: Left-hander Daniel Herrera, acquired from the Milwaukee Brewers as one of two players to be named to complete the Francisco Rodriguez trade, joined the Mets on Friday and was assigned No. 19.
Collins welcomed having a second left-hander in his bullpen, because it would decrease the frequency of Tim Byrdak needing to be up in the bullpen for potential use.
Collins also indicated that Herrera is not particularly a lefty specialist because his screwball is a weapon against right-handers. Still, in 115 career major league appearances -- primarily with the Cincinnati Reds -- lefties are hitting .213 and righties .373 against Herrera.
The 5-foot-6 Herrera sports only a mid-80s fastball. And he lightheartedly noted about his pitching: "A lot of movement. Not a lot of heat. I wish I did. It would make my job a little easier."
ATTENTION ADAM SANDLER: Yes, newly promoted Josh Satin is Jewish and had a bar mitzvah.
Satin recalled his senior year of college at Cal-Berkeley finishing as runner-up to Arizona State's Ike Davis as one magazine's top Jewish college baseball player. (Davis' mother was raised Jewish, but the first baseman never practiced the religion.)
STAYING PUT: Batista will proceed with Tuesday's start against the Marlins, despite Collins mentioning after Batista's Mets debut that the organization may use a minor leaguer the next time Jon Niese's turn comes around.
Regardless, it is still expected that Chris Schwinden will join outfielder Mike Baxter and first baseman Valentino Pascucci as call-ups after Buffalo's season ends Monday. Pat Misch is the other possible addition.
The Mets will need a spot starter for Thursday's makeup doubleheader at Citi Field against the Atlanta Braves, so Schwinden (with Misch as the alternative) would be the logical candidate.
LITTLE REST: R.A. Dickey pitcher Friday night on three days' rest for the third time in his career as a starter. The first time he returned on the short rest, in July 2008 with Seattle, Dickey allowed eight runs in 5 1/3 innings at Toronto. Earlier this season he tossed 8 1/3 scoreless innings against St. Louis. … Lucas Duda played for two seasons at Southern Cal alongside left-hander Tom Milone, who makes his major league debut Saturday for the Nationals against the Mets. "He speaks even less than me," Duda said. … Fox has picked up the Mets' Sept. 17 game at Atlanta, moving it to 4 p.m.