WHAT IT MEANS: The Mets won the rubber game against the Washington Nationals, 6-3, behind a four-run sixth, a half-inning after Ryota Igarashi bailed out Mike Pelfrey.
After Pelfrey issued three straight two-out walks in the fifth, Igarashi entered and retired Chris Marrero on a pop-up to hold the Mets' deficit at 3-2.
Lucas Duda bashed a mammoth game-tying solo homer off Livan Hernandez in the sixth, the rookie's 15th RBI in his past 14 games.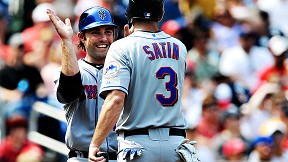 Patrick Smith/Getty Images
Mike Nickeas celebrates with Josh Satin after Ruben Tejada's two-run single in the third inning plates both.
David Wright, Angel Pagan and Jason Bay then consecutively singled against Hernandez, who departed to a standing ovation from the Nationals Park crowd. Hernandez potentially was making his last career start as a National, with Washington poised to use young starters for the remainder of 2011 and likely next season.
Todd Coffey was summoned with the bases loaded to face debuting Josh Satin, but Terry Collins pinch-hit with Willie Harris -- opting for what the manager deemed his best opportunity to win over a development opportunity for Satin. Harris delivered a two-run single and Mike Nickeas had a successful squeeze bunt as the Mets took a three-run lead.
IT'S A HIT: Satin singled to left field on 2-2 pitch from Hernandez to lead off the third inning in his first major league at-bat. He and Nickeas scored on Ruben Tejada's two-run single as the Mets took a 2-0 lead. Satin struck out looking in the fourth and was 1-for-2 in his major league debut before being pulled for Harris.
WELCOME BACK: Tejada had his first action since getting hit with a pitch on the back of his left hand Thursday. Josh Thole also returned from a left hand injury, suffered the same day. Thole pinch-hit in the eighth.
RIGHT TRACK: Duda remains a work-in-progress in right field. A night after his aggressive attempt at a catch on Ryan Zimmerman's flare backfired and the tying and winning runs scored, Duda misjudged Danny Espinosa's shot to right field and it landed over his head for an RBI double. Washington eventually scored three runs that inning to take a 3-2 lead against Pelfrey.
Pelfrey's final line: 4.2 IP, 5 H, 3 ER, 5 BB, 3 K. He threw 106 pitches (64 strikes).
NO. 2: In his second major league appearance, Josh Stinson tossed two scoreless innings. He surrendered a leadoff double to Wilson Ramos and walked pinch-hitter Alex Cora to open the sixth. But Stinson rallied to coax Ian Desmond into a 6-4-3 double play and Roger Bernadina into an inning-ending groundout to preserve the Mets' 6-3 lead. In the seventh, Stinson retired the Nats in order.
Eleven of Stinson's relief appearances with Double-A Binghamton this season were two innings or longer, so he is accustomed to working multiple innings. Early this season he pitched as a starter with Triple-A Buffalo, although his preference is relief.
RELIEF: Bobby Parnell, who suffered a blown save Saturday, issued a two-out walk to Zimmerman but successfully protected a three-run lead in the ninth for his fifth save this season. Collins had pledged to keep Parnell in the closing role to ready him for potential use in that capacity in 2012.
WHAT'S NEXT: Chris Capuano (10-11, 4.41 ERA) opposes Florida Marlins right-hander Javier Vazquez (8-11, 4.42) at 7:10 p.m. Monday as the Mets make their final visit to Sun Life Stadium (formerly called Joe Robbie, Pro Player, Dolphin and Land Shark stadiums). The Marlins move into a new ballpark in 2012.