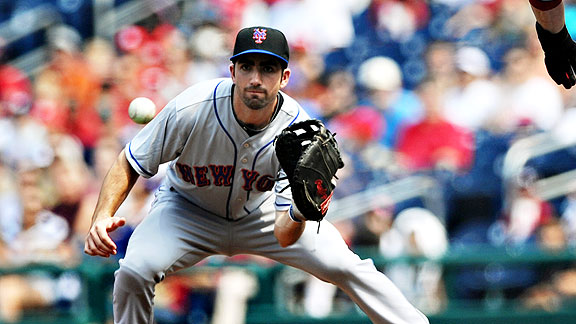 Patrick Smith/Getty Images
Josh Satin made his major league debut Sunday, starting at first base.
Three times in his first three days in the big leagues, Josh Satin had been in the on-deck circle, or en route there, when the final out of the inning was made, depriving him an opportunity for his first major league at-bat.
Sunday there was no doubt his chance would arise.
Satin received a text message from his brother -- a sophomore at the University of Miami -- who had seen a tweet that the 26-year-old rookie was in the starting lineup at first base for the series finale against the Washington Nationals.
Hours later, Satin singled in his first major league at-bat, against Livan Hernandez. He struck out looking an inning later, then departed for pinch-hitter Willie Harris in the sixth inning with the bases loaded once Todd Coffey entered for the Nats.
"I think it was like a 60-mph curveball," Satin said about the pitch he singled into left field. "They told me what to expect, all the guys, so I was ready for it.
"The first pitch he threw me, I looked up at the board, and it was an 83 and it was a fastball. So I was like, 'All right, don't get overanxious. He's not going to blow it by you. Just be patient and try to put the barrel on it.' And I was lucky enough to."
Satin said the reception as he made his way around the bases following his hit and eventually scored on Ruben Tejada's two-run single was special.
"Being on that base, at first base, just looking out at the field seeing all the guys that you're playing against, all the guys on your team, it's just a great feeling," Satin said. "Everyone on our team and their team was unbelievably nice about it. Every time I got to a new base, everyone was like, 'Congratulations' -- all the umpires, all the players on their team, and obviously all the guys on our team. It's a great feeling having Ryan Zimmerman say, 'Congratulations on your first hit.'"
Terry Collins had informed Satin upon his promotion Thursday that playing time would be sparse. The manager is committed to using Nick Evans at first base and does not intend to use Satin at second base, his natural position, because of Satin's lack of range.
Collins admitted trying to balance development for players such as Satin with winning is challenging and unfamiliar to him. In Collins' first five seasons as a manager, with the Astros and Angels, his teams all finished in second place and winning was paramount. His sixth and final year, Collins resigned late in the season.
Explaining pinch-hitting Harris for Satin with the bases loaded in a tie game in the sixth, Collins said about balancing development with winning: "I try to combine both, and it's not easy. I haven't done this either, to be honest with you.
"In that situation, our guys want to win. That's why they're out there. You go talk to the David Wrights and those guys that play every inning of every game and grind it out, they're not just out there to see who can do what. They want to win. In that situation, lefties hit [Coffey]. I just said, 'Hey, we've got to get some runs. We've got a chance to go ahead here. Let's try it.'
"I'll stand by it. It may hurt me down the road, but the Willie Harrises and those guys that have been here all year long and we've asked them to do some tough jobs, they deserve to be treated professionally. And they deserve to be put in situations that they're on this team for."
Said Harris: "Obviously we have some young guys here who need to play. Being a veteran guy you know that and you see that. You get on board and you try to make the most of whatever opportunities you can get. And, along the way, if you can share some knowledge with those guys, you share it with them and you try to help out the best way you can."
Satin was not quibbling.
As for the overall experience, the rookie infielder said: "I actually wasn't as nervous as I was expecting. I think it's because I got to watch a few games before. It was great to be out there. And to get a hit my first at-bat was definitely more relaxing."