Terry Collins said he fully expects Johan Santana to be the Mets' ace in 2012, even if the southpaw does not appear in a major league game this season. Collins made the pronouncement after watching Santana throw a bullpen session Tuesday afternoon at Sun Life Stadium before the Mets faced the Florida Marlins.
"He is an ace. Period," Collins said. "I've heard too many stories about how he's pitched even when he wasn't 100 percent, and he still pitched great. And if his health is good, I know that his competitiveness, his ability to command the baseball, he'll be as good as we've got."
Santana next is scheduled to pitch for St. Lucie or Savannah in a minor league playoff game Friday. He is on an every-six-days pitching schedule for the remainder of the year.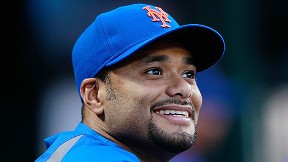 Chris Trotman/Getty Images
Johan Santana threw a bullpen session before Tuesday's Mets-Marlins game.
Pitching coach Dan Warthen said Santana's 2011 throwing will end by Nov. 1.
So in the event Santana decides to pitch in winter ball in his native Venezuela as part of the recovery plan -- which may not be the likelihood anyway – Santana would be limited to roughly two appearances. The winter ball season starts Oct. 12.
Santana will take November and December off from throwing before beginning a normal tune-up to spring training after Jan. 1.
"Rehab is such a difficult thing. It's almost worse than a season," Warthen said. "So he needs his rest somewhere along the line. All the options have been discussed with Sandy (Alderson), with Terry, including with Johan about maybe going to Venezuela and throwing a couple of games. But Nov. 1 would be the cutoff date for him throwing no matter what."
Warthen suggested Santana could throw a simulated game next week if minor league seasons are over. Santana then could declare himself ready to face major league hitters for the Mets. Regardless, it will be Santana's call, according to the pitching coach.
"If he feels that he is ready to go and he wants to throw a couple of innings, then we'll certainly be more than willing to accommodate him," Warthen said. "I'm not going to put a date on it. But if we run out of minor league games and we have to do a simulate game say on the 16th and everything goes well, and we throw 50 or 60 pitches there, and he throws a bullpen and he says, 'Hey Dan I think I'm ready to go.' Or, 'Hey Terry …' Or, 'Hey Sandy, I think I'd like to go face some major league hitters,' we may say, 'All right. Here's an inning. Start a game.' Maybe a (Miguel) Batista game or someone like that who has been a reliever. 'Go ahead and start it and go 30 pitches and see how you do.'"
Warthen said Santana's recent pitching has been better than the second half of last year.
"Better velocity. The arm has the same slot each and every time. He wasn't searching for a place that it didn't hurt," Warthen said. "He had multiple things with his body that hurt (last year) -- back was a little sore, knee was a little sore."
As for the value of pitching in games now, Warthen added: "He's going to have to find out if he can pitch or not. The more we can do this year to encourage him to come into spring training and have faith in what's going to happen with his future and how he's going to pitch, the better off we are and the better off he is going to be. We're not going to take any chances certainly. Him seeing hitters, getting the adrenaline going, having to go up that extra notch, he's going to be able to find out how he's going to react to all of the situations."
Santana expects he will have a "normal" routine come spring training.
"That's what we're looking for," Santana said. "That's why it's so important for me right now to get some games and be able to test my arm and the recovery. The problem here is the recovery from one start to another. The question is can I be able to get my next start."