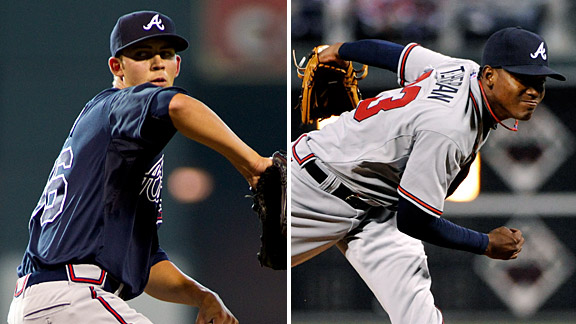 US Presswire
The Mets face Mike Minor (left) and Julio Teheran (right) in a makeup doubleheader Thursday.
METS (70-71, third place/NL East) vs. ATLANTA BRAVES (82-60, second place/NL East)
Thursday: RHP Chris Schwinden (8-8, 3.95 at Triple-A Buffalo) and RHP Dillon Gee (12-5, 4.48) vs. LHP Mike Minor (4-2, 4.09) and RHP Julio Teheran (0-1, 5.19), 4:10 p.m. ET
Braves short hops
• Second baseman Dan Uggla earned National League Player of the Month for August. Uggla was tied for the major league lead with 10 homers last month. He also hit .340 (33-for-97). Uggla's 33-game hitting streak ended Aug. 14. Uggla went 0-for-3 Wednesday night at Philadelphia to snap a more-modest 10-game hitting streak.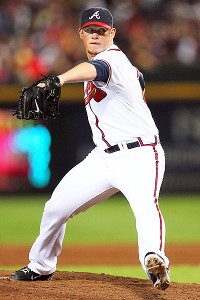 Daniel Shirey/US Presswire
Craig Kimbrel was the NL Rookie of the Month for August.
• Closer Craig Kimbrel won National League Rookie of the Month. He also received that honor in June. He joins Albert Pujols (2001), Miguel Cabrera (2003), Jason Bay (2004), Khalil Greene (2004), Zach Duke (2005), Josh Johnson (2006), Ryan Braun (2007), Geovany Soto (2008) and Jason Heyward (2009) as the only multiple-month winners in the award's history. Braves first baseman Freddie Freeman won the award in July, marking the first time in NL history a team had the award winner three straight months. Kimbrel is tied with Detroit's Jose Valverde for the major league lead in saves at 42. Kimbrel has a 36 2/3-inning scoreless streak, the longest in the majors this season, passing Cliff Lee's 34-inning mark.
• The Braves promoted right-handed prospects Julio Teheran and Randall Delgado as rosters expanded. Delgado made his third career major league start Sunday, against the Dodgers. Teheran makes his third career start in Game 2 against the Mets on Thursday. Atlanta has two injured starting pitchers: Jair Jurrjens has a bone bruise in his right knee, while Tommy Hanson has a small right rotator cuff tear.
• Reliever Peter Moylan suffered the loss in Philadelphia on Wednesday in his second appearance since returning from a 123-game absence during which he underwent back surgery.
• Freeman has been dealing with a left hip flexor injury.
• Left-hander Jonny Venters suffered a blown save Wednesday, his first time coughing up a lead since June 26 -- a span of 31 appearances. Venters' 22 2/3-inning scoreless streak ended Aug. 26 at Citi Field.
Matchups
Schwinden vs. Braves (career: never faced)
Gee vs. Braves (career: 2-1, 2.83)
J.C. Boscan .667, 3 PA
Jose Constanza .667, 1 HR, 1 RBI, 3 PA
Alex Gonzalez .417, 1 HR, 4 RBI, 1 BB, 2 K, 13 PA
Jason Heyward .333, 1 HR, 1 RBI, 3 BB, 10 PA
Brian McCann .200, 1 BB, 1 K, 11 PA
Michael Bourn .200, 1 RBI, 1 BB, 3 K, 6 PA
Matt Diaz .200, 1 BB, 1 K, 6 PA
Martin Prado .182, 12 PA
Dan Uggla .182, 2 K, 11 PA
Freddie Freeman .125, 1 RBI, 1 K, 8 PA
Eric Hinske .000, 2 BB, 2 K, 8 PA
Chipper Jones .000, 1 BB, 1 K, 5 PA
Minor vs. Mets (career: 1-0, 6.60)
Nick Evans .667, 3 PA
Justin Turner .500, 1 RBI, 2 BB, 1 K, 6 PA
Jason Bay .500, 1 RBI, 2 BB, 6 PA
Jose Reyes .500, 4 PA
Ruben Tejada .500, 1 K, 4 PA
Willie Harris .500, 1 RBI, 1 K, 4 PA
Ronny Paulino .200, 5 PA
David Wright .000, 1 BB, 2 K, 6 PA
Angel Pagan .000, 3 PA
Teheran vs. Mets (career: never faced)
Last series results
Mets won, 1-0, at Citi Field, Aug. 26 (AP game recap)
Mets 6, Braves 0: Chris Capuano pitched his best game ever, tossing a two-hitter and striking out a career-high 13 as the Mets blanked the Braves in their final matchup before taking a break because of Hurricane Irene. With the fans standing, Capuano fanned Michael Bourn for the fourth time to end it. He then gave a quick fist pump, satisfaction for a former All-Star slowed by two Tommy John surgeries. The shutdown comes right after the Mets, at last, won the opener of a homestand. They had been 0-10 in those games this year, a big league record for the start of a season. The Mets had lost their last five at home overall. Justin Turner and Lucas Duda each hit two-run doubles and Nick Evans and Josh Thole had RBI singles. Thole's wife is from upstate New York, near Binghamton, and the Mets catcher and pitcher Dillon Gee planned to drive there to ride out the storm. Capuano (10-11) slowed down the NL wild-card leaders and handed them their second loss in nine games. He retired the first 12 hitters -- many of them on terrible swings -- and didn't walk anyone all night. He faced one batter over the minimum. Capuano threw 122 pitches in the first complete-game shutout of the season for the Mets. An All-Star in 2006 with Milwaukee, the 33-year-old Capuano pitched the third shutout and fourth complete game of his career. The others came long ago, in his All-Star season. This was his 150th start as a big leaguer. Capuano did not allow a runner until Dan Uggla grounded a shattered-bat single through the left side leading off the fifth. Freddie Freeman followed by bouncing into a double play. Atlanta's only other runner came in the eighth when David Ross doubled with two outs. Tim Hudson (13-8) lost to the Mets for the third time this year. He's beaten them 14 times, his highest win total against any opponent. Hudson had gone at least seven innings in nine straight starts, but the Mets tagged him for 11 hits -- the most he had allowed since 2008, in 6 1/3 innings. Ruben Tejada had three hits and scored on Evans' two-out single in the fifth to break a scoreless tie. Thole followed with his RBI single. Hudson left with two runners on in the seventh. After reliever George Sherrill retired Thole on a flyball, Turner doubled off Scott Linebrink for a 4-0 lead. Duda had three hits, including his two-run double off Jonny Venters in the eighth.