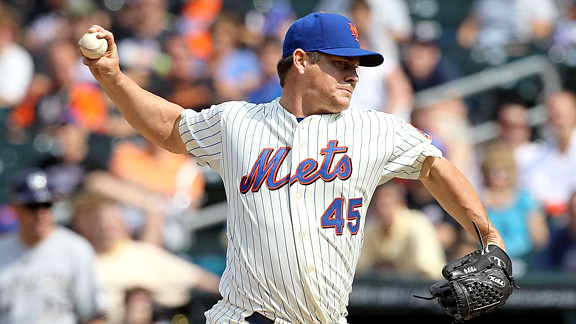 Jim McIsaac/Getty Images
Jason Isringhausen is currently dealing with a herniated disc, but declared his intention to pitch in 2012.
Jason Isringhausen has a herniated disc in his lower back that is pinching the sciatic nerve and will sideline him for several days, although he expects to return this season. Regardless, Isringhausen -- who turned 39 on Wednesday -- indicated for the first time Thursday that he has resolved to pitch in 2012.
"As of right now, I want to pitch next year," Isringhausen said. "I plan on it the way my arm feels. Getting the rest of my body in shape over the winter the way I know I can, losing a few pounds, I think everything will be fine. And the way my arm feels, then I have nothing to hold me back."
The current nerve issue is causing numbness and tingling in Isringhausen's right leg and foot. Isringhausen said he has dealt with the herniated disc at points this season, but did not get it fully checked out until Thursday. He wanted to wait until rosters expanded and Terry Collins would have alternatives from the minors to use in the bullpen before finding out the extent of the injury. Isringhausen said he will get a shot Monday to offset the nerve issue and will not require surgery.
Collins said he did not foresee in spring training that Isringhausen would last the year durability-wise, so he has been pleasantly surprised.
"He's been a lot more physically durable than we anticipated," Collins said. "When he threw the ball as well as he did in spring training, the discussion was, 'There's no way he's going to make the season.' We just didn't think his arm was going to hold up. ... And that has never been an issue. His arm has never been an issue."
GAME ON: Johan Santana's next minor league rehab appearance will come Friday at Savannah in Game 2 of a South Atlantic League playoff semifinal series. It will be Santana's second and likely final minor league start since resuming throwing following shoulder discomfort. The preference had been for Santana to pitch for St. Lucie, but the Florida State League club faces elimination on Thursday. Santana should throw approximately three innings and 40 to 45 pitches for the Sand Gnats.
HOME FREE: Ike Davis was examined Thursday at the Hospital for Special Surgery, where doctors concurred his troublesome left ankle will not require surgery. Davis will remain with the Mets for this homestand before heading home to Arizona. He is done working out for at least a month, though, to allow the ankle more time to heal. Davis said he should return to the hospital before departing to have an MRI so doctors have a current image to compare to any future imaging.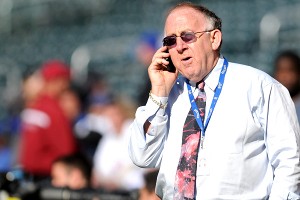 James Escher/Icon SMI
Longtime Mets PR man Jay Horwitz will require surgery for a broken ankle suffered Thursday.
"The way it feels right now it would be stupid to have surgery," Davis said. "If I had surgery, I could make it feel worse. There's no definitive answer with the surgery. If it was a torn ligament or something, it would be a different story. It's not like I have that. The whole thing was, if it doesn't ever get better, then we've got to get in there and take care of it. But since it has, and made improvement, why go in there and do stuff if you don't know if it's going to help?"
BAD BREAK: Longtime PR man Jay Horwitz, who was staying at a hotel near Citi Field after the Mets' late arrival from Miami, suffered multiple displaced fractures to his right ankle while walking to the ballpark Thursday morning. Horwitz stepped in a hole, which he thought was a puddle. He will undergo surgery Monday and remain hospitalized until the middle of next week.
Horwitz, who was hired by then-GM Frank Cashen in 1980, had not missed a Mets game in 21 years, but is now out indefinitely. He only had missed three games during his entire career with the organization -- when his mother passed away and when he had the chicken pox.
"He obviously is in a lot of pain," said Davis, who stayed with Horwitz at the hospital. "His leg was not in the right spot -- his ankle -- from where it normally should be. They put it back in place. And he's got a broken bone. So he's obviously not feeling too well. Obviously Jay is the hardest-working guy in the world, and the most-devoted Mets fan, too. Obviously he wanted to be here. He hasn't missed a game in 20 years -- over 20 years."
It was a bad couple of days for the PR staff. Horwitz's deputy, Shannon Forde, is on crutches. She suffered a small fracture and sprain of her left ankle.
NOVEMBER BASEBALL: Licey and Escogido will play a Dominican Winter League game at Citi Field on Nov. 13, ESPNDeportes.com's Enrique Rojas reports. "We have the date and the stadium, but now we are sending permit applications to the commissioner's office and the Caribbean Baseball Confederation," Licey GM Fernando Ravelo told Rojas. "We don't see any problems with that."
Asked for comment, Mets executive VP Dave Howard said: "We are having productive discussions, but nothing definitive yet."
ONE AND DONE: Chris Schwinden, who makes his major league debut in Game 1 of Thursday's doubleheader, likely will not reappear in the rotation the remainder of the season. Collins cited Schwinden's innings count. The rookie has thrown 148 2/3 innings in the minors this season, an increase of 35 innings from the previous season, even before Thursday's workload.
"We haven't really made the final decision, but it looks like that's possibly the case. Today, and then we'll keep him and use him sporadically," Collins said. "His innings have mounted up pretty high."
DAY OF REST: Jose Reyes is sitting Game 1 of the doubleheader, with David Wright, Jason Bay and Angel Pagan scheduled to have the nightcap off. Collins said he wants to field a competitive lineup with the Braves in the playoff race for integrity's sake, but his players are tired. Collins had wanted to give Reyes off Wednesday's game in Miami, but Reyes wanted to play. The manager relented with the understanding Reyes would sit one of Thursday's games.
"We know what's going on with the wild card, and we're not just going to let the Atlanta Braves come in here and walk over us. We're going to do the best we can to put a competitive linuep out there," Collins said. "That being said, we still need to realize the health of our players. As I told Jose, 'You play both ends of that doubleheader and you blow out in the second game, that's inexcusable.' ... To lose him for another two weeks and the damage it would do, it's crazy."