Chris Schwinden said nerves affected his early performance, especially in a three-run first inning by the Braves, and undermined his major league debut. Schwinden ultimately took the loss. He was charged with five runs on eight hits and a walk while striking out four in five innings. He allowed a solo homer to Chipper Jones.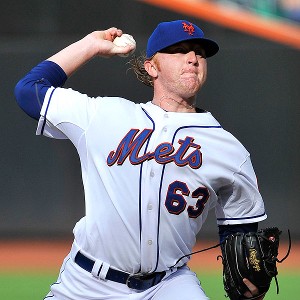 AP Photo/Kathy Kmonicek
Chris Schwinden was charged with five runs in his major league debut.
"It was a lot of nerves going on," Schwinden said. "I was just trying to stay focused and stay calm and execute pitches. Obviously my nerves took a little over and I left a couple of balls up, and obviously they're going to get hit pretty hard. ... It kind of messed with my mechanics a little bit. I was rushing a little bit. I was a little off-balance."
Schwinden was out early surveying Citi Field, but referred back to his in-game execution when asked about soaking in the major league surroundings. His father Bill flew in from California unannounced to surprise him, although Schwinden had a hint based on conversations with other family members.
"I'm here for a reason -- to throw strikes and get guys out -- and I didn't do that very well today," Schwinden said. "I'll try harder next time."
Schwinden may log an inning here or there in relief, but given his innings count this season, it's unlikely he will start again.
"I've seen him pitch enough to know his command is always pretty good," Terry Collins said. "I'm sure he was just a little nervous today and left some balls up in the zone today that they hit pretty hard."
Incidentally, all four starting pitchers in the doubleheader -- Mike Minor, Julio Teheran, Schwinden and Dillon Gee -- are all rookies. It's only the fourth doubleheader (regular or day/night) in the majors since 1965 with four rookie starting pitchers, according to the Elias Sports Bureau. Three have involved the Mets.
The others:
Sept. 28, 1976 – Expos (Joe Keener, Gerald Hannahs) at Mets (Nino Espinosa, Bob Myrick)
Aug. 7, 1977 – Blue Jays (Jerry Garvin, Jim Clancy) at Brewers (Lary Sorensen, Moose Haas)
July 8, 2006 – Marlins (Josh Johnson, Ricky Nolasco) at Mets (John Maine, Mike Pelfrey)
Thursday – Braves (Mike Minor, Julio Teheran) at Mets (Chris Schwinden, Dillon Gee)
ODDS & ENDS: Left-hander Mike O'Connor cleared waivers. ... Before Jason Bay, the last Met to hit two grand slams in a season was Fernando Tatis in 2009. ... Collins said Jose Reyes did not attempt to steal second base in the ninth inning because of Craig Kimbrel's quick delivery to the plate and a damp field, plus an aversion to risk getting caught with Lucas Duda at the plate.