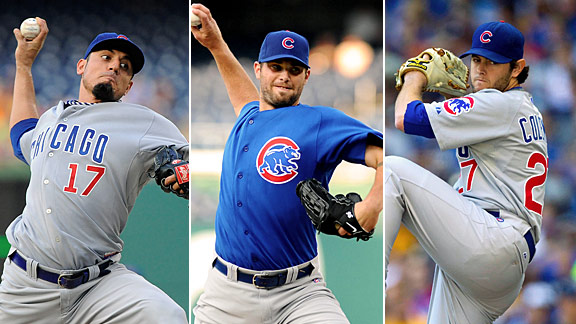 US Presswire
The Mets face (r to l) Casey Coleman, Randy Wells and Matt Garza this weekend.
METS (70-73, third place/NL East) vs. CHICAGO CUBS (62-81, fifth place/NL Central)
Friday: RHP Mike Pelfrey (7-11, 4.68) vs. RHP Casey Coleman (2-7, 6.61), 7:10 p.m. ET
Saturday: LHP Chris Capuano (10-12, 4.63) vs. RHP Randy Wells (7-4, 4.86), 1:10 p.m. ET
Sunday: RHP Miguel Batista (4-2, 3.92) vs. RHP Matt Garza (8-10, 3.52), 8:10 p.m. ET
Cubs short hops
• General manager Jim Hendry quietly was fired July 22 but stayed on and kept the dismissal private through the non-waiver trading deadline and until the draft signings were completed. Hendry had served as GM since July 2002. The Cubs qualified for three postseasons while he was at the helm. Randy Bush is serving as interim GM.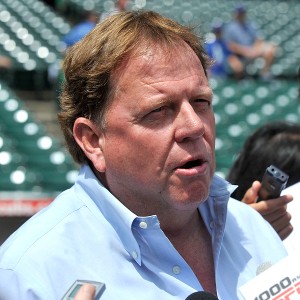 David Banks/Getty Images
Jim Hendry has been fired as general manager.
• Carlos Zambrano was placed on the disqualified list Aug. 13. On the night the Braves honored Bobby Cox, Zambrano served up consecutive homers to Freddie Freeman and Dan Uggla. He then threw two balls in the direction of Chipper Jones -- one going to the backstop. Zambrano's team suspension ends Sunday, but the Cubs announced he would not return this season.
• Shortstop Starlin Castro leads the National League with 182 hits. He is on track to become the first Cubs player to have a 200-hit season before turning 22. Castro's 20 three-hit games lead the league and are the most by a Cub since Bill Buckner had 24 in 1980. Castro's 26 errors lead NL shortstops. Chicago's 119 errors lead the majors.
• Chicago has the worst starting pitching ERA in the league at 4.88. Cubs starters have allowed the most hits per nine innings in the league (9.9) and trail only the Colorado Rockies in walks per nine innings at 3.4. Their starters also have logged the fewest innings of any NL rotation at 812.
• Closer Carlos Marmol has a league-high nine blown saves. His 4.07 ERA is second highest of any reliever with at least five saves, better than only Florida's Leo Nunez (4.33). Marmol is tied with Ernesto Frieri for the major league lead in hit batters among relievers with nine.
• Matt Garza is the lone pitcher in the majors to increase his strikeout rate by more than two per nine innings from last season. Garza has a 2.64 ERA at Wrigley Field and 4.84 ERA on the road. Overall, he has a 2.23 ERA since Aug. 1 -- fourth-lowest in the NL during that span, behind only Cliff Lee (0.37), Clayton Kershaw (1.69) and Ian Kennedy (2.15). Garza has surrendered 16 unearned runs, second-most in the National League, behind only Jaime Garcia (19).
• Center fielder Tony Campana has 19 steals in 20 attempts, the best rate in the majors (min. 15 attempts).
• Left fielder Alfonso Soriano has only 22 walks. He is hitting .486 with three homers and 13 RBIs in 10 games against the Mets over the past three seasons.
• Free-agent-to-be Aramis Ramirez leads the majors with 12 first-pitch homers. It's the most first-pitch homers by a player since Manny Ramirez had 14, Josh Hamilton 13 and Ryan Ludwick 12 in 2008, according to ESPN Stats & Information. With one more homer, Ramirez would reach 25 homers and 30 doubles for the sixth time. The only other Cub with six seasons at those levels was Billy Williams.
• Right-hander Andrew Cashner was activated from the disabled list and will be available out of the bullpen. He has not appeared in the majors since April 5 because of a rotator cuff injury.
• Second baseman Darwin Barney is hitting .079 (3-for-38) since Aug. 25.
• The Cubs traded outfielder Kosuke Fukudome to the Cleveland Indians on July 28 for minor leaguers Abner Abreu and Carlton Smith.
Matchups
Pelfrey vs. Cubs (career: 2-0, 0.60 ERA)
Blake DeWitt .600, 1 RBI, 5 PA
Koyie Hill .500, 2 PA
Alfonso Soriano .333, 3 PA
Geovany Soto .333, 1 RBI, 3 PA
Jeff Baker .222, 2 K, 9 PA
Aramis Ramirez .000, 2 K, 6 PA
Marlon Byrd .000, 2 K, 3 PA
Carlos Pena .000, 1 K, 3 PA
Capuano vs. Cubs (career: 8-3, 3.88)
Blake DeWitt 1.000, 1 HR, 3 RBI, 1 PA
Alfonso Soriano .400, 1 HR, 1 RBI, 1 K, 5 PA
Marlon Byrd .333, 2 K, 9 PA
Aramis Ramirez .324, 1 HR, 4 RBI, 3 BB, 6 K, 38 PA
Reed Johnson .000, 1 K, 3 PA
Jeff Baker .000, 1 PA
Batista vs. Cubs (career: 2-3, 4.99 ERA)
Koyie Hill .667, 3 PA
Luis Montanez .500, 1 K, 2 PA
Carlos Pena .308, 3 K, 13 PA
Jeff Baker .200, 5 PA
Aramis Ramirez .143, 2 BB, 16 PA
Marlon Byrd .125, 5 K, 16 PA
Alfonso Soriano .111, 1 RBI, 4 K, 27 PA
Reed Johnson .000, 1 BB, 3 K, 8 PA
Darwin Barney .000, 3 PA
Blake DeWitt .000, 1 RBI, 3 PA
Geovany Soto .000, 1 K, 2 PA
Tyler Colvin .000, 2 PA
Starlin Castro .000, 1 K, 2 PA
Tony Campana .000, 1 PA
Coleman vs. Mets (career: 0-1, 40.50)
Jason Pridie 1.000, 1 PA
Jason Bay 1.000, 1 PA
Ruben Tejada 1.000, 1 PA
Josh Thole .500, 1 RBI, 2 PA
Jose Reyes .500, 2 PA
Willie Harris .000, 1 BB, 1 K, 3 PA
Justin Turner .000, 1 PA
Wells vs. Mets (career: 0-1, 3.06)
Jason Bay .500, 1 BB, 1 K, 3 PA
Angel Pagan .444, 1 BB, 10 PA
David Wright .333, 2 RBI, 3 K, 9 PA
Willie Harris .333, 2 BB, 5 PA
Lucas Duda .333, 1 RBI, 1 BB, 4 PA
Ruben Tejada .333, 1 K, 3 PA
Josh Thole .000, 1 BB, 1 K, 3 PA
Garza vs. Mets (career: never faced)
Ronny Paulino .333, 2 K, 3 PA
Jason Bay .250, 2 RBI, 1 BB, 8 K, 21 PA
Willie Harris .000, 3 PA
Justin Turner .000, 1 K, 1 PA
Last series results
Cubs won, 2-1, at Wrigley Field, May 24-26 (AP game recaps)
Cubs 11, Mets 1: Ryan Dempster pitched seven effective innings, Starlin Castro had three hits and two RBIs and the Cubs pounded the stumbling Mets. Alfonso Soriano, Darwin Barney and Lou Montanez each had two hits for Chicago. Montanez started in right field hours after he was promoted from Triple-A Iowa when the Cubs put right-hander Matt Garza on the 15-day disabled list with elbow stiffness. Dempster (3-4) allowed one run and seven hits, improving to 10-5 in 26 career appearances against the Mets. The Mets dropped their first game since a pair of magazine articles about owner Fred Wilpon raised questions about the state of the franchise. Wilpon first made a couple of chilly comments about three of the team's biggest stars in an interview with The New Yorker, then told Sports Illustrated the club is "bleeding cash" and could lose up to $70 million this year. Ronny Paulino made two errors, leading to five unearned runs. Pat Misch issued consecutive walks to force in a run and give the Cubs an 8-1 lead. Fernando Martinez booted Reed Johnson's single in the seventh for New York's third error, setting a season high. Jason Bay left with a stiff right calf in the seventh inning.
Mets 7, Cubs 4: Dillon Gee recovered from a wild start while Cubs reliever Justin Berg never found the strike zone in a rain-shortened game. The game was called with two outs in the top of the seventh inning after a 41-minute delay. It was 47 degrees for the first pitch with a fierce northern wind blowing in from Lake Michigan. A fog set in around Wrigley Field and grew thicker as the game progressed. Berg took over for Casey Coleman (2-4) during the Mets' five-run second inning. Berg came in with runners on second and third and threw 12 pitches all balls. His three walks forced home two runs. Gee (4-0) walked two while allowing four runs in the first, but bounced back to throw five scoreless innings and retire 16 of the last 18 batters he faced. Carlos Beltran doubled, tripled, scored twice and drove in two more for the Mets. Beltran and Murphy hit two-run doubles in the big second off Coleman and Berg.
Cubs 9, Mets 3: Cold, wind, a stiff neck, a parade of opposing pitchers nothing seemed to faze Carlos Zambrano, on the mound or at the plate. Zambrano pitched six strong innings, went 3-for-3 and drove in a run on another nasty day at Wrigley Field. Zambrano (5-2) allowed two runs (one earned) on six hits and two walks while picking up his first win at Wrigley Field since Sept. 4, 2010. He doubled and scored a run at the plate, and now has four hits in his last four at-bats to raise his average to .375 on the season. Carlos Pena stayed hot for Chicago, lacing a two-run homer in the fourth. It was Pena's sixth of the year, all of them since May 3. Pena has reached base in 19 of his last 20 games. The Mets lost starter R.A. Dickey to a heel injury in the third when he fell trying to cover first base. New York's bullpen allowed eight hits and seven runs after Dickey departed. Rookie Tony Campana added three singles and made a couple of nice catches in center in his first start for Chicago.