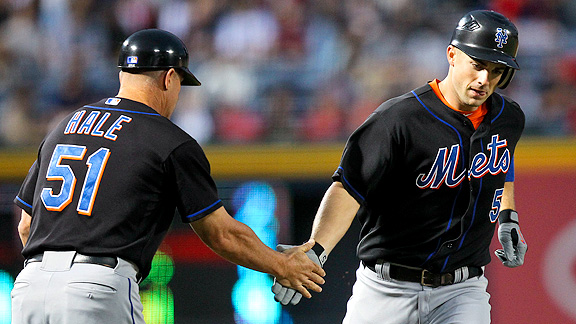 Daniel Shirey/US Presswire
David Wright belted two homers, which accounted for five RBIs, in the Mets' 12-2 rout of the Braves.
Did Terry Collins' Thursday postgame rant wake up the Mets?
David Wright, who had two homers and five RBIs in Friday's 12-2 rout of the Braves, was not quite prepared to proclaim that much.
"Terry's good, but I think it's more coincidence than anything," Wright said. "I give him a lot of credit, but I'm not quite ready to give him credit for 20 hits."
Collins suggested the playoff stakes for the Braves on a crisp September night at Turner Field with 43,901 in attendance definitely gave the Mets a lift, too.
Still, Collins said about his pointed criticism of the team's performance after the 1-8 homestand: "I hope it got across. Again, I don't want to take anything away from how hard we played all year long. The last few days I just didn't think we got ourselves ready. … Coming down here and playing in a situation that you're playing against a team that's going for the playoffs, I think kind of made a big difference too. The games mean something. They're important. And they know it. Our guys are certainly aware of what's going on here. I think that helped a lot, as a matter of fact."
St. Louis, which beat Philadelphia, moved within 3½ games of the Braves in the wild-card standings.
Meanwhile, Collins said the Mets (72-79) still have the incentive of trying to finish at .500, even though that requires at least a 9-2 record the rest of the way.
"We've got a long, long road ahead of us right now," Collins said.
Asked if he expected Friday's offensive outburst, in which the Mets produced their most hits in a game against the Braves since 1985, Wright deadpanned: "With the way we've been swinging the bats, if we can score more than one, it's a good night for us."
More seriously, Wright said: "Obviously it's good sometimes, just a little bit of a change of scenery. You have a rough homestand, sometimes it just feels good to walk into a visiting clubhouse and go out there and just kind of have fun playing the game. This environment, you get the adrenaline pumping with the fans and obviously a playoff-caliber team. So it feels good to help the team win because both personally and a team we want to try to finish as strong as possible to get a little momentum going into next year."