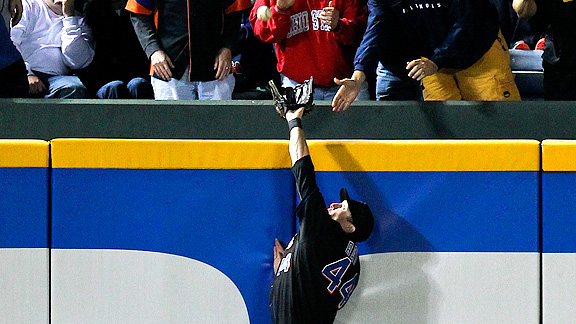 Daniel Shirey/US Presswire
Jason Bay robs Alex Gonzalez of a would-be homer in the fourth inning Friday.
Jason Bay knows the Endy Chavez catch. And Bay said he did not make an Endy Chavez catch on Friday night to take away a homer from Atlanta's Alex Gonzalez.
"That wasn't near Endy Chavez," Bay said. "He was a little more athletic. I didn't exactly have the five-foot vertical. It was just one of those things where the timing was perfect and you get a decent wall you can do that on. Everything lined up. I wasn't even sure I held onto it at first."
Gonzalez got Bay back later. He fired from deep in the hole at shortstop to retire Bay at first for the final out of the top of the seventh to leave the bases loaded.
"He smiled and pointed to left field after it, too," Bay said about Gonzalez. "It didn't strike me at the time. I was just pissed I didn't get a hit with the bases loaded. And then as he's running by, he kind of grinned. I played with him in Boston, so I know him. He laughed and pointed to left and I go, 'Oh, I get it.'"