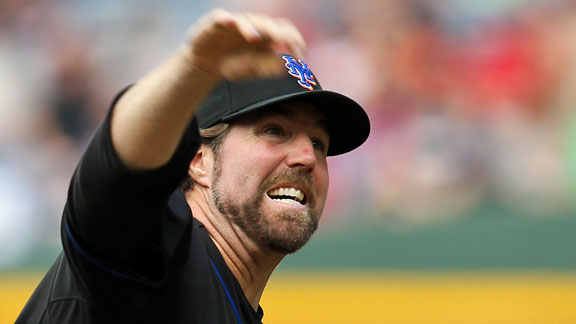 Daniel Shirey/Getty Images
R.A. Dickey allowed a two-out single in the eighth to Chipper Jones that accounted for the lone run.
R.A. Dickey said the game-deciding knuckleball he threw to Chipper Jones with runners on the corners and two out in the eighth inning was a quality pitch. And Jones happens to be a quality batter who singled to drive in the lone run in the Mets' 1-0 loss to the Braves on Saturday afternoon at Turner Field.
"I threw a good one to Chipper, and he did what a Hall of Famer does -- a groundball up the middle. And that was a good knuckleball," Dickey said.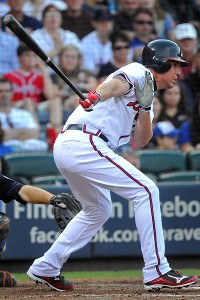 John Amis/Associated Press
Chipper Jones has the third-most RBIs against the Mets ever, trailing only Willie Stargell and Mike Schmidt.
Said Terry Collins: "He made a good pitch on Chipper, and he sticks his bat out and hits a ball up the middle."
Dickey had walked both baserunners preceding Jones' at-bat. So while Collins said it was considered to walk Jones too to bring up Dan Uggla with the bases loaded, it ultimately was decided against. Uggla was 0-for-21 in his career against Dickey.
"We thought about it, but with the fact he walked two guys previous to that, now we either stay and take our chances or we go to the pen if we think he's tired," Collins said.
Dickey, by the way, spoke with former knuckleballer Phil Niekro after the game. Niekro lives about 45 minutes from Turner Field, but is not a regular attendee at Braves games.
"I think he just saw me sitting there, ruminating over the loss," Dickey said about their postgame chat. "He just offered some words of encouragement, and I appreciated it. I worked with him the offseason before 2009. I came down here to work with him for a day. So we had a relationship. We've been in contact off and on ever since."
Dickey's lament was failing to lay down a sacrifice bunt in the third inning after Josh Thole and Ruben Tejada consecutively reached against Tim Hudson to open the inning. Dickey struck out in all three of his plate appearances.
"Visually it was tough for me," Dickey said. "It looked like a strike the whole way and then it would disappear down for me. I was lost up there from a bunting standpoint today, and there's no excuse for that."