Sandy Alderson strongly intimated on Tuesday night that the dimensions of Citi Field would change next year. This story originally appeared in June and has been updated to reflect Citi Field's current rank in terms of homers. Other statistics have been updated as well.
Read the news story with Alderson's comments after Tuesday's 11-6 loss in St. Louis here.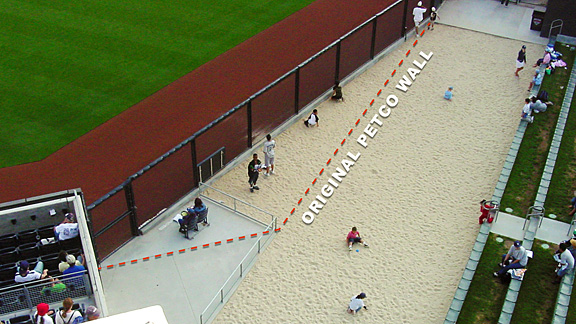 Greg Rybarczyk
After one year as CEO of the San Diego Padres, Sandy Alderson made the above change to the wall in right-center at Petco Park during the 2005-06 offseason.
Sandy Alderson makes measured rather than rash decisions. He even brought Oliver Perez and Luis Castillo to spring training to observe those players before dumping them, despite public clamor for their immediate ousters. So it is entirely consistent that Alderson left Citi Field's measurements unchanged for the 2011 season, his first presiding over the team as general manager.
That does not mean alterations will not take place next winter.
"There's always going to be a preferred class, whether it's pitchers or hitters, in situations like this, but I want to make sure it's a fair ballpark," Alderson said.
Alderson has precedent for tinkering with a stadium's dimensions after his first year on the job. He took over as San Diego Padres chief executive officer in April 2005. After that season, a season in which Petco Park ranked 28th in the majors in homers, Alderson adjusted the cavernous right-center dimensions (see photo above).
"We did some computations which showed the change would have resulted in perhaps a dozen more homers [during the 2005] season, with a net positive of around five homers for the Padres," Alderson explained to the San Diego Union-Tribune at the time of the adjustment. "We wanted to address the concerns of some left-handed hitters without making a radical change to the ballpark. And I wanted to eliminate the easy triple where the ball just kept rolling toward that 411-foot sign. Fast guys will still get their triples. … Bringing in the fence the distance we are talking about is not going to greatly change the way Petco Park plays. There is still going to be a lot of territory to cover in the power alleys. But the change will offer a balance."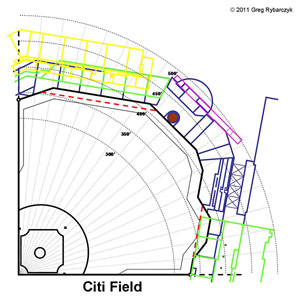 Greg Rybarczyk
The red lines signify changes to Citi Field that Greg Rybarczyk picked to study for ESPNNewYork.com, and how they would impact home runs.
Alderson also made the point in a Union-Tribune interview that year that front offices should be hesitant to build a team around a ballpark, because half the games are played on the road. Alderson said the Boston Red Sox once learned a tough lesson in that respect in trying to craft a team for Fenway Park.
Of course, the Mets' two homegrown stars have had disparate experiences at Citi Field. Twelve of Jose Reyes' 16 triples this season have come at home, while David Wright has been frustrated by the cavernous right-center, which is his power sweet spot.
Entering the final week of the season, Citi Field ranks 14th of 16 ballparks in the National League in homers per game at 1.32. How might alterations to Citi Field affect home run totals?
Here's an analysis from Greg Rybarczyk, founder of hittrackeronline.com. He is a former U.S. Navy nuclear engineer and ship navigator as well as a former physics instructor at an ROTC prep school.
To determine the percentage increase in homers that wall adjustments would cause, Rybarczyk took all of the homers hit in the majors in 2010 and plotted them first using the existing Citi Field walls, then with certain modifications to the ballpark.
CHANGING THE 'GREAT WALL OF FLUSHING' IN LEFT FIELD
Says Rybarczyk: "I did this by moving the fence line of the long fence segment 10 feet towards the infield (which actually results in the fence being a bit more than 10 feet closer to home, since the fence angles away from home plate). I also lowered this fence to 10 feet high from the existing 16 feet high. If you do this, you increase homers to that part of the park by 35 percent, and overall homers by 22 percent. Obviously you can tweak the amount of the move inwards and/or the height of the new wall to get a bigger or smaller effect."
CHANGING THE 'MO ZONE' IN RIGHT FIELD
Says Rybarczyk: "Specifically, I extended the fence that exists to the right of the Mo Zone across to where it meets the bullpen. This fence is eight-feet high. If you do this, it increases home runs in right and right-center field by 25 percent, and overall homers in Citi Field by nine percent."
Of course, one major question is how changes might affect Wright. Here's what Rybarczyk concludes:
"I looked at the Citi Field long flies and homers from 2009, and found the following: Three balls hit by David Wright that would have gotten over the revised fence line related to the modifications I tested. One ball hit by David Wright that would have cleared the center field fence, which was already shortened by the Mets last offseason. So, a total of four balls Wright hit in 2009 that would have made it over the reduced fence lines we're considering. Now, I don't think you should necessarily project his [percentage] benefit based on 2009, because he hit very few homers that season, at Citi or elsewhere, and the number you'll get will likely be too big."
Obviously, there is a cost involved in ballpark modifications, but Rybarczyk adds: "It's probably worth mentioning that the Mets could create some nice new premium seats with these changes. In the Mo's Zone, you'd get a few more rows of seats right near the field, and in left field you could make a sort of 'home run porch' out in front of the existing wall, with open-air seating on top, and another area underneath with a field-level view."
Rybarczyk also issues one caution about his methodology: "I used the data I have at my disposal, which is home run data from 2010. I don't have a complete list of long fly balls from around the league that came up short of homers, so I couldn't check those as well, but I think the potential impact of this necessary omission will be negligible, since Citi Field's fences are deeper than almost every other park."
Meanwhile, reached Tuesday night after Alderson's comments, Rybarczyk added: "You might point out that the HR park factor numbers for Citi Field for the last two seasons are: in 2010, 0.719, and in 2011, 0.720. Or, in other words, over the last two seasons, Citi Field has consistently suppressed home runs by about 28 percent. The two changes to Citi Field that I analyzed would increase home runs by 22 percent (in left field) and 9 percent (in right field), or 31 percent overall. This would make Citi Field essentially neutral for home runs, or possibly slightly favorable for HR hitting, which is precisely what I think Alderson is looking for."