Chris Capuano said the Mets never briefed him about a potential trade to the Boston Red Sox, and he did not even learn there had been dialogue between the teams until after his no-decision in Thursday's comeback win in St. Louis.
"I heard about it after the game," Capuano said. "I'm glad I didn't know about it. Today I just tried to focus on the game. It didn't happen, so I don't know if there's much more to talk about."
Still, he added after surrendering four runs in 4 2/3 innings, that had he known about the trade dialogue, it likely would not have affected his performance.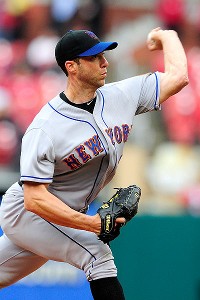 Jeff Curry/Getty Images
Chris Capuano said he was unaware of trade talk with the Boston Red Sox until after Thursday's start.
"My command suffered out there today as it was," said Capuano, who is expected to earn $3.925 million this season with bonuses for reaching 180 innings and starting 31 games (with one more outing this season). "I don't think any distraction was going to make it any worse than it was today."
What might pitching one game for the Red Sox and being ineligible for the postseason have felt like?
"It would be strange. It would have been a unique challenge, I think, to try to block all that out and just focus on making pitches," Capuano said.
Capuano grew up a Red Sox fan in Springfield, Mass.
"The Mets broke my heart in '86," Capuano said.
Where does Capuano fit in for 2012? He's not quite sure. He is resolute that he wants to be a major league starting pitcher, not a reliever. If Johan Santana comes back healthy with Mike Pelfrey, R.A. Dickey, Jon Niese and Dillon Gee, it's unclear if the Mets could guarantee that role. The optimal scenario from the organization standpoint might be re-signing him for a Darren Oliver-type role and having him as a safety net for the rotation while available for relief.
"I've been pleased with the way my body has felt and the routine I'm in," Capuano said. "I felt strong every fifth day and really, knock on wood, haven't had any snags along the way. From that standpoint it's been good. I'm frustrated with outings like today in terms of innings pitched. I'd like to be going deeper into the games. Today I was frustrated having thrown over 100 pitches without even getting through the fifth."
Asked if he could return to a situation with the Mets where there are six starting pitching candidates and his ultimate 2012 Opening Day assignment is nebulous, Capuano said: "I'll have to see how it shakes out. Coming into this year, my main thing was getting somewhere where I had a really good chance to make the starting rotation. I knew I had to earn that right."
"He can do either," Terry Collins said about starter versus reliever. "He's told us that. He can do either. Down the road where he fits, I certainly can't predict it. But what he's done this year as a starter speaks volumes. He's gone out there 30 times and he leads this team in strikeouts."