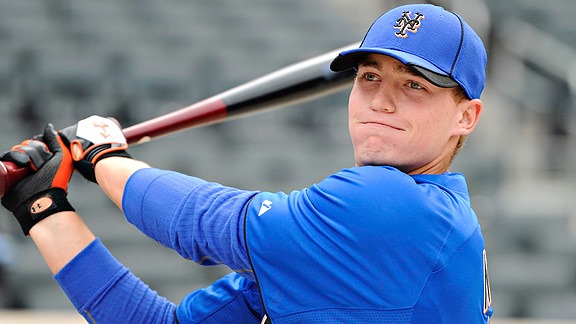 Courtesy of Marc Levine/New York Mets
2011 first-round pick Brandon Nimmo visited Citi Field on Monday before returning to the instructional league in Fort Myers, Fla.
So how did 2011 first-round pick Brandon Nimmo find the transition to professional baseball and the level of competition in the Gulf Coast League?
"You mean (compared) with Wyoming baseball? It's OK. You can say it," the 18-year-old Nimmo said with a laugh after taking batting practice with the Mets on Monday at Citi Field. "It doesn't offend me. When I came out here, yes, it's a higher competition level every day. But I feel like that's what it is for everyone. You can talk about when I faced a guy in my district tournament that was throwing 60 mph. But I've played in the Under Armor (national all-star) game. I've played in that Tournament of Stars Game. I knew what it was going to look like.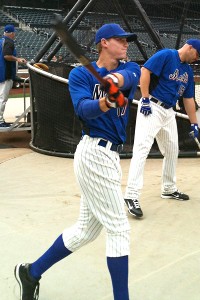 Adam Rubin
Brandon Nimmo takes batting practice Monday at Citi Field.
"Now, it's just getting comfortable with it. And I feel like I settled in there in two weeks and toward the end you started to see that I was feeling a little more comfortable. I was getting a hit a game. I left there 3-for-3. And I started getting back into my approach."
Nimmo hit .211 (8-for-38) with two homers, four RBIs, six walks and 14 strikeouts in 10 combined games between the Gulf Coast League and Kingsport Mets. He is currently participating in the instructional league in Fort Myers, Fla. He also has plans to work out at the Mets' academy in the Dominican Republic from mid-October to mid-November.
"That first week I was there, I felt like I was just getting used to it, like anyone, and feeling my way around," Nimmo said of his initial exposure to professional games. "As I started to settle in, I started to walk more, which is a big part of my game. It's going to be an adjustment for anyone. So I felt like I adjusted well. But it's going to take time. It's high school -- even though we don't have high school baseball, it's American Legion, it's the same caliber of baseball. It's different when you're facing guys that are 22 years old and they can 'huck' it up to 97 mph and add on four inches of movement on there. It is different. But I'm not feeling overpowered. I recognize what's coming out of their hand. And even if you do see a strikeout, I usually know what I struck out on, and it's me that got myself out."
Nimmo realizes it's still a long way to the majors.
"You would love to be here as soon as possible, but I do understand the process," Nimmo said. "These guys are just more mature than I am physically. And they've been through more at-bats. They've been through thousands of more at-bats than I have."
As for the Wyoming native's impressions of New York, Nimmo said: "Well, it's big, big buildings and a lot of them everywhere and a lot, a lot of people. And the driving, when you get down here, I told dad maybe I got in like six close calls my whole time in Wyoming. And I think I got in like 10 on my way to the airport where you're like, 'Oh my gosh, we're going to hit this guy.' It's definitely a lot more people. It's kind of draining the first day, honestly."
Yet he was the exact opposite of being overwhelmed. In fact, he was downright at ease chatting with the New York media.
"I've tried to be involved with adults my whole life, and I feel like my parents have raised me this way," Nimmo said. "But it's just kind of my personality. I don't have a problem with the big stage. I don't have a problem talking with reporters and people.
"Now I've had more experience with it since being drafted, and since being targeted as this kid from Wyoming who someone saw ice fishing and it looked like he had pretty quick hands."
Nimmo even cracked himself up with the last line.