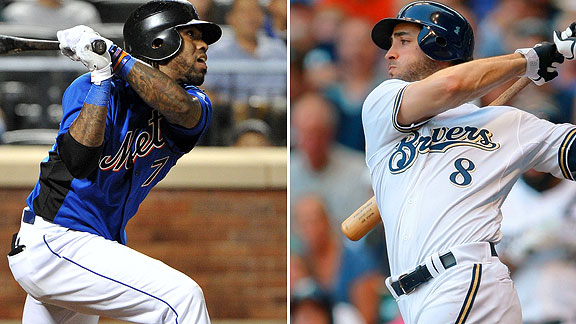 Getty Images
Jose Reyes and Ryan Braun are going to the wire for the NL batting crown.
Jose Reyes thought he had overtaken Milwaukee's Ryan Braun for the National League batting lead after lifting his average to .334 with a 3-for-4 performance in the Mets' 6-5 loss to the Cincinnati Reds.
Not so fast. Braun delivered a pinch-hit double in Milwaukee's loss to Pittsburgh and now also sits at .334.
With the extra decimal points, Reyes is hitting .33396. Braun is hitting .33393.
"I can't lie to you. I see it on the scoreboard, because people are cheering about it," Reyes said of the batting-race standings, which are displayed at Citi Field after each of his at-bats. "But I'm going to continue to play my game. I don't want to put anything in my head the last two games."
Still, Reyes said, it's getting a little more difficult to tune out.
"It's no doubt. I think about it a little bit now, because it's two games left," Reyes said. "But that's something I have to be clear in my mind and continue to put good swings on the ball and see what happens."
Still, Reyes lamented getting thrown out rounding second base too hard on an RBI double in the eighth inning that had pulled the Mets within 6-5 but had deprived his team of having the potential tying run in scoring position.
"I don't care about the batting title right now because we lost the game and I made a mistake running the bases," Reyes said. "That cost us the game, so that's the thing I'm worried about right now."
Reyes readily acknowledges he may be playing in his final games as a Met.
"Tomorrow and the next day are going to be tougher for me," Reyes said. "I'm going to have a lot of stuff go through my head."
Terry Collins has suggested Reyes could sit out Wednesday's matinee finale out of a combination of maintaining his hamstring health and maximizing his chances of winning the batting title. Reyes cannot fathom that.
"For the moment, I don't think so," Reyes said. "I'm going to play. We'll see what happens."