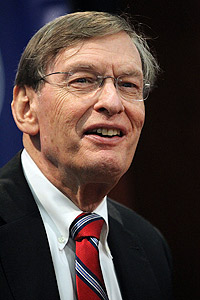 Ronald Martinez/Getty Images
Bud Selig
Commissioner Bud Selig, speaking in Milwaukee during the NLCS, reiterated past comments that he believes the New York Mets are headed for a return to stability.
"I don't have any concerns," Selig told reporters, according to Newsday.
Selig also indicated he expected last year's $25 million loan from Major League Baseball to the Mets to be repaid.
"It will be paid back," he said.