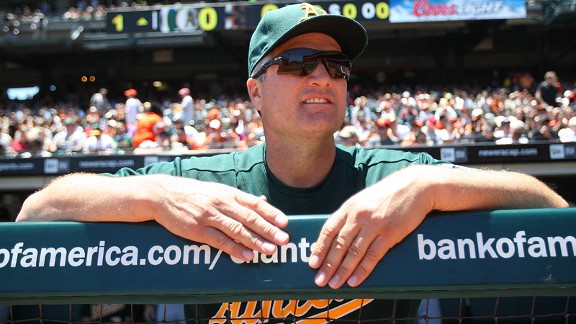 Michael Zagaris/Getty Images
Bob Geren has been chosen as the 2012 bench coach for the Mets.
The Mets have selected former Oakland Athletics manager Bob Geren as the team's new bench coach. He was picked over former Washington Nationals manager Jim Riggleman, according to a source familiar with the process.
"Bob Geren's experience as a former manager and bench coach will be a great fit for us," manager Terry Collins said in a statement. "Adding a former major league catcher like Bob to our staff will be ideal."
A's LIST
Bob Geren, the likely incoming bench coach for the Mets, managed Oakland for five seasons.
Despite only two widely named candidates, the Mets had been due Friday to speak with Dave Jauss as well. Jauss actually was Jerry Manuel's bench coach for one season and also served in that role for the Baltimore Orioles.
Geren had a 334-376 record as Oakland's manager from 2007 until his dismissal midway through this past season.
Meanwhile, there were no indications the first-base coach job would be imminently filled. A team insider said the Mets will value diversity in that hire. They also presumably would be looking to hire someone with outfield experience to succeed Mookie Wilson in instructing that position, since new third base coach Tim Teufel has an infield background.
A Mets source confirmed longtime minor league instructor Kevin Morgan has interviewed for the first base coaching position. He has an infield background.