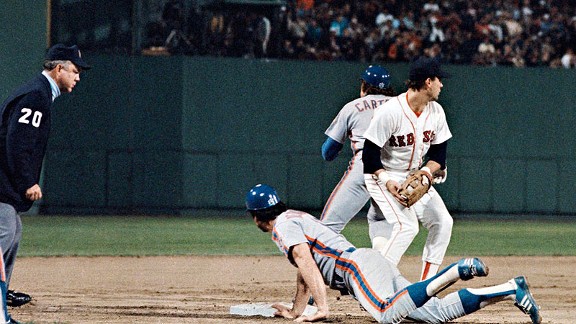 Rusty Kennedy/A.P. Photo
A botched rundown play played a major role in Game 3 of the 1986 World Series.Over the next week, Mark Simon will reminisce here about the 1986 postseason. The 1986 Mets won the World Series in an exhilarating fashion. Here's a capsule look at Game 3 of the 1986 World Series, played on this date, 25 years ago.
Down two games to none, the Mets were in desperate need of a momentum shift in the early part of Game 3 of the 1986 World Series. They got just what they needed for their biggest win of the season to this point.
The best thing that could happen for the Mets was that they never gave Red Sox fans a reason to cheer. Leadoff hitter Len Dykstra hit a 1-1 pitch from cocky Red Sox starter Dennis "Oil Can" Boyd (who'd said the day before the game that he would "master" the Mets) a couple of seats inside Fenway Park's right field foul line and the Pesky Pole for a home run.
It was the Mets' first extra-base hit of the series (the NBC telecast noted they were only the third team to go without one in the first two games, joining the 1926 Yankees and 1939 Reds). They'd add a bunch more.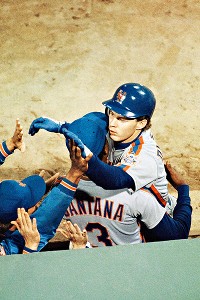 Ray Stubblebine/A.P. Photo
Len Dykstra's home run got the Mets offense going in a big way.
Wally Backman and Keith Hernandez each followed with singles and Gary Carter's line-drive double to left center field made it 2-0, with runners still on second and third and nobody out.
After a Darryl Strawberry strikeout (his 17th in 29 postseason at-bats) came the game's most bizarre play, an 11-second sequence of significance.
Ray Knight hit a ground ball to third and it looked like the Red Sox would squelch the Mets' rally.
Hernandez got stuck in a rundown when the throw came to home plate, and was retreating to third base as Carter was coming toward the same bag.
But the Red Sox completely messed things up. Rich Gedman tossed the ball to third baseman Wade Boggs, who was in front of the base and unable to make a play on Hernandez, who ducked around him and slid back into third base.
Carter was a step away from third, but turned and dashed back to second base at the last possible moment. Boggs made a short throw to shortstop Spike Owen, who was unable to do anything about Hernandez, so he chased Carter back to second.
Owen ran Carter back three-quarters of the way, but then stopped, turned and looked at Hernandez. That gave Carter just enough time to dive back into second base ahead of a late throw from Owen to second baseman Marty Barrett.
Biggest Margin of Victory
Mets World Series History
Instead of being an out away from getting out the inning with two men on base, Boyd had to deal with a bases-loaded situation.
He got flustered, and gave up a two-run single to center to designated hitter Danny Heep two pitches later. It was 4-0 after half-an inning and the Mets had all they would need.
It took starter Bob Ojeda, who was traded by the Red Sox to the Mets that offseason, seven pitches to get through a 1-2-3 first inning and his success in that frame carried through the next six.
Ojeda give up a run-scoring single to Barrett in the third, but with two men on base, struck out Bill Buckner on a high fastball (via NBC, Buckner was toughest in the majors to strike out in 1986, statistically) and got Jim Rice to ground out on the next pitch to end that scoring threat.
Buckner would get another shot as the tying run at the plate in the fifth inning, but Ojeda coaxed another ground out to end the inning.
Boyd settled down, but the Mets got to him again in the seventh inning. Carter singled in two more runs to make it 6-1 and an RBI hit from Knight in the eighth inning against reliever Joe Sambito completed the night's scoring.
Ojeda gave the Mets seven very good innings, the second time he'd won a big game for the Mets this postseason.
Turning Point
The turning point of this game actually took place the day before when manager Davey Johnson gave the team the day off rather than have them go through a between-games workout and media day at Fenway Park. Players said afterward that this move took much of the pressure off the team and made them a more relaxed group for Game 3.
What They Wrote
"When Dennis 'Oil Can' Boyd takes the mound, he likes to think of himself as Satchel Paige. But on Tuesday night, he looked more like a page out of Red Sox history."
-- Lisa Nehus Saxon, Los Angeles Daily News
"Call it whistling past the graveyard.
"Just as old elephants trundle off into the jungle to be all alone and lemmings hurl their little bodies en masse into the sea, left-handed pitchers with a death wish usually come to Fenway Park.
"Usually.
"But Bobby Ojeda, discarded less than a year ago by the Boston Red Sox, who thought that he would forever be haunted in this southpaw's chamber of horrors, a lefty's graveyard, returned to tame the beast."
- Fran Blinebury, Houston Chronicle
"The old place was so quiet you could hear the ghosts of Babe Ruth, Tom Yawkey and Eddie Collins walking about."
- Ray Sons, describing the late innings, Chicago Sun-Times
Quotes of the Day
"The only person who got mastered tonight was Boyd."
-- Len Dykstra
Most Postseason HR
Mets History
"He made a big mistake saying what he did. We wanted to stick it up his nose. We want him to pitch Game 7, too, so we can stick it up his nose then, too."
-- Darryl Strawberry
""I just screwed up. I heard the crowd roar when I first turned to second. I looked back. By the time I turned back, it was too late."
-- Spike Owen, describing the botched rundown.
"Those were the Mets you saw out there tonight. The real Mets."
-- Davey Johnson
For Further Reading/Viewing
"Batting Stance Guy" Gar Ryness was able to impersonate the stances of 14 members of the 1986 Mets in under a minute. You can check out his impressions here.
Stats To Remember
1-- Dykstra is the only leadoff hitter in postseason history to have a four-hit game, with one of those hits being a home run. Dykstra, who never had a five-hit game in his major league career, had four four-hit games in 1986, most on the Mets and tied for second-most in the NL behind Padres outfielder Tony Gwynn's five.
2-- The Mets have had four leadoff home runs in their postseason history. Dykstra's is the only one to come on the road. The other three were by Tommie Agee (1969 WS Game 3), Wayne Garrett (1973 WS Game 3), and Jose Reyes (2006 NLCS Game 6).
Despite their minimal postseason experience, comparative to some teams, the Mets four leadoff home runs are tied with the Indians for second-most in postseason history, trailing only the Yankees, who have six.
3-- Ojeda had five ROAD starts during the regular season in which he pitched at least seven innings and allowed one run or fewer, tying him with Mike Scott, Rick Rhoden, and Tom Browning for the most such starts in the NL.