Over the last three weeks, Mark Simon has reminisced here about the 1986 postseason. The 1986 Mets won the World Series in an exhilarating fashion. Here's a look at Game 7 of the 1986 World Series, a game played 25 years ago today.
Every person I've spoken to about attending Game 7 of the World Series said that there was a sense of inevitability in Shea Stadium that the Mets would prevail over the Red Sox in the decisive final game.
As the late sportswriter for the New York Daily News, Vic Ziegel, wrote in making his prediction for the series, "Life is Easy, the World Series is hard."
Game 7 was indeed hard for the Mets, but in the end, they would come out on top. Let's review it from start to finish.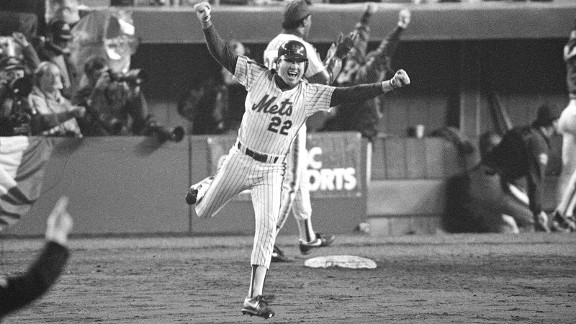 AP Photo/Richard Drew
World Series MVP Ray Knight's go-ahead home run made it a great night for the world-champion MetsGame 7, Shea Stadium: Mets 8, Red Sox 5
With rain having postponed the contest by a day, the Mets were able to start Ron Darling on his regular four days rest, but Red Sox manager John McNamara changed his starter from Oil Can Boyd, who got clobbered in Game 3, to Bruce Hurst, who won both Games 1 and 5. Hurst would be starting on three days rest.
After a scoreless first inning, it was Darling who looked tired.
In the second inning, Darling got ahead 1-2 on Red Sox rightfielder Dwight Evans, then had two pitches just miss and two more get fouled off, one barely, before Evans hit a mammoth home run to left center field.
Darling got ahead of Gedman, 1-2, then was forced to wait through a three-minute delay after fans knocked over some temporary stands down the right field line.
When play resumed, Gedman hit the next pitch to right center field. Right fielder Darryl Strawberry jumped, got the ball in his glove, than watched the momentum of his elbow hitting the fence jar the ball loose and over the wall for a home run.
The Red Sox tacked on another run to go up 3-0 on a walk to Dave Henderson, a sacrifice by Hurst and a smoked one-hop single by Wade Boggs past diving shortstop Rafael Santana.
From the second through fifth innings, the Mets bats slumbered, starting with when cleanup hitter Gary Carter failed in his try for a bunt hit. Hurst faced 13 batters and retired 12 of them, averaging 12 pitches per frame to get closer to victory.
The Mets needed a jolt and got it, first from Kevin Mitchell, who threw Jim Rice out attempting to get a leadoff double in the third inning, and then from Sid Fernandez, who came on in relief of Darling with a man on second and two outs in the fourth inning.
After walking Boggs, Fernandez got the leading hitter in the series, Marty Barrett, to fly to right, than retired the next six hitters over two innings of relief.
Inside the Series
Mets Defeated Red Sox, 4-3
Hurst had retired 11 in a row by the time Lee Mazzilli pinch hit with one out in the sixth. A midseason pickup after the release of George Foster, Mazzilli reached out and pulled a single in the shortstop-third base hole. Then, Mookie Wilson hit a line drive that whizzed past Boggs for a hit. Wilson almost got picked off first by the catcher, Gedman with Tim Teufel up (Wilson jarred his shoulder against Buckner's knee and there was an intriguing moment where Buckner checked to make sure Wilson was ok).
Teufel walked on a 3-1 pitch to load the bases for Hernandez, who was 0-for-8 with runners in scoring position to this point in the series. After taking a nasty curveball for a strike, Hernandez lashed a fastball up and away into left center for a hit that scored both Mazzilli and Wilson and made it a 3-2 game.
Carter than poked a fly ball to shallow right that Evans smothered, but couldn't catch, and though Hernandez got thrown out at second base, Backman, pinch-running scored to tie the game, 3-3. Rice's diving catch of Strawberry's fly to left ended the inning, but the teams were now even through six innings.
Reliever Roger McDowell made quick work of the Red Sox in the top of the seventh, throwing seven straight strikes to retire the side in order.
McNamara called for Calvin Schiraldi to relief Hurst, a gamble considering that Schiraldi blew the save in the eighth inning, then couldn't finish the Mets off in the 10th inning of Game 6.
Schiraldi went to a 2-1 count on Ray Knight, the hitter he was a strike away from retiring to end Game 6, then threw a belt-high fastball that Knight crushed over the fence in left center for a go-ahead homer. Vin Scully noted it was the first home run hit by the home team in the whole series. It also meant that this was the first time all postseason that the Mets would be pitching with a lead at home.
It was a lead that got extended when Schiraldi gave up a hit to pinch-hitter Lenny Dykstra, wild pitched him to second base on an errant pitchout attempt, then gave up an opposite field shot down the first base line to shortstop Rafael Santana that Buckner couldn't reach. A successful two-strike sacrifice by McDowell chased Schiraldi for reliever Joe Sambito, who walked two and gave up a sacrifice fly to Hernandez.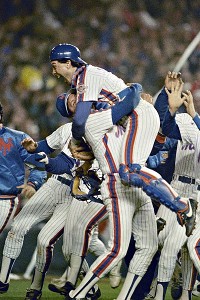 AP Photo/Paul Benoit
The Mets enjoyed their moment as World Series champions
The Mets led 6-3 heading to the eighth, but now it was the Red Sox turn to come back, as police on horseback settled in the bullpen to defend against overzealous fan celebration.
Buckner and Rice each singled, and Evans doubled them both in with a shot into right center field. That necessitated a pitching change, with Jesse Orosco replacing McDowell. Orosco got Gedman to softly line to Backman at second base, struck out Dave Henderson swinging on a curveball, and got pinch-hitter Don Baylor to ground to shortstop, with Santana perfectly positioned to make the play.
In the bottom of the eighth, the Mets padded their 6-5 lead against Game 4 starter Al Nipper when Strawberry homered to right on an 0-2 hanger (his stroll around the bases was timed at nearly 30 seconds). Then later in the inning, Orosco, with men on first and second and the situation clearly calling for a bunt, chopped a single up the middle to make it 8-5.
There was one last moment of levity when Wilson got clipped on the knee by a pitch as me made the same move to avoid the ball that he successfully did in Game 6. Then came the business of finishing the season.
Orosco did that without issue, getting Ed Romero to pop to Hernandez, who made a basket catch near home plate, and Boggs to ground to second before striking out Barrett on a high, outside fastball to end the game.
It was a long, hard journey through 13 games in the postseason, but in the end the Mets were both lucky and good. And they were champions.
Turning Point
NBC gave its Player of the Game honors to Fernandez for his shutout work in relief.
Only five relievers have retired at least seven batters without allowing a hit in a World Series winner-take-all-game. None have done so since Fernandez.
What They Wrote
"Arrogant, yes.Rally caps, encores, high fives and hugs. The New York Mets did everything but wave pompons during the 1986 baseball season and it's easy to see how they became the most disliked team in baseball.But surely, by now, you can also see why they were the best."
-- Rick Talley, Los Angeles Daily News
Article 59- There was a mist hovering over Shea Stadium last night, a mist into which the upper deck disappeared.It suggested that this game for the World Series championship was being played in an ether not of this world - a heavenly and, yes, fitting backdrop to the conclusion of what may be the greatest three weeks baseball has ever witnessed.
John McGill, Lexington (Ky.) Herald-Leader
"People across the country said the New York Mets were arrogant, uppity, boastful. But Satchel Paige used to say that if you can do it, it ain't braggin'. The mighty Mets, winners of 108 games in the regular season, won the 83rd World Series last night because they had the most important quality of champions: resilience."
- Barry Lorge, San Diego Union
"Somewhere between first base and heaven, Ray Knight took flight, his feet carried by wings of joy, and a kid's backyard dreams - a Georgia kid's dreams learned at his father's knee, the dreams carried from the Iowa bush leagues to the Big Apple."
-- Dave Kindred, Atlanta Journal-Constitution
Quote of the Day
"This is what we've been striving for all year. We're there."
-- Gary Carter
Most Game-Winning RBI
Mets in 1986 Postseason
"These last three weeks explain why this is the great American pastime."
--Mookie Wilson
"We were one pitch away from winning the world championship (Saturday). We're the second-best team in baseball. We had a hell of a year."
-- Bill Buckner
For Further Reading
There is a treasure trove to be found on the Mets if you simply type 1986 Mets into Google, YouTube, or EBay. Among the highlights, full coverage of the Mets trip to the White House to be honored by President Ronald Reagan, the 1986 team highlight video, and jersey and fan apparel from that era. If you're a 1986 Mets fan, it's worth checking out.
Stats To Remember
1- The Mets rally from three runs down tied the second-biggest comeback in a winner-take-all World Series game, matching that of the 1960 Pirates (against the Yankees) and the 1975 Reds (against the Red Sox). The 1925 Pirates had the biggest rally, coming back from a 4-0 deficit to beat the Washington Senators, 9-7.
2-- Ray Knight is the only player in postseason history to get the game-winning RBI in both the clinching game of the LCS and the World Series, with both coming in the seventh inning of the game or later. He had the go-ahead hit in the 16th inning of Game 6 of the NLCS against the Astros.
3-- Jesse Orosco is the last pitcher to get an RBI in the eighth inning or later of a postseason game. He is the only relief pitcher to get an RBI that late in Game 7 of a postseason series. Orosco would not get another hit for the rest of his career, which didn't end until 2003.