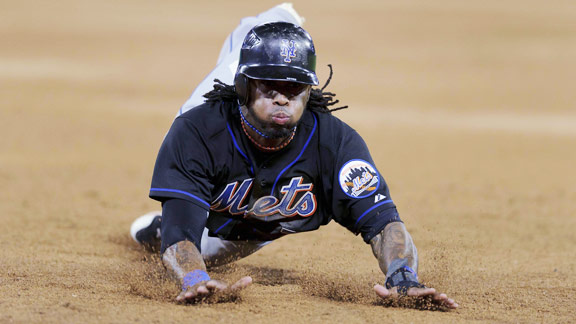 Steve Mitchell/U.S. Presswire
Jose Reyes' eventual landing spot? There are plenty of potential destinations.
ESPNNewYork.com polled beat writers for eight potential landing spots for Jose Reyes … and none thought with any conviction Reyes would land in his city (or borough if we're talking Yankees). Still, don't rule out teams such as the Tigers, Brewers, Giants and Nationals -- and even the Phillies if Jimmy Rollins doesn't re-sign.
What they're saying:
Tom Haudricourt, Brewers beat reporter, Milwaukee Journal-Sentinel: "Under team owner Mark Attanasio and GM Doug Melvin, the Brewers have thought big in recent years (CC Sabathia, Zack Greinke, Francisco Rodriguez), so it wouldn't surprise me if they took a look at Reyes. If they lose Prince Fielder, they will need to make up some of that offense somewhere. And, having declined their option on Yuniesky Betancourt, the Brewers must make a decision at shortstop. Having said that, I doubt if they'd want to pay what Reyes is seeking, and his recent injury history would be a concern, also. So, I don't expect them to make a serious play for Reyes."
Juan Rodriguez, Marlins beat reporter, South Florida Sun-Sentinel: "Hanley Ramirez before season's end suggested he would be willing to switch positions to accommodate Jose Reyes. Though Reyes is the superior defender, the Marlins are in no hurry to displace Ramirez. New manager Ozzie Guillen sounds like he couldn't care less where Ramirez plays as long as he gets four at-bats a night. The Marlins, heading into a new stadium, could increase their $58 million 2011 payroll by $20 million or more next season, but adding a big-ticket free agent like Reyes could limit their ability to address other needs."
Adam Kilgore, Nationals beat reporter, Washington Post: "The Nationals need to add a legitimate top-of-the-order threat to their lineup, but Reyes seems an unlikely fit. Team officials, particularly Manager Davey Johnson, remain high on 26-year-old shortstop Ian Desmond, who's entering his third season and cost-controlled for the near future. You can't count the Nationals out of anything after the Jayson Werth shocker last winter, but the Nationals prefer to fill their leadoff need by adding a center fielder, not a shortstop like Reyes."
Henry Schulman, Giants beat reporter, San Francisco Chronicle: "I don't see the Giants as a serious pursuer of Reyes, even though they need a shortstop and leadoff hitter. First, they believe he's going to sign with the Mets and don't want to be Reyes' stalking horse for his negotiations with Sandy Alderson. Second, they claim any big-money deals they sign this winter will go toward keeping the pitching staff together (Matt Cain, Tim Lincecum). Finally, this franchise has been burned seriously by terrible long-term deals (Barry Zito, Aaron Rowand)."
John Lowe, Tigers beat reporter, Detroit Free Press: "Without mentioning his name, (GM Dave) Dombrowski in effect ruled out the Tigers pursuing the free-agent shortstop. One reason: the Tigers have their two $20-million players -- Miguel Cabrera and Justin Verlander -- and Dombrowski doesn't see payroll room for a third. It's not hard to imagine the bidding for the electric Reyes going to $20 million per year. He hit a new peak with the New York Mets this season, when he won the NL batting title."
Mark Saxon, Angels beat reporter, ESPNLosAngeles.com: "The Angels are frequently linked to high-profile free agents because of owner Arte Moreno's willingness to spend, but Reyes doesn't seem likely to become an Angel. For one thing, the Angels already have a Gold Glove shortstop in Erick Aybar, a player with a similar, if not quite as shiny, skill set. The Angels also have financial limitations because they have $99 million tied up in players on long-term contracts and they'll owe their arbitration-eligible guys another $20 million or so, leaving new GM Jerry Dipoto only $12 to $20 million to spend on multiple needs this winter. It could happen, but it seems like a long shot."
David Murphy, Phillies beat reporter, Philadelphia Daily News: "It's hard to envision Jose Reyes in a Phillies uniform for a number of reasons, not the least of which is the chemistry concerns the front office would have to overcome to make the move. Even if they thought Reyes would fit in the clubhouse, he probably would not fit in the budget. Nobody knows exactly how much the Phillies can spend, so you can't rule anything out. But they would be an extreme long shot."
Andrew Marchand, Yankees beat reporter, ESPNNewYork.com: "The Yankees are not going to go after Jose Reyes. They have nowhere to play him. If Derek Jeter didn't have such a great second half of the season, this possibly could be an issue. Even so, the Yankees really like Eduardo Nunez's potential. So the Yankees will be non-players in the Reyes Sweepstakes."