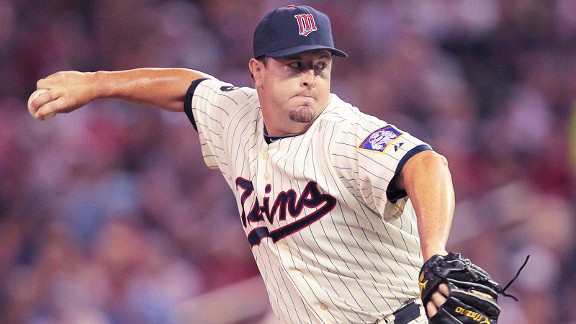 Jesse Johnson/US Presswire
Matt Capps, who went from the Nationals to the Twins in the trade for Wilson Ramos, is now a free agent.
Paul Kinzer sees a match between client Matt Capps and the Mets, who need a closer. And Kinzer intimated there already had been dialogue between the parties.
"Yeah, I could see it," Kinzer said about a fit with the Mets.
Asked if he had seen the interest already, Kinzer smiled and repeated: "I could see it."
Sandy Alderson has resolved to sign a closer from outside the organization, although the price tag is expected to be a notch below that Jonathan Papelbon category (four years, $50 million) that also includes Heath Bell, Ryan Madson and Francisco Rodriguez.
Brad Lidge does not sound like a match according to industry sources, but Jon Rauch might be.
Jonathan Broxton's agent recently acknowledged the Mets had not been in contact.
Capps, 28, went 4-7 with a 4.25 ERA and 15 saves in 69 relief appearances for the Twins last season.
Kinzer expects him to sign during the winter meetings, the first week of December. That's the time frame when former Kinzer client K-Rod signed with the Mets three years ago.
"Matt is one of my most popular guys," Kinzer said. "… I think he's going to be closing somewhere. I'll just put it that way."
Kinzer said the Twins have expressed interest in re-signing Capps.
"Terry Ryan called right away when he got the job back," Kinzer said. "He expressed interest in Matt coming back. He's such as presence in the clubhouse and a good teammate. And the Twins really value that."
Alderson, for his part, was asked whether Papelbon's contract could upset the Mets' plans by dragging up the price for even second-tier closers.
"I wouldn't say it's irrelevant," Alderson said. "Once that contract was signed, agents out there are taking another look at where they stand. So it's not irrelevant. But I don't expect it to have a major impact on us."
Alderson intimated the Mets could be looking for someone like Capps -- as opposed to a closer potentially with a low base salary and incentives because he is coming off an injury such as Broxton.
"We're looking at a whole variety of people," Alderson said. "We're not necessarily just looking for somebody who is rehabbing, who might be looking for an opportunity to come back. We may be looking for more than one. It could happen through the trade market. It could happen through free agency. We're looking at a variety of possibilities. And it could be that we'll end up with more than one addition in the bullpen at the back end."