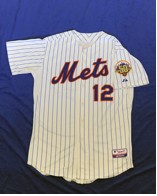 The Mets are expected to unveil this jersey as their primary home uniform for next season.
The Mets will have a press conference on Wednesday at Citi Field to discuss 50th anniversary plans for the team. One major item is the reintroduction of the early 1960s pinstriped jerseys, which include "Mets" in script in blue and orange and no black shadow. (See right.)
The pinstriped jersey is expected to be the primary jersey used at home in 2012. The other jerseys will look comparable to recent seasons, but the black shadow by the lettering on the chest will disappear.
The Mets also will have a patch on the sleeve recognizing the 50th anniversary of the club.