Here are Tuesday night quotes from Marlins president of baseball operations Larry Beinfest regarding Jose Reyes ...
On why Reyes is attractive to the Marlins:
"In terms of Reyes, he's just a dynamic player," Beinfest said. "We've seen him a lot in our division. The speed tool, the fielding, the enthusiasm -- he plays with just a lot of joy on the baseball field -- and he's a game-changer in a lot of ways because of the tools he brings. He's a good player. He's a tough guy to play against."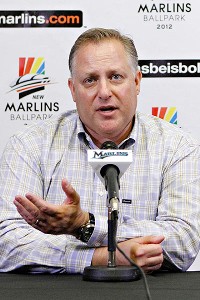 Alan Diaz/Associated Press
Marlins president of baseball operations Larry Beinfest
On how long Reyes' free agency may drag out:
"You're probably asking the wrong guy," Beinfest said. "We haven't been big in free agency here in a while. I know we signed Carlos Delgado in '05. Given our situation, we haven't been involved in a lot of free agency. I don't know. The truthful answer is you just don't know the timing of these things. You don't know what other peoples' agendas are. And you don't know where things are heading.
"We would love to secure some players as soon as possible and try to get this team together so we can try to work on the rest of the offseason and make sure our payroll allocations are in the right place. It's just hard to say. Again, we've been aggressive on a number of fronts because we want to improve the team."
On the Marlins slashing the payroll from $60 million to $15 million a season after going on a free-agent binge and bringing in Carlos Delgado for 2005, and on why this time is different:
"We thought we had a good ballclub in '05," Beinfest said. "And you never know how things are going to go. Unfortunately, we had to make that market correction after the '05 season. We just kind of rebuilt with a young team, and that core by and large is still here and part of a team we think is going to be really good. But I think it is different. I think we have stability now in the franchise that we didn't have in '05. We're in our new ballpark. We're going to enjoy the revenues of our new ballpark."
On how the spacious new Marlins ballpark is conducive to a speedster such as Reyes:
"We just don't know how it's going to play with the roof closed, roof open, grass on the field, people in the stands," Beinfest said. "The previous place we played, in Sun Life, is a pitcher's park. We've enjoyed that. We've had some speed guys. We've had some power. We would like for this to be a little more of a pitcher's park. We'll just have to wait and see. But the dimensions are generous."
On whether Hanley Ramirez is on board with a position switch:
"We'll keep it between us, but Hanley wants to win," Beinfest said.
On the offseason buzz generated by the Marlins:
"I think it's just an exciting time for the franchise," Beinfest said. "Forget about 'free agency this,' and 'we're having lunch with him' and all that kind of stuff. I know it's kind of cute and exciting. But it's just in general the excitement around the franchise, that we have a home, we have a new manager, we have new uniforms, we have a vision of where we want to go. I think it's just excitement in general."