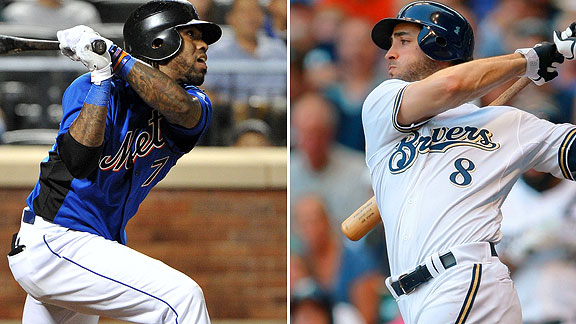 Getty Images
Jose Reyes finished 11th in MVP balloting, while Ryan Braun won the award.
Ryan Braun captured the 2011 NL Most Valuable Player award, with Jose Reyes the lone Met to appear in the voting results, at 11th place.
Well, Reyes was the only Met unless you include Carlos Beltran, who received an eighth-place vote from venerable Cincinnati Reds writer Hal McCoy.
Reyes received one fifth-place vote, one sixth-place vote, three eighth-place votes, four ninth-place votes and three 10th-place votes -- good for 31 points.
Giants beat writer Henry Schulman of the San Francisco Chronicle voted Reyes fifth.
Braun amassed 388 points, followed by Matt Kemp with 332, Prince Fielder 229, Justin Upton 214, Albert Pujols 166, Joey Votto 135, Lance Berkman 118, Troy Tulowitzki 69, Roy Halladay 52 and Ryan Howard 39.
Beyond Reyes, others receiving votes (in declining order) were Clayton Kershaw, Shane Victorino, Ian Kennedy, Cliff Lee, Hunter Pence, Pablo Sandoval, John Axford, Michael Morse, Beltran, Miguel Montero, Yadier Molina, Starlin Castro, Craig Kimbrel, Carlos Ruiz and Mike Stanton.