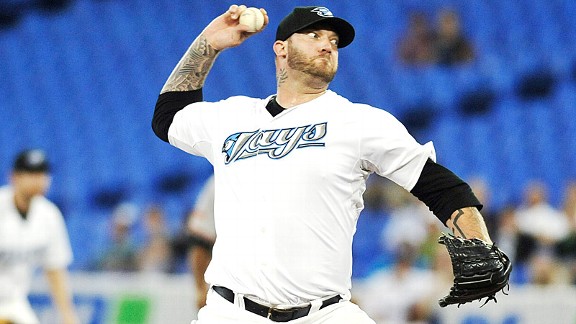 Brad White/Getty Images
Jon Rauch is on the verge of joining the Mets as a late-inning reliever.
The Mets are on the verge on making their first major acquisition of the offseason, landing free-agent reliever Jon Rauch on a one-year deal, a team source said. The contract reportedly has a base salary of $3.5 million.
The Mets had resolved earlier in the day to spread their bullpen money among multiple late-inning relievers instead of concentrating their funds in one closer.
The 6-foot-10 Rauch, a 33-year-old right-hander, went 5-4 with a 4.85 ERA in 53 relief appearances and posted 11 saves in 16 chances for the Toronto Blue Jays last season. He had 21 saves for the Minnesota Twins the previous year.
Rauch was sidelined in August with appendicitis. He was shut down for the season after a Sept. 4 appearance with torn cartilage in his right knee.
The Mets could sign another reliever of that ilk -- say Frank Francisco -- and let Terry Collins sort out of the eighth-ninth inning usage in spring training or in-season.