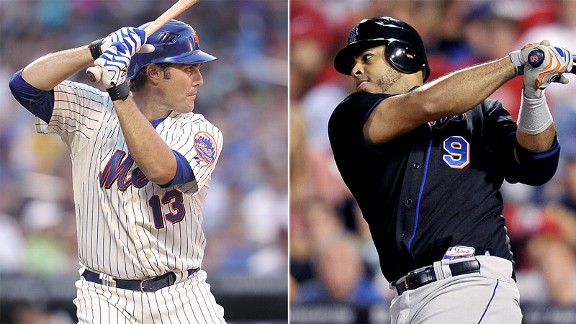 Getty Images
Mike Nickeas (left) is the beneficiary of Ronny Paulino (right) being cut loose Monday.
Ronny Paulino was cut loose at Monday's deadline to offer contracts to arbitration-eligible players. Queens native Mike Baxter was let go as well.
The decision signals the Mets likely are prepared to use righty-hitting Mike Nickeas as the backup at catcher to lefty-hitting Josh Thole, which results in roughly a $1 million savings. Paulino earned $1.35 million last season.
The Mets also have signed Lucas May and Vinny Rottino, who is a part-time catcher, to minor league contracts so far this offseason to provide depth.
The Mets did tender contracts to arbitration-eligible Mike Pelfrey and Manny Acosta as well as newly acquired center fielder Andres Torres and right-handed reliever Ramon Ramirez.
Paulino, 30, hit .268 with two homers and 19 RBIs and had a .312 on-base percentage in 248 plate appearances in 2011.
With Paulino and Baxter's departures, the Mets' 40-man roster is at 38. Relievers Frank Francisco and Jon Rauch have yet to be officially added.
Baxter was not yet eligible for arbitration, but the Mets apparently needed the roster spot. The decision would not preclude the organization from re-signing Baxter to a minor league contract.