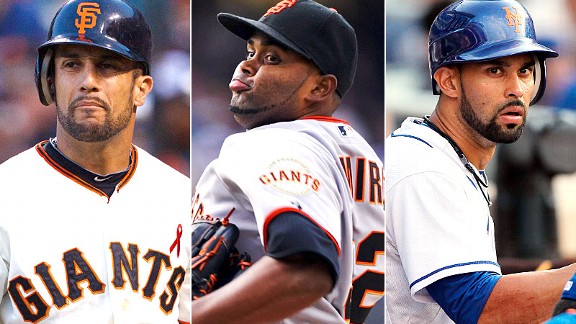 US Presswire, Getty Images
The Mets sent Angel Pagan (right) to the San Francisco Giants for center fielder Andres Torres (left) and reliever Ramon Ramirez.
Andres Torres and Ramon Ramirez answered questions from reporters during a 10-minute conference call Wednesday afternoon. Most of the inquiries were directed at Torres, who disclosed he is making a movie to help people confronting Attention Deficit Hyperactivity Disorder, which he treats with medication. (Watch a YouTube trailer for the documentary here.)
How do you account for the difference between your 2010 performance (.268, 18 HR, 63 RBIs) with the Giants and 2011 (.221, 4 HR, 19 RBIs)?
Torres: "Last year I had injuries. I was battling injuries. It was a tough year for me, to be honest with you guys. This year I feel great. I'm training. I'm back on track. I'm working hard on hitting. And I'm ready. I'm excited to go to New York and play my game. I'm preparing to have a better season than 2010, and I feel like I will because, like I said, I believe in myself and I'm just working really hard -- really hard -- and I'm ready to go for it."
And Andres, you've season Ramon Ramirez up close. What makes him effective as a pitcher?
Torres: "Oh, wow, his location is amazing. Ramon is a great pitcher. He locates the ball so good. You know, I'm in center. I always watch pitches. His location. He's got a changeup, slider. He's really good. I told Ramon, 'It's amazing how you locate the ball.' That's the key for pitching -- you locate the ball wherever, on the corners. I think he's going to be very successful."
The Mets have talked about placing you leadoff. What attributes make you a good candidate?
Torres: "My job is to get on base. I feel good because I know I'm going to hit line drives to get on base, hit doubles. ... I can make things happen. I'm working hard for that. I'm trying to [make] contact, hit line drives and play good defense. I keep the clubhouse loose. I'm a guy, I always try to [interact] with everybody. We just have to feel comfortable in the clubhouse and just go out there and have fun."
Is it tough to go from a team that two years ago won the World Series to a team not projected to be in the upper tier?
Torres: "I'm excited. ... I think anything can happen. We play together, we can win. I know people talk about things, but I believe in that. It's just we have to push ourselves to do the best and good things are going to happen. We're going to play our baseball. Last year wasn't a good year, but I come this year to play the game, and next year I'm going to come ready and play my game and the rest. Every year is a challenge. You want to go out there and do your best and try to win ballgames. That's what it's all about -- good pitching, good defense, and we hit."
Are you close with anyone on the Mets, or hear from anyone on the team?
Ramirez: "Jason Bay. When I was in Boston, I played with him."
Torres: "I played with Frank Francisco with Texas. ... I just see a lot of them on TV. But, to be honest, I haven't played with them with the same team."
You've been open about your struggles with ADHD in the past, almost becoming a spokesperson for others with condition. What impact did it/does it have on your day-to-day life?
Torres: "I got diagnosed in 2002. ... From '07 I started taking medication and I became better. I'm making a movie -- it's coming soon -- about helping kids and people understand this condition. After we won the World Series, one of the owners of the San Francisco Giants, he told me about making a movie to inspire kids about my life. I was excited to do it. It's about helping others and how we get better. It's a great project. It's not about me. It's about helping other people. People look at me and all the struggle. ... I've [had] a lot of ups and downs, but it's about making adjustments. Now, I feel pretty good. Like I said, I am who I am. If I can help other people and other kids with this, I'm really excited what I'm doing. I've been a spokesperson about this. It's great for others, too."
Do you still take medication for that on a daily basis?
Torres: "Yeah, I have to take it. I really have to take medication because it helps you do your focus and how to concentrate better. People have this have to understand that this is a condition that you really have to pay attention and the medication helps -- definitely helps."
Terry Collins talked about the energy you bring, which will be needed especially minus Jose Reyes. Is that something you feel you bring?
Torres: "Oh yeah. I admire Reyes. He's one of the best, exciting players of the game. Watching him, I'm very pumped. I know what I can bring, how I play the game. I'm very excited. ... I want to play my game -- Andres Torres. I'm working hard to be an exciting player, too. I just want to go out there to New York and bring energy and get the team pumped and do my best."
For more on Torres' movitation for doing a documentary about his medical issue, read this article in The San Francisco Chronicle.